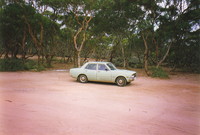 Car salesmen are the same the world over: they are soul-sucking demons from hell who should be avoided at all costs. The same seems to apply to people selling cars privately, just not as badly. I hate buying cars and everything that goes with it, I always have, and I think I always will, but it's the only way to see a country like Australia. Andy and I spent a number of evenings looking at cars being sold privately, and it brought me down, to be honest. I have no real idea what happened during the first week of looking – not a lot, really – but I eventually ended up buying this car with a good engine but a knackered body for A$750 (£375). It was a bargain, but not roadworthy.
The Roadworthy Certificate (RWC) is the equivalent of the UK's MOT test, but you only need one when buying or selling a car, and this one was so cheap because it had failed the RWC because of the body. We therefore needed to get the body fixed up to get an RWC, and it needed work to make the engine mechanically sound. If you're crossing deserts you don't care about the bodywork, you just don't want to break down...
So, since then I've been to goodness only knows how many backstreet mechanics getting the bodywork done, the electrics sorted, the stereo wired (the most important bit, of course), the wheels aligned, the engine overhauled... and I've learned a hell of a lot about cars in the process. Ever seen inside an engine? I have, and if it goes wrong, I know I've got no chance of fixing it, but I feel that I've done everything in my power and my budget to make sure this car makes it round Highway One, so if it does break down miles from anywhere, I'll be pretty annoyed. I'm also a member of the RACV, the Aussie equivalent to the RAC and AA, and no doubt that will prove to be the soundest investment of all.
Ready to Drive
So, at last I've got my wheels, all legal and insured to the hilt! He's a gypsum green Toyota Corona, 1977 model, he's called Oz1, and he's running pretty well. The idea is to go clockwise round Australia, but I don't want to tie myself down to any particular plan: it's a bloody long way round Australia, and my finances are looking pretty poor after the manic visit to Tasmania and the expenses lashed out on the car, so we'll see what happens.
I've got a good collection of stuff in the boot, too. My tent (a three man tent – yeah, like you could fit three men in there, I don't think) is one of those dome ones which takes about two minutes to put up and doesn't have any of those annoying poles, just three carbon fibre rods that break down into little bits. I've also got a blow-up bed and a pump that works off the car's cigarette lighter; it's OK but it has a built-in pillow, something that drives me mad, seeing as none of the normal mattresses I've come across in the world have a slope at one end.
The cooker and lamp are of the same type, and can either run off normal liquid stove fuel or – get this – unleaded petrol. You pour the petrol in, and pump up the pressure by hand, light it and whoosh! Heat and light. I'm writing this by the light of burning Mobil Super petrol, which costs a whacking 35p per litre – it's considerably cheaper than gas, and I much prefer these filament burner-type lamps to electric light. The cooker is ferocious, and I burnt most of my first night's meal, but I'm getting the hang of it; it might have been expensive to buy, but it's very, very cheap to run.
All the rest of my stuff is pretty normal: tons of emergency 'add-water' rations, an Esky for keeping everything cold, big water containers, one of those wooden-ball seat covers which I got because it was the cheapest seat cover I could get, a metal petrol can containing 200km of spare fuel... it's all there, and fits into the car. I've even got a fold-up card table and a deck chair, so it's all very civilised as I sit there at night, reading by lamplight and trying to ignore the moths attacking me. I think I'm going to read a hell of a lot over the next six months, but what a wonderful place in which to read...
---
1 All of my cars have had names: Syd (my first car, on loan from a relative), named after Syd Barrett; Colin (my Talbot Horizon), named because he was a C-reg, and 'Colin the Car' sounded cool at the time; Jefry with one 'f' (my first Golf), named after a line from a Pixies' song; Floyd (my second Golf), named after Pink Floyd, for no apparent reason except he was a reddish colour, which is vaguely related to pink; and Oz (Toyota Corona par excellence), named for obvious reasons. When I buy a car in New Zealand, I'll call him Zed, after the letter Z for Zealand, with a passing reference to that great rubber-burnin' scene in Pulp Fiction... 'Where did you get the bike, honey?' 'This ain't no bike, baby, it's a Chopper.' 'Well, where did you get the Chopper, then?' 'Zed.' 'Who's Zed?' 'Zed's dead, baby, Zed's dead.' Sheer poetry...