Incredible though it might seem, Chennai, the fourth biggest city in India, is almost pleasant. The traffic's comparatively light, the slums are only moderately squalid, there aren't many beggars, the pollution isn't solid enough to pose an ornithological challenge, the buses only ooze people at rush hour, and most surprisingly of all, there are underpasses. It's quite amazing.
Well, it's amazing after Calcutta and Hyderabad; Chennai (which was known as Madras before the Indians fully developed their fetish for renaming British-named settlements) is on its way to becoming an urban hellhole, but it hasn't got there yet. OK, it's not quite paradise – crossing the rotting Cooum River by footbridge is an exercise in breathing steadily through the mouth, and cows still manage to create traffic chaos and cow-pats simultaneously – but I was expecting another full-on Indian city, and instead I found I could stroll through the traffic without the elements of luck and prayer so essential in other cities. And I even managed to change money at the bank instantaneously, which was a first.
But the price to pay for all this easy living is a slight twinge of boredom. It's as if Chennai is situated beyond the event horizon of some nearby black hole; nothing seems to happen here. You can count the interesting sights on one hand, and if you're after a good time after dark, think again; Tamil Nadu's strict licensing laws make popping out for a beer simply depressing, the only option being the dark subterranean permit rooms where drinkers guiltily sup their evil concoctions while looking forward to the special hangover that only Indian beer seems capable of producing1. I arrived in Chennai at 9.15am – astoundingly the train arrived a full five minutes early – booked into a hotel, and by 4pm I'd seen all the sights, managed to change some money, done some window-shopping, and found myself wandering aimlessly. This was not what I had expected.
The Sights of Chennai
Yes, Chennai is a city without attractions, despite its history as the first major British settlement (dating from 1639). Apart from two interesting colonial building complexes, Chennai is a collection of shops, banks, rickshaws and heat, but it has no spirit and no soul, and the people reflect this in their manner; whereas in Hyderabad I couldn't move for hellos and smiling waves, the people of Chennai have perfected the art of staring right through you with that specially unnerving blank look reserved by lunatics and government politicians. I smiled, and the only people who smiled back were the educated and young middle class business-wallahs, and of course the school children, one group of whom spotted me, surrounded me and gave me a quick lesson on how to play hooker in a scrum2.
Take Fort St George, one of the two colonial areas in Chennai. Its history is long – it was first used as a fort in 1653 – and the on-site museum is worth a look. But the large walled complex is now used for various government departments, such as the Secretariat and the Legislative Assembly, and when you visit you constantly feel as if you're poking your nose into business that not only doesn't concern you, it might land you on the wrong side of the bars. From the ominous sign that proclaimed a small windowless room by the entrance to be the 'Frisking Point', to the Burt Reynolds look-alike guards who prowled round every corner, I felt as if I would have my camera whisked away from me and the film unceremoniously pulled off the spool as I clicked a picture of St Mary's, the oldest surviving British church in India (built in 1678-1680) and the place where Clive of India was married. Indeed, as I walked up a flight of stone steps in the vain hope that it might afford me a more photogenic view of the tree-clad church, one of the guards whistled me down with a growl, and my heart missed a beat; I shot back down to ground level faster than you could say, 'Bail is refused.'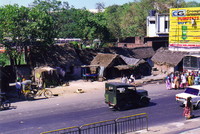 Still, if I had been strong-armed into the lock up, at least I would eventually have ended up in what I found to be the liveliest spot in Chennai. The High Court building, a glorious red maze of spires and Saracenic towers that was built in 1892 and is said to be the largest judicial building in the world after the courts in London, was bustling with barristers (all in the traditional long black cloak and white two-piece tie). From the look of things plenty of locals had realised that the only way they were going to make their lives more interesting was to break the law, and failing that, to go and watch someone else get their dues in court. I could sympathise; leaving the day-glo buildings behind, I wandered through Chennai's equivalent of Piccadilly Circus – Parry's Corner – where nothing particularly interesting was happening; there wasn't even a cow sitting in the middle of the road, chewing the cud and catching out the unlicensed. I slumped back to my hotel3 to make plans for the morrow.
And there I met Howard, a lone traveller from Manchester who declared that he was travelling round the world to find out whether or not he liked Johnny Cash's 'A Thing Called Love'. This was as good a reason as I had ever heard, so we teamed up to tackle Tamil Nadu; first stop Mamallapuram.
---
1 Although it's followed closely by the hangover produced by Thailand's Mekong whisky, a concoction that doesn't quite turn you blind, but tries very hard.
2 And tried to charge me two rupees for the pleasure, the little bastards.
3 My hotel was memorable for the grubby little signs on the wall of each room that said (and I quote exactly):
ATTENTION!

Guests Are-Advised
To be CAUTIOUS
of Strangers at Hotels Around
Who Coax you for
A Dance-Party-or-Something Like
They are Troublesome

Manager
The hotel was also memorable for the huge rats that inhabited the lower-floor bathrooms, so large that the resident cats studiously avoided the area. Some enterprising traveller had even chiselled away at the letters 'BATHROOM' above one particularly inviting hole to leave 'RAT ROOM', an accurate observation if ever there was one...