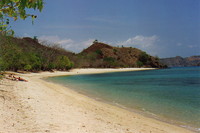 Flores, named 'Flower' by the Portuguese before they sold the island to the Dutch, is beautiful, unlike Sumbawa, which is distinctly desolate and barren; the island of Komodo, which is sandwiched between Flores and Sumbawa, is well worth a visit to see the huge Komodo dragons that live there, but unfortunately I had to sacrifice it to my schedule. Labuanbajo, the western port of Flores, is a small town with the ubiquitous mosque, a number of dodgy shops, and plenty of places to stay, the most popular of which is at Waecicu Beach. A free ferry takes you to this wonderful collection of beachfront bamboo bungalows, and before embarking on the trip across the pond to the hotel, I decided to search out the Pelni office to book a ticket for the ferry to Ujung Pandang.
Bad move. When I eventually found the Pelni 'office', a tiny shack tucked up a dirty and forgotten dust street, locked and unattended, I realised that Pelni, despite being an Indonesian-wide company, isn't exactly P&O. When someone did arrive and I managed to communicate in broken Indonesian that I wanted to buy a ticket from Maumere to Sulawesi, the women told me that I would have to go to Maumere to buy that ticket, as all they sold in Labuanbajo was tickets from, well, Labuanbajo. I later discovered that this wonderful concept applies not only to all Pelni offices, but also to all Merpati offices, Merpati being the domestic airline. The thought of being able to book ahead by telephone from one office to the other hasn't quite reached the scrubs, rather making one wonder how the hell anyone gets organised enough to get anywhere in Indonesia.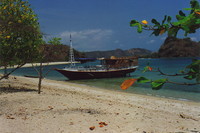 Never mind, I thought, and headed back to the free ferry, only to have to wait for an hour for a lift to Waecicu, where it turned out they had no bungalows left anyway. However, if there's one thing that your average Indonesian is, it's enterprising, especially when money's involved, and they offered me and another guy the ultimate crash pad: a bed on the boat moored off the beach. How could I refuse, when my idea of perfect hell is to sleep on a small yacht...?
Actually, the Hotel of a Thousand Stars, as the staff euphemistically called the boat, was a delightful place to sleep, there being no mosquitoes on the sea; I slept under the stars, snug and warm in my sleeping bag, waking up every now and then to admire the firmament, watch the sun rise or listen to the geckos with their distinctive cry of 'gecko... gecko...' Peace reigned, and the following day, the 27th, I lazed on the beach, talking for most of the day to other travellers staying there. That night I managed to get a bungalow, but it was a little academic, as the next day I had to get up at the crack of dawn to catch the bus to Bajawa.