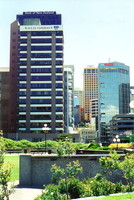 Despite feeling groggy from a nasty cold I finally set off on my exploration of New Zealand on Monday 18th. The rain wasn't too bad when I left Auckland, but it wasn't long before it started filling my vision, and when I got to Lake Taupo everything was damp and cold, hardly the best environment for my aching limbs and rattling cough. However, I still managed to get a good night's sleep in the back of Zed, and the next day I headed down the west coast to Paekakariki, on the Kapiti Coast. On the way I stopped off at Otaki, home to a large beach that was being so battered and bashed by the raging sea that I cowered in the car, avoiding flying sand and ocean spray. The Kapiti Coast itself was scary: foam kept blowing onto the road from the sea, which had turned a dirty brown from the violence, and as I spent Tuesday night in a lay-by, the wind ripped through the trees and made a hellish racket.
Normally I wouldn't travel so far in weather like that, but I had to get to Wellington for Wednesday, to give a presentation to the Wellington Acorn user's group. However, when I made it to Wellington at lunchtime, the sun had come out, the sky was pure blue, and after the manic storms of the previous two days it felt like paradise. Walking round the city, which is a very pleasant little settlement on a calm harbour, though much smaller than one would expect a capital city to be, I discovered the botanic gardens, a little beach, and buildings that defied description, like the Beehive, the home of New Zealand's parliament. I rather enjoyed Wellington, much to my surprise.
Kiwi Culture Shock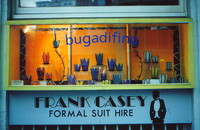 I say 'surprise' because up until that moment, I'd been singularly unimpressed with New Zealand's urban developments. Auckland is fine because it is in a lovely setting, though its western and southern suburbs are pretty rough, to be honest; Wellington, similarly, is on a really pretty harbour, and it has quite a few interesting buildings, and some picturesque parks scattered about.
But most of the Kiwi settlements I've seen so far are pretty terrible: they're modern (they can't be older than 150 years anyway, and most of them were built in this century) and they all look the same. The map might be smothered in little dots, but this isn't Europe, and most of the actual towns are simply boring: the North Island has beautiful landscape, but when settlements aren't in those beautiful areas they can be rather depressing, unfortunately.
I was also getting a bit worried about the North Island landscape that I'd seen up to that point. All I'd seen was lots of grassland and forest, on millions of hills and mountains, but it was nothing I hadn't seen before. If you ignore the volcanoes and the fact that the landscape is seriously up and down – imagine crumpled crepe paper, and you're not far off – it feels a bit like Scotland, or the mountains of Wales, and above all it feels like Tasmania. My initial thought was that it would be boring – after all, when you've seen one forest you've seen them all – but after a few days' driving through the wilderness, it began to grow on me. I keep thinking I'm back home, or over in Tassie, but then again New Zealand is very English in its attitudes, unlike Australia which, if anything, tends to be more American. I realised I was going to enjoy this journey, but it was going to take a while to shake off the office in me.
The scale of the country is also a bit of a shock after Australia. For example, I drove from Auckland to Wellington in two easy days, and I could have done it in less time if I'd been in a hurry, but gone are the days of being able to drive and drive and drive, and still get nowhere. The weather is another big shock: after the dry climate of Australia, it's really rather odd to be rained on constantly, especially when you're living in the back of a car, when you notice every drop. And the west coast of the South Island, home to some stunning scenery, is the wettest area of all, so I'll just have to get used to it (though it's a fair enough trade off to have such a green and pleasant land).
Perhaps the only genuinely annoying thing about Wellington is the wind, which is beyond a joke. It's not just a quaint little oddity of life in the nation's capital; it's a daily struggle against ruined hairstyles and constant litter shooting across the street. It's a cliché, but Wellington is the windy city, and it takes some getting used to.
Around Wellington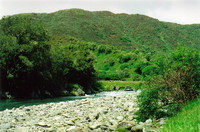 Most of the week was spent working, first in Wellington, and then in Palmerston North, where I visited four schools, wrote four case studies, and stayed with Judy, the dealer in Palmerston. Judy is a bon viveur, without a doubt, and if it hadn't been for my body feeling like it had been put through the ringer, I'd have risen to the challenge. Whatever, we ate well and drank well, and generally had a ball, as one should always do when one is working. The schools were interesting, too, ranging from small schools in the middle of nowhere, to very rich public schools that made all the others look shabby. It's certainly a different way of getting to see a country from the inside.
On Saturday I left Palmerston for Otaki Forks, a DOC1 campsite in the heart of the Tararua Forest Park. The area was – for a change – heavily forested and mountainous, and I went for a couple of little walks just to get myself going. It was pleasant to settle down without any work to do, but it would have been nicer if it hadn't been so cold and windy: if it isn't raining here, it's blowing. Summer had better hurry up and arrive permanently... the fact that the weather is 'unseasonable' doesn't help when I'm chattering away in my tent, warming my hands on a candle!
Monday saw the beautiful weather return, though, and as I drove through the Tararua Ranges back towards Wellington, down the windiest and narrowest road I've ever seen, the landscape really began to thrill. I spent the night in Eastbourne, a little beach town on the opposite side of the bay to Wellington, where I lounged on the beach, and even went for my first swim in the New Zealand sea – freezing isn't the word! Still, when you're living in the back of a car, and sleeping where you park, you've got to get clean somehow. There was a tiring but enjoyable bush walk up the hills behind the village, and as the sun went down over Wellington and the lights began to twinkle, I felt, for the first time since leaving Auckland, really pleased to be on the road. Perhaps my cold was finally lifting with my mood.
---
1 DOC – the Department of Conservation – is in charge of National and Forest Parks, and has heaps of out-of-the-way campsites that are very cheap and very picturesque. They're a highly recommended source of information on the outdoors.