After a night in Katherine, I waved goodbye to Ted and Gill and hit the road south, but I didn't get very far; just over 100km south of Katherine I turned off the highway to Elsey National Park, home to the Mataranka Homestead and some thermal springs, and I instantly fell in love with the place.
Elsey is the setting for the famous Australian novel We of the Never Never – well, when I say famous, it is in terms of Australian literature – and it's now a pretty little National Park, covering a stretch of the Roper River. I visited the rather touristy Mataranka thermal pool – at only 7km off the relatively busy Stuart Highway it's going to attract a fair number of people – and headed out further into the National Park to a campsite right on the Roper River, where the swimming was divine, the environment very pretty, and the number of tourists much smaller than at Mataranka. The remoteness and quiet atmosphere were so calming that I stayed for two days, visiting Mataranka Falls (a short 4km walk from camp), and finishing off the stack of letters I'd been meaning to write.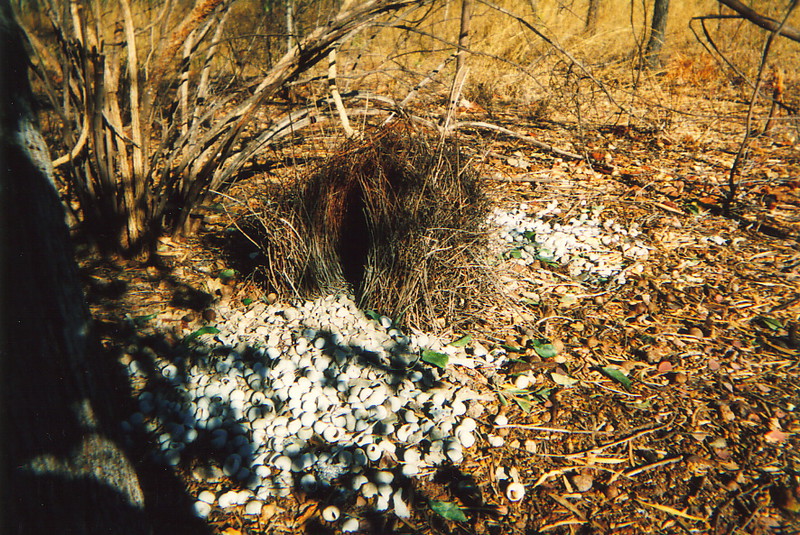 The local wildlife was intriguing: the strange birds sitting in a tree under which I was drinking tea, biting off the flowers and letting them fall in a blizzard of petals on my head; the endearing kookaburra, a large type of kingfisher that eats meat and breaks up its meal by smashing its beak against the nearest hard surface (its loud cry is one of the most notorious – and weird – in Australia's extensive soundtrack); the bower bird, whose males build a beautiful 'bower' of sticks, shells and anything bright and shiny they can find, in order to attract females; buzzing bugs that simply wouldn't take no for an answer; big fish, lurking in the reeds on the river bank... it's amazing how many strange animals you get used to in the bush, from bandicoots to kangaroos to wombats to koalas. Wildlife in England all seems a bit normal after the platypus and the possum.
It's also interesting how you keep meeting the same people in the Northern Territory, like the guys in Kakadu and the group from Litchfield. As I was sitting in Elsey, reading an excellent book about the life of Jiang Qing, the wife of Chairman Mao Zedong of China, this girl walked past who recognised me from Katherine Gorge some two weeks before, even though I now had no hair and was 26 rather than 25. It's a very small road in a very big country, up here in the Top End.