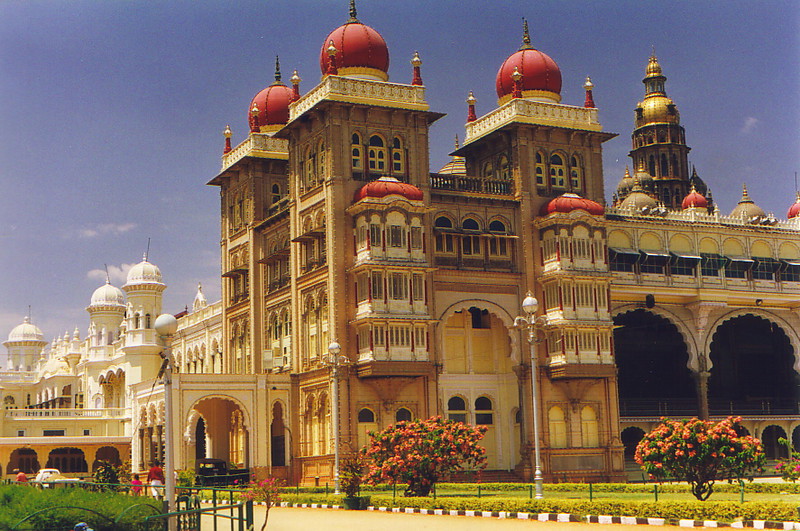 I really wanted to like Mysore, but I didn't, not because there was anything wrong with Mysore itself, but because I was completely shattered by the nightmare bus journey from Kochi. One thing that doesn't get more pleasant with experience is the overnight journey, and the bus that I picked for the ten-hour trip to Mysore was old, crappy and noisy, and had to bounce along some of the most pothole-ridden excuses for highways that I've ever seen. I was to find out later that in India, Valium is almost irresponsibly cheap and can normally be bought over the counter from any chemist with a sympathetic ear, but ignorant of this handy tip, I unfortunately managed to stay awake for every minute of the juddering journey.
Despite the miserable attitude that this lack of sleep forced on me, Mysore's attractions were pleasant, with its huge palace, a grand hill temple and a wonderfully colourful market. Mysore Palace, a monstrosity of pomposity and the seat of the maharajas of Mysore – who still exist and, in a similar fashion to upper class inhabitants of English stately homes, still live there, albeit in a little building off the back – was quite a sight, even if I did get stung twice for baksheesh by the palace guards who insisted on pumping me with uninteresting information about the building and then demanding money in return.
I also got accosted by a man from Kerala who had whisky on his breath and a serious desire to get me to write to him from home; I found him extremely hard to shake off, despite my protestations that my favourite pastime was uninterrupted peace and quiet. Eventually the only way I could get rid of him without causing offence was to promise to write to him once I got back home, which of course I did; you should never promise to write to someone unless you actually mean it. I got my personal space back and he got his letter (though he never replied, of course; too much whisky, perhaps).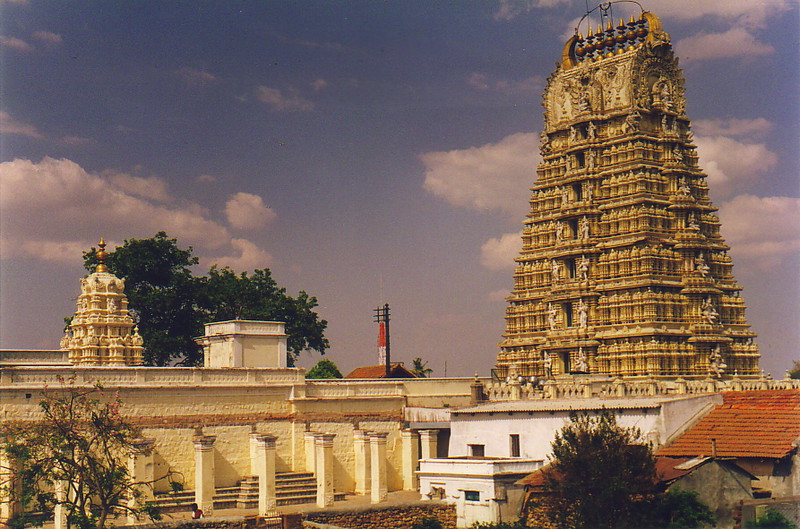 I then took a bus up Chamundi Hill to the hill temple for a view over Mysore that didn't turn out to be that special, so I quickly glided down the 1000 steps to the bottom of the hill and went exploring the fruit 'n' veg market at Devaraja. Here, at last, was the character I'd heard about from other visitors to Mysore: wonderfully friendly people, amazingly vibrant piles of tika powder in all the colours of the rainbow, mounds of incense sticks and fragrant oils, heaps of vegetables of unknown origin and use, and everywhere people busily selling, buying, haggling and living life to the full. It's worth visiting Mysore for the market alone; it almost perked me up enough to enjoy myself.
But I still found myself suffering from a downer after the bus journey, and the hotel I'd picked in my sleepy state wasn't exactly conducive to a good night's rest, so after just one day I found myself boarding the bus to Bangalore in search of, well, something else. In a country as big as India, there's an easy solution to frustration: you just keep going.
So poor Mysore, it caught me at a bad time, but at least I learned my lesson. Don't try to explore somewhere new when you can hardly keep your eyes open, or you'll have to rely on the photographs to remind you where you've been. And what's the point of that?