A night-train ride northwest of Bangalore, Hampi seems to exist in a sphere of its own, a self-contained combination of timeless natural wonder and historical human impact. Here the ruins of ancient civilisations pepper the rocky landscapes while restaurants pander to the requirements of the tourist classes, and all the time the slow turbulence of the Tungabhadra River meanders along the valley floor, only months away from the raging tumescence of the monsoon.
Describing the atmosphere of Hampi is as difficult a task as describing the allure of the city lights or the hypnotic attraction of dance music, but there is no doubt in every visitor's mind that Hampi has a special something, even if putting your finger on that something is impossible. For some it is the stark beauty of the igneous rock formations that dominate the landscape as it shivers under the heat haze of the midday sun; for others it is the different sense of time, a disconnection from the hustle and bustle of modern India – indeed, the modern world – as cows ramble past the stone steps where colourfully dressed women beat the dirt out of their washing; and for others it's Hampi's proximity to the beach state of Goa, resulting in the availability of luxuries like king-size cigarette papers and wonderful tourist trinkets while managing to remain an outpost of primitive culture.
Because the little town of Hampi is surrounded by one of the most extensive and varied collections of ruined buildings this side of Delphi, I decided to employ the services of a guide, a young man called Chandra who turned out to be a particularly good find. During the course of two half-day tours, he managed to transform a collection of dilapidated stone constructions into a living, breathing world of bazaars, incense, rituals, royalty, engineering genius and warring nations, a feat achieved by combining his encyclopaedic knowledge of local history with an evocative delivery, a talent unusual in someone so young. As a one-on-one guide he brought Hampi alive, recreating the scenes from 500 years ago when the Europeans were tentatively reaching out their colonial intentions towards the east, the Muslims were methodically invading India from the north, and the Vijayanagara Kingdom was thriving in the Hampi area. I normally scorn guides, but this time it turned out to be a good move.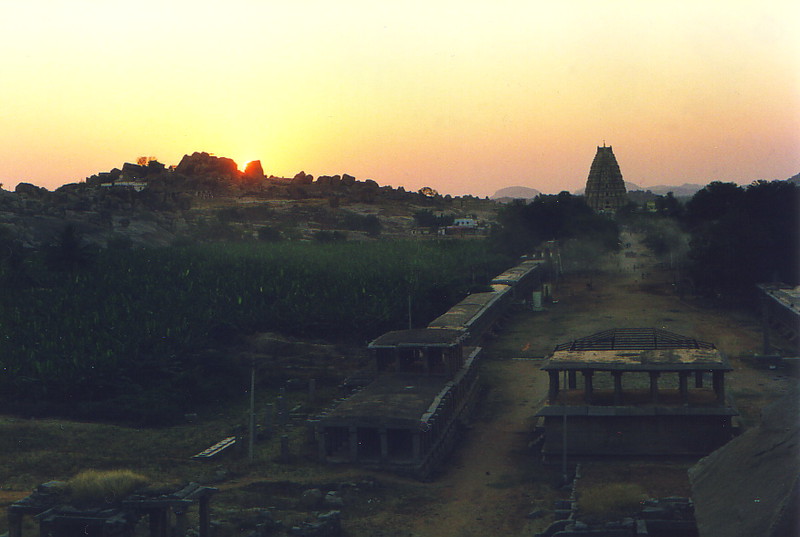 On the other hand, touring Hampi in the incredibly sweltering afternoon sun did make me think that if I saw yet another temple, I'd probably kick it. After a while lingams and gopurams begin to look exactly like all the other lingams and gopurams you've ever seen, and so it was with the temples of Hampi. But this is where Hampi wins hands-down over other sites, because behind each ruined building is scenery that bewilders.
In a geological pattern echoed by the rock sculptures of central Australia, Hampi's landscape is volcanic in origin; as the volcanic exudate cooled it cracked along vaguely orthogonal lines which, when exposed to the vagaries of weathering, wore down into piles of rounded boulders the size of houses. The resulting mountains of rocks are stacked up in gravity-defying balancing acts, with boulders seemingly about to roll down onto the town while stone slabs look as if a slight push will slice them like bread off a loaf, taking with them banana trees, coconut palms and electric cables.
Electric cables, indeed; for Hampi, while an historical tour de force, is an attraction that's positively ripe for the milking. The number of visitors who flock to see the sights is on the increase, and simply looking at my two-year-old guidebook's description of accommodation and restaurants shows how much has already changed. But for once the onset of the clumsy boot-heels of tourism doesn't concern me greatly; to destroy the unique atmosphere of Hampi you would have to defile a stunningly large area of inhospitable Martian landscape, and more buildings won't manage that. And Hampi is hardly the place where the clubs of Goa or the high-rises of the hill stations would work; the people just don't seem to have drunk from the cup of mammon that the Goans have drained. This is, without a doubt, a godsend.
Images of Hampi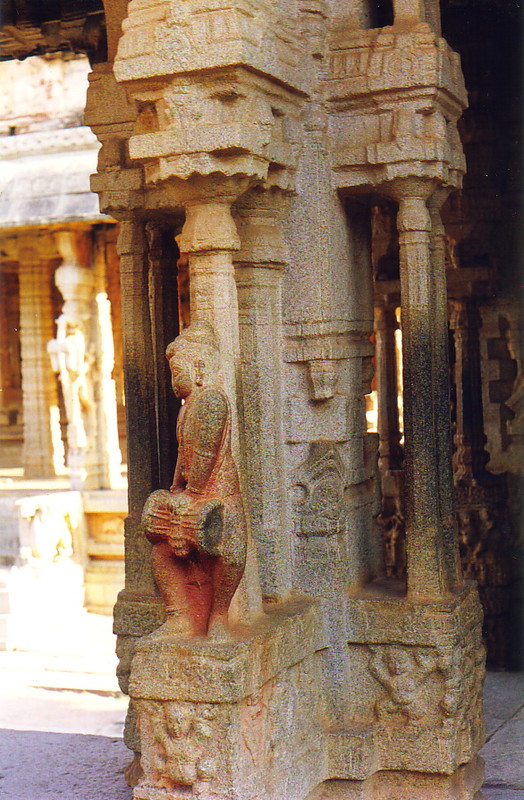 As with all fairly long stays, I happily slipped into the lifestyle. In Hampi the mañana ethos is stronger than in most places, and yet again I found my plans slipping gently away. Highlights of my lounging in Hampi follow, in no particular order:
Have you ever heard a musical temple? Neither had I before Chandra took me to the World Heritage Vitthala Temple. Here, tapping certain stone pillars produces harmonics that can only be described as ethereal, and it's something that's quite impossible to imagine until you hear a tune being tapped out on a stone carving of a drum. Discovering this sort of architectural genius really makes you really think about modern life; modern man could probably build such a temple out of granite if he so desired, but it could only be achieved with the aid of computers and science, systems that the builders of Hampi couldn't have dreamed of even in their most hallucinogenic phases. The same goes for the Pyramids, Stonehenge, the statues of Easter Island, the palaces of the Aztecs, the megaliths of the Bada Valley and so on. Do you ever get the feeling that by learning so much, we forget even more?

All that remains of the old city's aqueduct system

Other astounding architectural wonders pointed out to me by the vivacious Chandra were a comprehensive aqueduct system for filling the city's water tanks and bathing pools; underground temples used for secret meetings, where bats now inhabit the dank water-lined corridors while shafts of sunlight slice through the gloom; ancient water-based air conditioning on the first floor of the queen's pad; and a refractive light trick that reflects a gopuram's image upside down on the wall inside the temple. I could describe the fascinating history of the area and all the quirky clashes of Jainism, Hinduism and Islam that are reflected in the architecture, but plenty of better-informed scholars have written on that topic. In the case of Hampi, it's best just to go there and see it for yourself.

Excellent craftsmanship in evidence in this mortar-free wall in the old city

The local tribeswomen have resurrected their traditional dress in a wonderful combination of aesthetic concern and wily tourist appeal. These women, normally fairly ancient, get around in costumes that look as if they've smothered themselves in glue and rolled around the floor of a pantomime seamstress's sewing room. Chunks of mirrors offset the garish pinks and purples, monstrous nose studs clash with whole families of arm bands, and all the time they're trying to persuade you to shell out for handbags that would have made early Pink Floyd fans suck in their breath at the savage colour schemes. If Blue Peter was into fashion, this would be the result, and it's a gloriously kitsch sight.

Sometimes the Hampi ruins seem to merge with the landscape

Also quite aware of the deep pockets of tourists, crazy sadhus – wandering holy men who live an ascetic lifestyle – roam the streets with their wild eyes and wilder claims, and herds of wonderful postcard-selling children ply the restaurants with their excellent English and smiles that keep on shining well beyond their departure. If these little charmers are typical of the next generation of Indians, then this country's got a rosy future.

Why is it that just as soon as you have met some of the most warm-hearted and interesting people on your whole trip, they have to disappear into the folds of the travellers' trail, and always too soon? In Hampi I met and waved goodbye to a whole group of great people who instantly struck a chord. Kenny, Ross, Kirsten, Mark, Leslie, Mark and Sharon... and don't forget the locals, a collection of coyly intelligent bundles of fun who turned the whole event into one long festival of singalongs, culinary experiments and familial closeness. Maical, Lakshmi, Ali and countless others didn't just enliven Hampi, they personified it. And, as if I need to mention it, people smile back in Hampi. Not for the first time do I find myself hoping that I'll meet them all again, some sunny day.

A stone

thali

, from which a meal would have been eaten, with rice in the centre, and pickles and

dhal

I finished reading Sophie's Choice and I actually felt tears welling at the cataclysmic outcome of the novel. Perhaps it was the fact that I identified heavily with the narrator, but it moved me; the only other book I remember affecting me like this was a series that I read as a child, some five or six books whose names I forget and whose contents I only vaguely remember. After completing the last book and reading of the death of a character who had permeated each of the stories, I felt for the first time the icy grip of a master storyteller killing off a character who's become almost real. Sophie's Choice came along at a time when I was really beginning to rediscover my passion for all things literary, and if anything it has solidified my hopes to become a writer. If only I could produce the matchless prose of William Styron, I would feel I had achieved my life's ambition...

The walls of old Hampi are smothered in carvings of life in the old days

As if to remind me who's the boss, another bout of vomiting and diarrhoea struck me down five days after I arrived in Hampi, taking me by surprise me after a month and a half of reasonable health. I lay knocked out in my room, writhing in a turmoil of half-remembered dreams, sweat-wrung sheets and subterranean homesick blues, hoping for nothing more than a visit from somebody. Unfortunately I twisted in solitude, feeling far more than just lonely; I felt forgotten. However, it turned out that there was no reason to feel lonely, at least as far as illness went. During my eight-day stay absolutely everyone in the group went down with something, from the mildly uncomfortable to the serious, so there's clearly a hygiene problem in Hampi, especially at this time of year when water is scarce. (And, just like in Puri, my illness coincided with enforced vegetarianism, because Hampi is a no-meat zone on account of its religious significance; bring on the chicken, I say.)

The sunsets in Hampi are indescribably beautiful, so I won't.

A stone bathing

ghat

in the middle of the desert, originally filled by diverting the Tungabhadra River via an aqueduct

Try crossing a river in a coracle and you'll never again be scared by amusement park rides. Over the river from Hampi are more restaurants and hotels, where they even serve alcohol (though I stuck to the lassi, given my illness); you reach them by entrusting your life to a wood-and-tar contraption that redefines the word 'basic'. At night the coracles are beached by the riverside, overturned into a family of giant turtle shapes that leave behind perfect circles of fertile grass. On the other hand, entrusting your life to Charon isn't as crazy as floating down the river in an inflatable rubber tube, which is a popular way of seeing the landscape. I would have gone, but I found watching the tourists float past from my vantage point in the riverside restaurants far more relaxing than the prospect of getting wet myself. Besides, I kept thinking that I could always do that tomorrow...

The Indo-Saracenic architecture of the eleven elephant stables

It seems that Hampi has every type of Indian weirdness available, all crammed into one small town. There's an ashram being built on the hills overlooking the eastern end of the bazaar; there's a crazy palmist down by the river with orange robes, a huge beard and a little hut, who can be seen wandering around the town with his portable radio on full blast; there's a local homeopathic doctor who will cure all your ills for Rs50, asking questions like 'What qualities do you most admire in your friends?' instead of 'Now, where exactly does it hurt?'; there are restaurants serving bhang lassi by the river, and extremely strong ones too, judging by the local populace (bhang lassi is a marijuana milkshake, and is the closest thing I've ever found to Anthony Burgess's 'moloko with knives' from A Clockwork Orange); and there are dogs, pigs, cows and chickens wandering around everywhere, eating each other's faeces and generally having a ball. It sounds just like everywhere else I've been in India, doesn't it?
And to cap it all, I was lucky enough to be in Hampi for the Holi Festival, and I can't think of a better place to spend it...