We unashamedly fell off the budget bandwagon in Little Corn Island, and it was absolute bliss. So far on this trip we've had one splurge – Christmas on the beach in Guatemala – but we've generally stuck to a reasonable budget, because if you spend too much when travelling, you tend to get pushed away from the very culture that you've come to experience. But after three months of eating fairly dreadful local food, getting numb limbs on hard mattresses, wincing as the chicken bus goes over yet another pothole, and lying there, wide-eyed as the early-morning dog-and-cockerel dawn chorus starts up yet again, we figured we needed a bit of a holiday.
And Little Corn Island is about as perfect a holiday destination as you're going to find anywhere. Lying 12km to the northeast of Big Corn Island, which itself is 70km off Nicaragua's Caribbean coast, Little Corn Island is billed as being like the Caribbean from 50 years ago, and it's easy to understand why. At just 1.1 square miles, Little Corn has no roads or vehicles – not even golf carts – and there's no more than a handful of concrete footpaths where locals push hand-carts and wheelbarrows as transport. There's only intermittent electricity, with the village generator working from 2pm to 5am each day, and as it's been known to break down for three weeks at a time, you can't rely on it (which is why the better hotels have their own generators for backup power). There's no airport, so everyone has to come in by boat from Big Corn Island, and if the weather is playing up, you can get stranded for days. It's properly remote.
The island has just one small village with about 1000 inhabitants, with about another 300 tourists in residence at any one time; tourism is now the island's main economy, having taken over from lobster fishing. There are no poisonous snakes or spiders on the island, though there are still plenty that look like they might be. The most common language is English, and the island's name is officially Little Corn Island (rather than Isla Pequeña del Maíz), because the islands were British between 1655 and 1894, and when they then became part of Nicaragua, they were immediately leased to the USA. It was only in 1971 that they finally became fully Nicaraguan and the result is that the Corn Islands feel far more Caribbean than Nicaraguan, and for English-speaking visitors, there's no language barrier, which is a wonderful relief after the mainland.
There's a large baseball stadium surrounded by forest in the middle of the island, which you can reach via the footpath from the village to the north of the island; it's a bit of a surprise, given the small size of the community, but they do like their baseball here in Nicaragua. The highest point of the island, at 38m above sea level, is home to a communications tower, and next to it is a small lighthouse tower that you can climb up for a 360° view of the whole island. Outside the main village there's a smattering of low-key hotels dotted round the northern and eastern shores... and the rest of the island is made up of tropical forest, golden-sand beaches, corn-blue lagoons, palm trees and lots and lots of sunshine. Little Corn Island ticks all the boxes for a remote island paradise, and then some.
Five Stars and Counting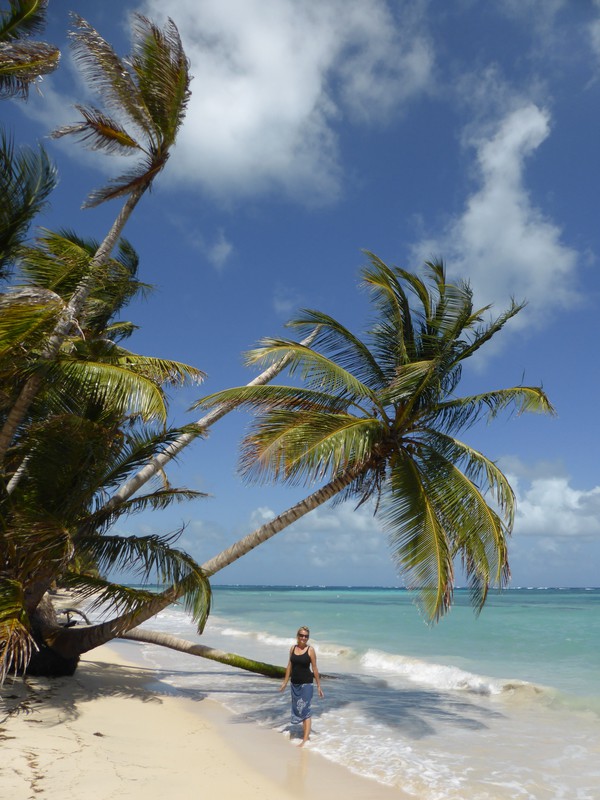 We split our stay between two places, the first on Cocal Beach halfway up the eastern shore of the island, and the second at Otto Beach in the middle of the northern shore. The trade winds tend to blow from the northeast round here, so the village and harbour are tucked away on the more sheltered western side, and while this means the boats are protected from the onslaught of the hurricane season – which last hit here in 2009, when the eye of Hurricane Ida passed right over the island – it does mean that the village gets hot and humid while the northern and eastern coasts are much fresher. Given how much I hate hot and humid weather, we happily fled the village scene and parked ourselves on the breezy beach for the duration.
It helped that the eastern shore is home to the number two hotel on the island, while the northern shore is home to the number one hotel. It also helped that the number two hotel, the lovely Little Corn Beach and Bungalows, could only fit us in for our first three nights (and then only because of a last-minute cancellation), so we did the maths and took them up on their offer, while booking the following week with the Yemaya Hotel and Spa, the island's top spot.
It was unashamed luxury. The only cabin they had available at Little Corn Beach and Bungalows was their best one – what a shame! – and it was lovely, with a huge and extremely soft kingsize bed, a view out onto Cocal Beach through the gently waving palm trees, and a pleasant restaurant nearby that served ice-cold beer, lobster, fish, steak and decent wine. We did precious little except sit and enjoy the view, with the odd wander along the picturesque beaches or through the forest and into the village. We absolutely loved it.
Yemaya, though, took things to a whole new level. Back when we first started going on holiday together, Peta and I would spend our holidays travelling, visiting places like Cuba, India, Morocco and so on. Over the next few years, my job intensified to the point where I needed to go on holiday to rest, and travelling for two weeks is hardly restful, so we graduated to five-star holidays on the beach in places like Mauritius and Malaysia (none of which I wrote about, because there's precious little to say when you're lazing on the beach, sipping cocktails and snoozing in the sunshine). Once you've tasted the high life, it never leaves you, so when Yemaya called out with its promise of five-star luxury on a paradise Caribbean island, just as we needed a haven from the travelling circuit of Central America, we just couldn't resist.
God, it was worth it. Yemaya is made up of 16 luxurious boutique cabins, with properly hot showers (our first since Santa Ana in El Salvador), delightful beds, a perfect beach a few steps from a lovely verandah, and an attention to detail that simply doesn't exist at the budget and mid-range levels. We slipped rather too easily back into the velvet glove of five-star living, happily ditching the shitty diet of Central America for wonderful curries and fresh fish dishes, and switching to cocktails and European beer instead of yet another bottle of Nicaraguan lager. We wandered along the beaches, which are absolutely picture-postcard perfect at the northern end of the island, and snorkelled on the reef that comes right up to the beach in front of the hotel.
We did a scuba dive, where we swam through huge shoals of fish, saw a monster moray eel and marvelled at a grumpy-looking stone fish (though we only managed the one dive because we both went down with a mild dose of Delhi belly, which forced us to kick back and do nothing for a while... though the snorkelling was so excellent that we didn't really feel the need to dive again anyway). And we just sat there and soaked up the endless panorama of pure turquoise seas, lapping waves, gentle island breezes and golden beaches.
Basically, we stopped travelling for 11 days and instead had a holiday. Boy, did we need it; getting back onto the road is going to be a bit of a shock after such a blissful interlude in paradise.