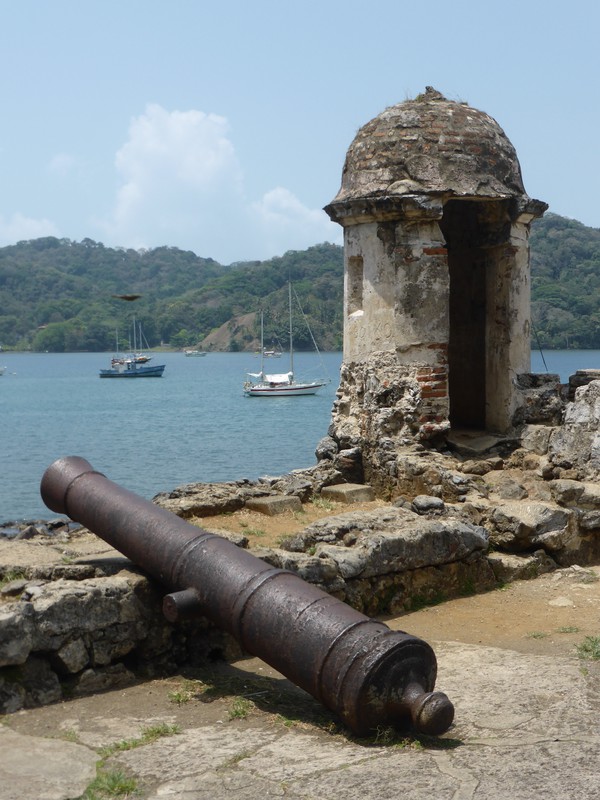 The bus ride from the gleaming skyscrapers of Panama City to the grungy port town of Portobelo is a bit of a shock, to be honest. It's been a while since we took a proper chicken bus, and I'd forgotten just how much of an assault on the senses they can be; the last one we found ourselves on was back in Nicaragua, because for some unfathomable reason Costa Rica and Panama seem to be doing all they can to phase them out and replace them with modern buses. But the process isn't complete in Panama and you do still see multicoloured school buses grinding their way around some parts of the country, so when we stepped off the air-conditioned coach that had whisked us from the capital to the northern port of Colón and mentioned to the bus station boys that we wanted to continue on to Portobelo, they pushed us up the steps of the nearest bus and we burst into the psychedelic and ear-shattering world of the Central American chicken bus for the first time in two months.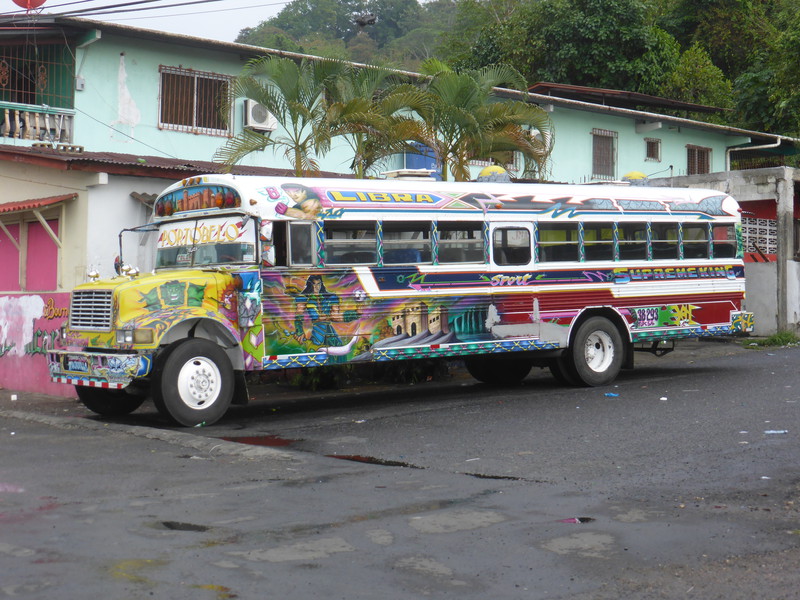 We managed to squeeze into a seat – with Peta's knees jammed up into her stomach, as the wheel arch took up all the space underneath the seat – but it soon filled to bursting point, and after bouncing along the coastal road for an hour and a half with painfully loud rap music serenading us at every turn, we finally arrived in Portobelo with cramped legs and aching ears. And then the rain started, which didn't exactly help, because it turns out Portobelo is a pretty ugly place, especially compared to the gleaming skyscrapers of Panama City.
There's a sludgy river dribbling through the centre of town that bubbles and squelches as it sends out clouds of acrid stench, and the buildings seem to be suffering from the same kind of black mould that afflicts Mexico, but even more depressing was the fact that when we arrived on a Monday, everything was shut. In particular, none of Portobelo's grotty-looking restaurants appeared to be open, and the strangely distracted lady at our hotel said our best bet was a restaurant that was some way back along the road to Colón, which we could probably walk to if we were feeling adventurous. It wasn't looking good, but luckily we chanced upon Captain Jack's hostel, where they served a mean burger and cold beer to the few backpackers who'd washed up on Portobelo's shores, despite it being the day of rest for everyone else.
Captain Jack's hostel exists because there are two good reasons for travellers to visit Portobelo, even if it doesn't look like it on the surface. The first, and most astonishing, is that Portobelo is actually a World Heritage site, and it has a long and interesting history, dating back to its founding in 1597. When the Spanish ruled this part of the world, the gold and silver that came up from South America and through Panama City was transported across the country to Portobelo, from where it was put on ships bound for Spain. Portobelo grew into the most important port in the New World and became a tempting target for Spain's enemies, and a number of forts were built around the harbour, some of which still survive today. These forts are Portobelo's saving grace, because if there's something I love, it's an old colonial fort, and Fuerte San Jerónimo and Fuerte Santiago, which are easily accessed by foot from town, are pretty atmospheric. Their turrets now look out on yachts anchored in the calm bay rather than enemy warships, but there are still some original cannons aiming out to sea, and they're well worth a visit.
Even better is Mirador Perú, a viewpoint at the top of a steep staircase that has a commanding vista over the harbour. When the sun finally broke through the clouds the following morning, we enjoyed a lazy day perched on the old ruins halfway up the hill, watching the yachts in the harbour drifting in that synchronised dance that they weave when the wind changes and they all slowly turn to face the same direction. Portobelo almost looks pleasant from this distant outlook; the smell of the sludgy river in town doesn't quite make it this far.
The second reason to visit Portobelo – and the reason why we'd rolled up on its shores – is that this is one of the ports where you can catch a sailboat to Colombia. And so it was that after a day of killing time in this distant backwater, we boarded The Black Dragonfly for our own, slightly more modern adventure on the high seas.