Trinidad oozes charm, which made it a perfect antidote to the disaster zone of Playa Girón. This time we drove straight into the centre of town, got lost, pulled up by the side of the road to try to work out a strategy for finding accommodation, and a man came out of a nearby casa particular, knocked on the window and asked whether we'd like to see his habitaciónes. We liked what we saw, and so we ended up staying with José and Daisy on Valle Maceo for three very pleasant nights.
In retrospect, it isn't surprising that we found a casa particular so quickly, because Trinidad has over 300 of them. What did surprise me was that we managed to find one so easily in such a convenient spot, a stone's throw from the main centre of town; being a UNESCO World Heritage area, Trinidad is a serious tourist draw and is the most visited town in Cuba, which means there are plenty of jineteros only too happy to show you to their favourite casa (or, to be more accurate, the casa that pays them the highest commission). Luckily we'd been nabbed by the owner, José, and it worked out a treat.
Not only did we have a pleasantly cool room in a pretty Trinidad home, but the food that Daisy cooked for us each morning and evening was superb. The main complaint people have about holidaying Cuba is that the food is awful, and if your main source of nutrition is the kind of all-inclusive pap that we'd suffered in Playa Girón, I can see why. Instead of grey, lifeless mush, Daisy fed us with the likes of tender chicken, homemade chips, fresh salad, seafood fried in garlic, succulent pork, and plenty of the national dish, congrís, consisting of perfect rice with red beans. It's amazing what a difference a good feed makes, and Daisy's spreads really made that difference.
Historic Trinidad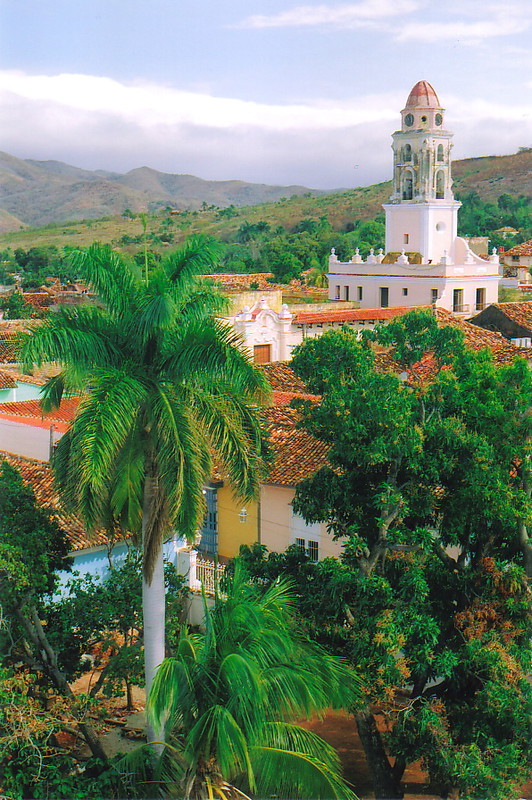 Not only was our casa particular a vast improvement on the previous night's hovel, but so was Trinidad itself. It's easy to see why UNESCO gives it a big thumbs up, as Trinidad is a beautifully preserved example of colonial Spanish architecture, and if you can squint your eyes and mentally block out the large number of tourists milling around the old town centre, it's easy to imagine that you're back in a time when old men were old men and their donkeys were more than just photo opportunities for tourist hordes.
The old town centres on Plaza Mayor and its square of white-painted wrought ironwork, tiled walkways and cobbled courtyard. The square is dominated by a grand church, the Iglesia Parroquial de la Santísima Trinidad, which at night sports a neon cross on the top, and surrounding the square are ancient buildings with ornate balconies and shady porches. The square has been considerably cleaned up for the tourists and it feels slightly unused and clinical – not helped by the anti-tout police who guard it night and day – but take a look down the side streets leading in all directions, and it's hard not to fall for Trinidad's charms.
With its winding cobbled streets and hardly any signs of modernisation beyond the electrification of the town's old lampposts, Trinidad is perfect for exploration by foot. Everywhere there are doorways leading to leafy courtyards, which house everything from restaurants and museums to accommodation and tacky tourist shops, and if your idea of heaven is supping a cocktail at a table overlooking a picture-perfect colonial square while a talented Cuban band plays traditional music for your personal entertainment, this is the place for you.
Beauty is Skin Deep
At first we couldn't resist it; we headed straight for the Plaza Mayor and walked up the wide stone stairway to the east of the Iglesia, taking a seat at one of the white metal tables in the Casa de la Música and returning the waiter's beaming smile with the order of a Cristal beer and a mojito. I was a little surprised when they brought me my beer in the form of a can and a small, thin plastic cup, as this was clearly the prime tourist drinking spot in Trinidad, but this wouldn't be the last time that Cuba appeared to be missing a tourist trick. The clientele were exclusively tourists, and I get the feeling that you could charge more than $1 for a beer if you served it in a glass, bought some parasols for the tables and improved the quality of your cocktails. Even in this bar in the centre of Cuba's most visited city, the corners feel cut.
This may have something to do with the fact that Cubans find it practically impossible to leave their country, so their exposure to the world outside is practically non-existent. We spoke to a local who explained how hard it was for Cubans to break out of the local scene; with an average wage of around $13 a month and a transport system that is so overburdened that hitchhiking is an officially organised solution, he said it was pretty much beyond the average person's reach to get to Havana, let alone abroad. If you add in the fact that to get a passport your average Cuban will need an official invitation from a foreign embassy, then it's fair to say that for most Cubans, their only exposure to foreign cultures is through the tourists that turn up on their shores. When you consider that most tourists roll up on organised package tours where all-inclusive and pre-paid are the rules rather than the exception, it's little wonder that world-class spots like Trinidad serve lame mojitos and canned beer in plastic at knockdown prices.
Of course, this doesn't stop the tour buses rolling in and the bars filling up, but it does smear a veneer of plastic fakery over the whole Trinidad experience. Once our relief at escaping from the Bay of Pigs had washed over us and drifted into the realm of 3am nightmares and holiday horror stories, it soon became apparent that finding the real soul of Trinidad would be more difficult than it first seemed.
Loud Cuban Bands
We tried valiantly to scratch the surface of Trinidad, but ultimately we failed (unless, of course, Trinidad is little more than a tourist shell, which I don't really believe, and don't want to). We spent the first night doing the tourist thing and hanging out in the Casa de la Música, which filled up as the evening progressed until the steps were heaving with crowds of tourists watching the traditional Cuban band halfway down the steps. Despite the perfect setting and the undeniably upbeat music, the atmosphere was a long way from the thumping party vibe portrayed so enticingly in the Bacardi adverts. The crowd clapped politely between each song and hired dancers shook their hips in front of the band, but there was little engagement between the audience and the musicians; this was all about getting that Kodak moment and saying you'd been there. People were nursing their plastic cocktails rather than throwing them back, and I could see people mentally ticking the box marked 'Evening spent watching salsa band in historic colonial square.' We left them to it when we couldn't handle any more drinks, which didn't take too long.
Irritatingly, the other bars in town felt distressingly similar. Some managed to serve their cocktails in glasses, though the beer always came in a can and plastic cup, and the entertainment always followed the same theme. Each bar consisted of tables facing a stage, on which a band or a dance troupe would strut their stuff. The biggest problem was that the volume was so loud, it killed any chance of an atmosphere starting up; instead, you had a bunch of tourists sitting there, unable to communicate with each other, while entertainment of variable quality blared from the stage. The odd Cuban or South American dancer would kick off in the corner, but the truth was that the entertainment took over each bar completely, which is a bit boring when it's yet another salsa band playing yet another collection of songs that sound like they're being played by yet another salsa band. I like Cuban music and have a fair amount in my collection at home, but that doesn't mean I like it to be the only option, 24/7.
It's also a prohibitive dancing style for those of us who don't know how to salsa (i.e. the vast majority of tourists). If you have a band on stage and professional dancers out front pretending to be the audience, then you're never going to persuade the uncoordinated tourist hordes to jump up onto their two left feet and get into the groove. If only the bands involved themselves in the audience a little more, it might make a difference, but as it is the bar scene in Trinidad is all about loud cabaret and little ambience, with no middle ground. There's room there for a quieter, more romantic bar where drinkers can communicate, with the sweet sounds of Cuba drifting through the sultry tropical air and quality cocktails available in genuine glasses... but perhaps it takes someone who's been outside of Cuba to think like that?
Burning Beach
Instead, we spent our evenings talking with José and Daisy's son, Manuel, who spoke better English than we did Spanish and who was a delight to talk to. While talking about the area, we asked Manuel if there were any beaches nearby that he could recommend, and he said there were two. La Boca, the nearest, was where the locals went, while the tourists went to Playa Ancón, along the end of a 4km sand spit to the south of Trinidad. 'Ancón is just too hard for us to get to,' he said, 'so instead we take the bicycle to La Boca. But not often.' Playa Ancón is 14km from Trinidad; when public transport is non-existent and only the rich have cars, it's a very small world indeed.
Besides, Playa Ancón is very much a tourist beach, with a couple of hefty tourist hotels behind the beach and plenty of pale bodies lightly toasting in the sun, their all-inclusive bracelets leaving white rings in their otherwise perfect tans. I don't do beach holidays terribly well – I blame my low boredom threshold – but even I can appreciate the appeal of tranquil, light blue waves lapping gently against white sandy beaches, and we parked the car in the Hotel Ancón, rented a couple of sun loungers under the beach umbrellas for a dollar each a day, and relaxed. Apart from half an hour's snorkelling with gear that didn't fit – during which we discovered there was absolutely nothing to see within swimming distance (the reefs, which are apparently very good, are really only reachable via dive boat) – we stayed put, eating pizza from the men who walked up and down the beach and moving only to stop parts of our bodies from going numb.
Ever since I burned the skin behind my knees in Gran Canaria, blistering them to buggery and forcing me to spend two miserable days lying on my front in the hotel, I've been rather cautious on the beach. I hid religiously in the shade of our thatched beach umbrella while Peta basted in the sun, which made it all the more annoying that I got really quite seared. I'd clean forgotten about the power of the reflected sun, and facing south towards the sea, just a few yards away, proved to be fatal. I spent the next few days wincing and feeling decidedly hot, and it was scant comfort that Peta, too, was burned red. The Cuban sun, even in March, is no laughing matter.
Quite unlike the sight of tagged, overweight tourists taking exercise classes on the beach, which I'm sure will never cease to entertain me...