Update Required

To play the media you will need to either update your browser to a recent version or update your

Flash plugin

.
After double-dosing on the slave forts of Cape Coast and Elmina, I decided my best strategy for exploring the Ghanaian coast was to head as far west as the attractions would take me, and then slowly make my way back east, back towards Accra. This would require a reasonably hard day's travelling from Cape Coast to the village of Nzulezo, near the border with Côte d'Ivoire, but I figured it would be worth the effort; Nzulezo doesn't appear on any of my maps and is conspicuously absent from my guidebook, but I'd heard that it was home to a village entirely built on stilts, and this sounded weird enough for me. After the fantastic but touristy World Heritage forts of the central coast, I fancied getting off the beaten track a bit.
It was therefore highly inconvenient that I should be sitting in the egg and bread stall round the corner from my Cape Coast hotel, all geared up to spend the day travelling into the nether regions, when my stomach suddenly started cramping up. I'd just taken my daily dose of Doxycycline and one of the side effects is a slightly squiffy stomach, but this built up into something altogether more unpleasant, and with the deft leap of the well practised I jumped out of the stall and ran over to the mercifully clean open sewer, where I spent the next five minutes heaving up fluorescent green bile.
It's an indication of my general level of health in Africa that I simply finished the job, blew my nose, washed my mouth out with purified water and sat right back down again to see if I could finish off the remains of my breakfast. Indeed, I was so determined to head west that I practically psyched myself better, and after necking a replacement Doxycycline and drinking a few bags of water, I hopped on the bus for the junction town of Takoradi.
It's also an indication of how good Ghana's transport can be that I only had to wait for an hour and a half for the Takoradi-Beyin minibus to fill up and trundle on its way. Beyin is a tiny village in the middle of nowhere, well off the main road, and in the Sahel I would have been waiting for hours, but for some reason there just seem to be more people wanting to travel in Ghana, and by mid-afternoon I found myself in Beyin, sweating my way along the dirt track that passes for Beyin's main road. My short illness had passed as swiftly as it had appeared, and now my mission was to find the office of the Ghana Wildlife Service, who, I'd been told, would sort me out with transport to the stilt village.
Magical Mystery Tour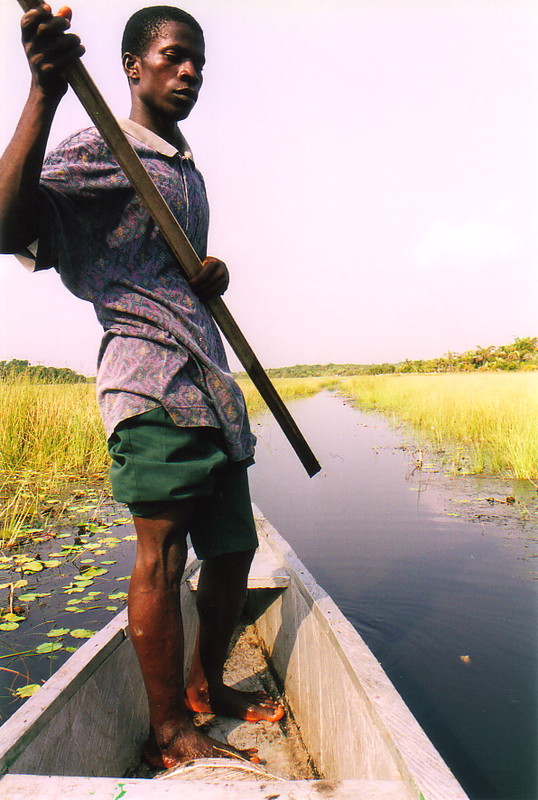 It took me a little time to find the office, not because I was heading in the wrong direction, but because the sign outside the building – the last building in town, of course – actually read 'Amansuri Conservation and Integrated Development (ACID) Project', with 'Ghana Wildlife Service' scribbled in tiny letters underneath. I had no idea what ACID was all about, but it seemed like a good excuse for a truly awful pun.
'Hello,' I said to the four smiling men in the office. 'Am I in the right place to find out about Nzulezo?'
'Yes, that's right,' they said.
'So this is where I can sort out transport to the village?' I asked.
'Yes,' they replied. 'We go by canoe.'
'Is it anything to do with the ACID project?' I asked.
'Yes, that is correct,' one of them said. 'It's part of the conservation project. We do a lot of things, like working with locals so they do not kill animals, conserving the marine turtle along the coast, setting up bird-watching tours for tourists, doing canoeing trips to the stilt village, organising trips to look at plants and animals, and so on.'
'That's a really worthy cause,' I said. 'And can I stay in the village too?'
'Yes, there is a guesthouse,' he said.
'Sounds good,' I said, trying not to grin. 'Then I'd like to sign up for one ACID trip to the stilt village, please.'
'OK,' said the man, while I giggled to myself slightly pathetically; I guess that's what long-term travelling does to your sense of humour...
The Canoe Trip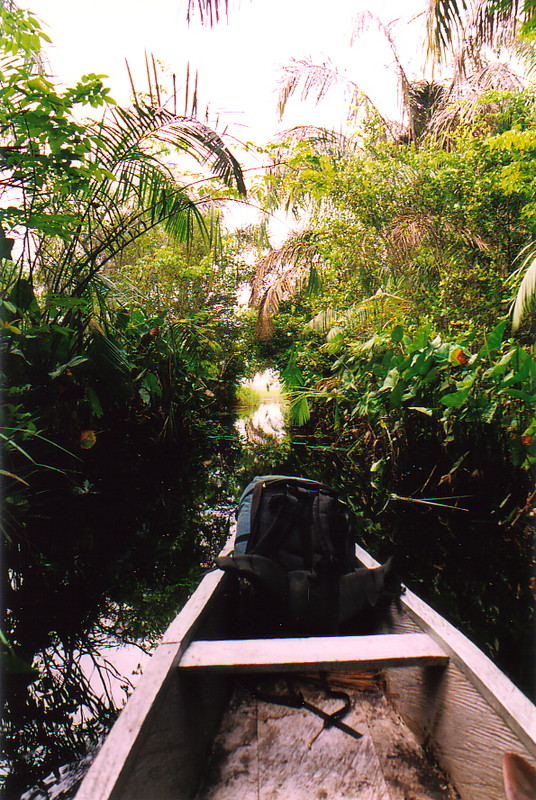 Unwittingly I hit the nail bang on the head; visiting Nzulezo was indeed a trippy experience. Once I handed over my money I was introduced to a young man called Evans, who was to be my guide. Strangely enough this turned out to be his real name, despite sounding ridiculously Victorian; the only Ghanaian name he had was Kojo, as he'd been born on a Monday, so Evans it was. I felt like I'd signed up for a flag-waving British expedition deep into the interior as Evans led me down the road and into a huge, flat field full of grass.
'We walk this way to the boat,' he said, and I looked around, confused. All I could see was a mass of knee-high grass stretching into the distance, with a dirt path leading straight into the heart of it.
'Do we have to walk far?' I asked, wondering where we were heading.
'No, it is just here,' he replied, and as he spoke we rounded a corner in the path and suddenly I understood; the grass was the lagoon, and the path dipped into dark water where ten shallow canoes sat, bumping in the breeze. Wading between the boats, the clay-like black mud oozing between my toes, we soon reached a canoe called The Amansuri and hopped in.
'It is maybe one hour to the village by boat,' said Evans, and although he overestimated considerably, it was quite a trip. Poling from the back like a Venetian gondolier, he pushed us along a cleared path through the grass like a kind of tropical icebreaker, and we drifted pleasantly through the light green meadow, stirring up the dark brown water as it reflected mottled images of white water lilies, steel blue sky and the dark greenish brown of the palm trees lining the lagoon.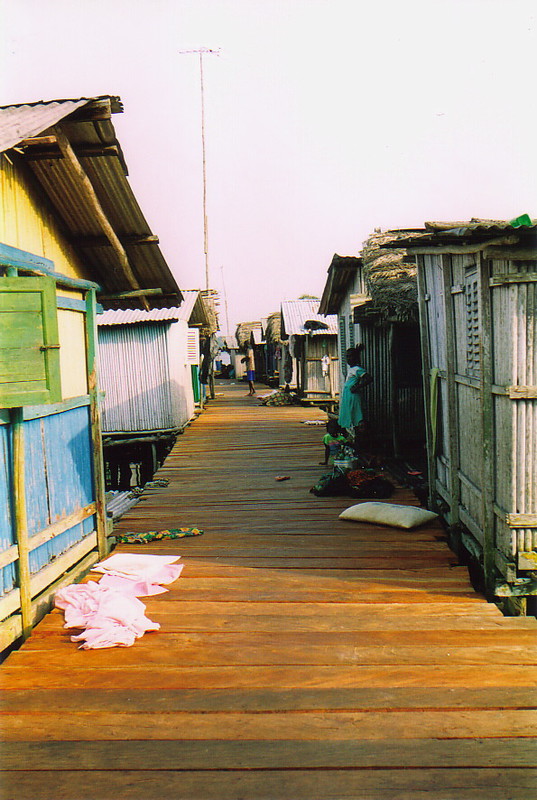 'These are raffia trees all around us,' said Evans, following my gaze. He went on to explain that the villagers get palm wine from the raffia tree, which they then distil to make an utterly lethal drink called akpeteshie. ('You can try it if you like,' said Evans, 'but we guides are not allowed to drink while we're doing tours; if we drink we get suspension.' I figured I'd better not tempt fate after my experience at breakfast.) Meanwhile the tree's bushy fronds are used to make roofs and the thick, round branches make up the village's stilts, the main structures of the houses, the walls and the walkways. Not only that, they also make fish traps out of raffia; it's truly the building block of life out in Nzulezo.
'The village people do three things,' said Evans. 'They distil akpeteshie, they farm the land about three or four kilometres from the village, and they fish in the lagoon. The fish come to spawn here in the grass, so there is no fishing here, but there is much fishing in the open lake.'
'Is it deep here?' I asked, looking at the jet black water as it lapped round our boat like a lake of flat Guinness.
'No, it is not deep,' he said, pushing his pole in to a depth of about two feet. 'In the wet season the river is very high, and the grass is completely covered, but now the water level is going down and it's only about halfway up the grass.'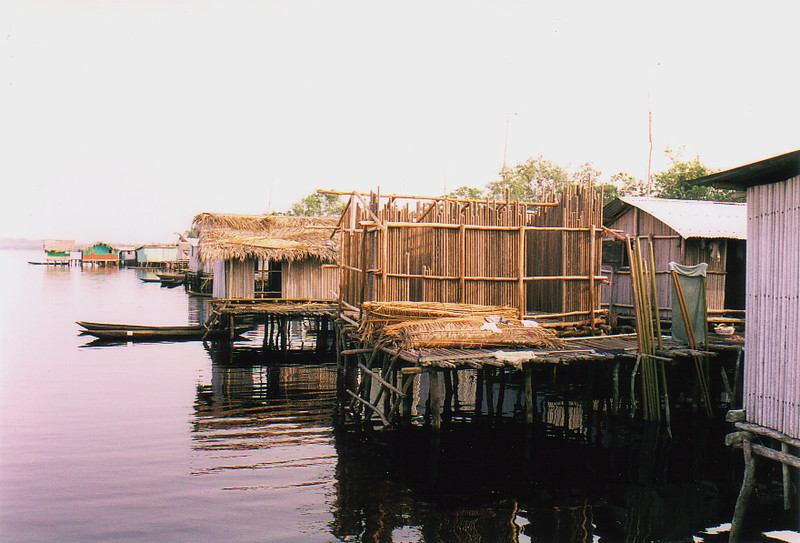 Like most wetlands the Amansuri Lagoon is home to plenty of aquatic and bird life, though to an ornithological philistine like me the wildlife makes for little more than an impressive-sounding list of names. Evans pointed out a few cattle egrets, an African yellow pied wagtail, a European swift and the rusty-red great African jacana, much to my polite indifference. Unfortunately we didn't see a great heron or the catchily named lily trotter, who apparently also inhabit the area, and neither did we see any monkeys in the short stretch of rainforest that we cut through.
'We have black and white colubus monkeys here,' said Evans, 'and the moana monkey too.' But my attention was elsewhere, for all of a sudden we broke free of the grassland and there was the lagoon, a huge flat expanse of water stretching out to distant, raffia-studded shores. Evans ditched his pole and started paddling, pointing to the left-hand bank of the lagoon. I followed his finger and saw a smudge in the distance.
'The stilt village,' said Evans. 'That's where we're going.'
'Excellent,' I thought. 'This should be interesting.'
The Stilt Village
The first thing that struck me about the stilt village was that the tall poles that stick vertically out of each house made the place look like a balding porcupine. The second thing that struck me, as we drifted closer, was that each of these poles had a surprisingly familiar object stuck on the end; that's because these poles are in fact TV aerials.
'Do they have electricity here?' I asked Evans in a surprised voice.
'Yes, but everything runs off car batteries,' he replied. 'The villagers have to take them to Eikwe to charge them up, or sometimes to Takoradi.'
I'd passed through both Takoradi and Eikwe on the way, and the thought of having to lug a bunch of car batteries all that way just to get electricity was something I wouldn't relish, but obviously it doesn't bother the locals too much, as the throbbing bass of about five hi-fis, all set to volume 11, greeted us as we paddled towards the village.
As we got closer and the music got louder it became apparent that the stilt village is exactly that; each house stands on a network of thick poles, driven into the lagoon's bed, with about five feet between the water level and the houses' floors. At first the houses look as if they are made from corrugated iron, but as we reached the village it became clear that practically everything – apart from the odd tin roof – is made from raffia. Raffia poles look a little like bamboo, and the walls and the floors are made from row upon row of tightly bound raffia stalks, each about two inches in diameter. Some houses are a natural light grey colour, but most are painted yellow, blue, green or brown, with some of them tastefully done up with a two-tone effect, and it was towards one of these structures – a blue-yellow hut – that we paddled.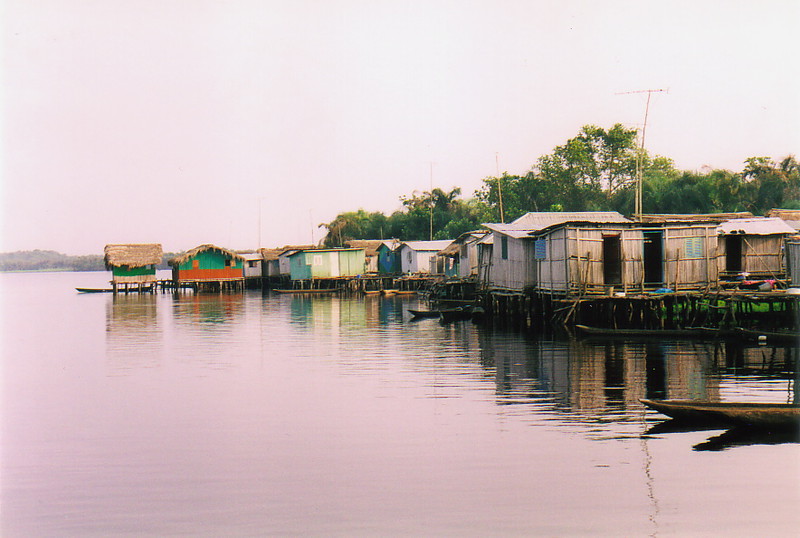 'Here is the guesthouse,' said Evans, pointing to a sign saying 'Nzulezo Homestay' that reflected perfectly in the oil-black water. 'Nice place,' I said as we docked.
The Nzulezo Homestay is indeed delightful. It consists of a main stilt building with a large veranda and a couple of rooms off the back, plus a separate building containing three rooms, linked by a walkway. I was given the middle room, a nice little affair that had a door that was designed for pygmies (I banged my head almost every time I entered) and wallpaper that had, in a previous incarnation, been a catalogue for an Italian hypermarket that appeared to sell clothes, food, drink, kitchenware, plants, shoes, stationery, umbrellas, luggage and, usefully, chainsaws.
Meanwhile, out on the veranda, I was introduced to Daniel, the proprietor, who handed me the visitors' book to sign; during the last year around 70 people have stayed in the Nzulezo Homestay, making it one of the less-visited hotels in the region, but that hasn't stopped the local authority from printing a sign entitled 'Tourist Ethics' that Daniel has proudly stuck on the wall inside the veranda. I figured I might as well take a look before we went exploring the village, in case I accidentally committed a terrible faux pas in passing. Starting from the top, I soon came across the following:
Visitors are to put on waterproof footwear and come along with raincoats.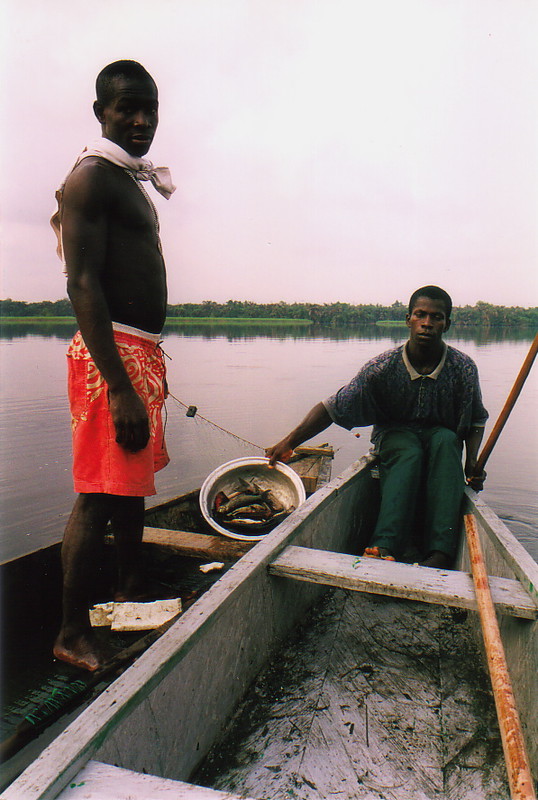 'Eh? I'm supposed to wear waterproofs?' I asked Daniel.
'That's just for the rainy season,' he said. 'It's OK now.'
'Ah,' I said, and continued reading:
Visitors to the stilt village are to wear life jackets. This [sic] will be provided at the visitors centre.
'Um, I never got a life jacket,' I said. 'Should I have one?'
'You can swim?' asked Evans.
'Yes,' I replied, 'but I'd really rather not swim here; I'm scared of dark water.'
'Then it is best you don't fall in, but you don't need a life jacket,' said Evans, and that was that.
Back at the notice, I reached the section entitled 'Socio-Cultural/Safety Ethics':
Do not make any provocative or mocking statements when you get to the stilt village.

Do not stand up in the canoe.

Do not make noise in the wetland.

Making love openly at the beach or any of the communities is prohibited.
'Blimey,' I said. 'Are you telling me that you've got a problem with people making love on the beach here?'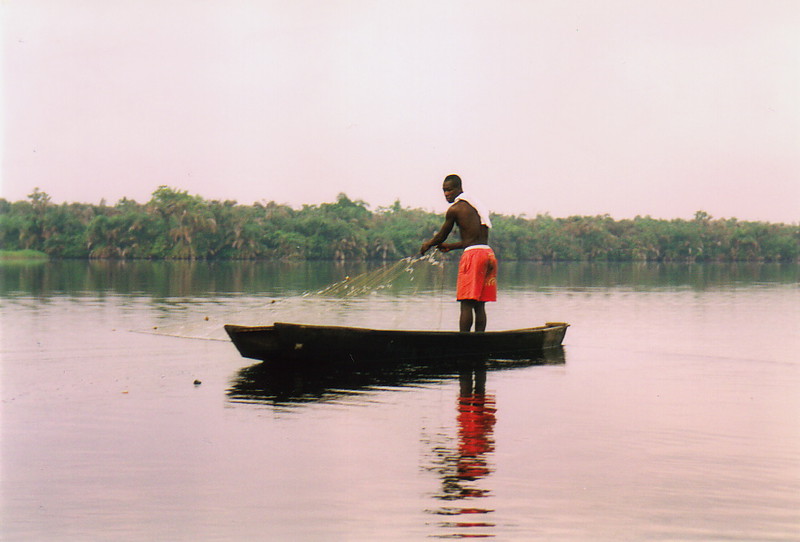 'A long time ago, yes,' said Evans, and I could only assume that back then, the beach was different; these days it seems to be used more for sanitation than procreation, but that's progress, I guess.
Satisfied that I was unlikely to breach the tourist code, we set off to explore the village. Home to about 500 people, Nzulezo is long and thin, based around a straight main 'road' that was recently rebuilt using thick planks of wood rather than raffia, which wears out pretty quickly; the building work was done by Raleigh International, who sent three groups over to work on this and other eco-tourism projects in the area. Houses line the sparklingly new main road, and raffia paths shoot off at right angles between the houses, leading to kitchens that are purposely built away from the houses to prevent the risk of fire. Halfway down the main road is a classroom full of wooden desks, which doubles as a church on Sundays, and at the end of the village, past the chief's house and two more classrooms, is a dank-looking pond that apparently evaporates in the dry season, providing a football pitch for the kids. And there are kids everywhere, running around with no clothes on, screaming and shouting and totally failing to fall into the lagoon. Evidently the final prohibition in the tourist code doesn't apply to the locals, and quite right too; what else is there to do at night in an isolated stilt village in the middle of nowhere?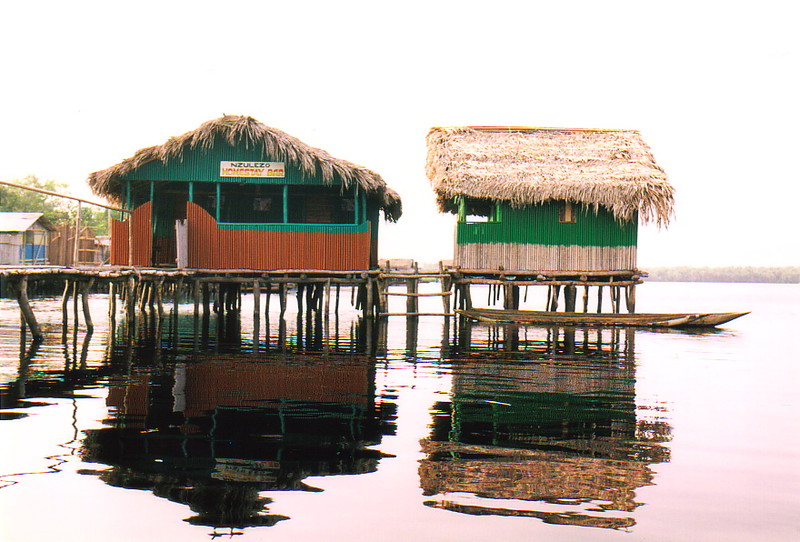 I assumed that sleeping would be a prime occupation in such a backwater, but my hopes that the stilt village would be a tranquil little place to spend the night were rudely dashed by the music I'd heard on arrival. As the night wore on and I retired to my Italian hypermarket to get some rest, the hi-fis continued to do battle, sending ripples through the black water and up the stilts that held my bed aloft. Water is a pretty good conductor of sound, as any scuba diver will tell you, and as I lay there in bed, trying to block the loud thumping out of my mind, I heard the sound of rain pattering down on my raffia roof.
'Rain!' I cried, and leapt out of bed; having only seen rain once since leaving home – ages ago in the Gambia – I couldn't wait to see it, especially on such a black lagoon as this. I flung open my window and stuck my head out, but all I could see were the stars blinking through the haze, reflecting in an undisturbed lake. I listened again, and there it was; the patter of tiny raindrops, but outside it was just another balmy Ghanaian night. And then suddenly the hairs on my neck stood to attention and I realised that I wasn't hearing the patter of tiny raindrops but the patter of tiny feet, for under the adverts for Italian wine and wellington boots were hundreds of little cockroaches, chewing away at the wood and digging little homes for themselves. I reached for my torch and switched it on, and sure enough the room shifted as hundreds of little brown bodies scurried back into the lingerie section. I wasn't alone.
'Bloody hell, now I know what hippies mean by a bad trip,' I mumbled as I unrolled my mosquito net and tried to sleep among the sound of cockroaches nibbling in time to the Ghanaian music that throbbed through the oily lagoon.
The Migration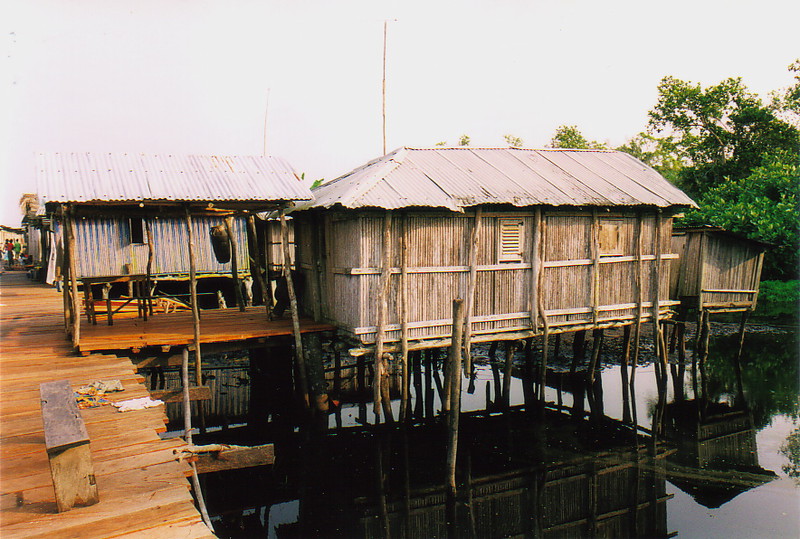 As I lay there trying to con myself that it really was raining outside and that the cockroaches were nothing more than the product of a fertile imagination, I thought about a story Evans had told me about why the Nzulezo people lived on stilts. I'd pointed to a rectangular raffia box on stilts just outside the village, and Evans had told me it was a shrine to the gods of the river and that it was all part of the story of the migration.
Some 600 years ago a group of people were hounded from their homes in the Lake Chad area and they fled south on foot. Following their snail god (I guess it was a slow journey) they settled in various places throughout what is now Ghana, but their enemies kept finding them. After a long journey they finally reached the mouth of the River Amansuri, which still feeds the lagoon today. Their snail god started swimming up the river, so they cut down a bunch of raffia trees and made rafts, one per family, and eventually settled in a place called Pinea, on the opposite side of the lagoon to where Nzulezo is today; this is where they first built a village using stilts, because there was simply no land for them to build conventional houses on.
Originally there were 45 chiefs who led the people, but despite building their kitchens separately from the houses, the village kept burning down, until all but one of the chiefs had given up and moved on to what is now Côte d'Ivoire; this chief's name was Takarika. One day an elder from the village, a man called Mogae, went fishing on the other side of the lagoon, and he noticed that the wind blew less on that side, so there would be less risk of the kitchen fires being caught by the wind and destroying the village. Takarika therefore moved his whole tribe across the lagoon and built the new village of Nzulezo.
Meanwhile the villagers' old enemies finally caught up with them and were determined to sort them out once and for all. However the gods of the river changed the water into land, which enticed the enemy to advance towards the village, and when they were in the middle of the lagoon, the gods turned it back into water and they all drowned. Apparently this all happened on a Thursday, so on Thursdays nobody goes fishing. Also once a year, on a specific Monday, sacrifices of sheep and fowl are made at the raffia shrine to honour the river gods, and because of this nobody is allowed to fish before 4pm on Mondays. I guess everyone needs a weekend, whatever your religion.
The underlying message of this story is that the villagers built their village on stilts, miles away from the nearest land, because they wanted peace. It wasn't for the fishing and it obviously wasn't for the farming, it was because here they were safe from their enemies and they could live in peace.
At least, this is the reason that Evans gave me when I asked him why the villagers lived on water. As modern technology thumped a heavy bass-line through the lagoon towards my cockroach-infested raffia bedroom, I presumed that for the followers of the river gods, the times they are a-changin'.
Fort Apollonia
Early the next morning, after a fitful night's sleep and a quick breakfast, Evans and I paddled back to Beyin, stopping only to say hello to the fishermen and to admire the little catfish they were pulling from their nets. Perhaps it was because I was tired, but Evans was starting to get on my nerves; I ended up having to pay for his accommodation and meal, which wouldn't have been a problem if someone had mentioned beforehand that it was all going to end up on my bill, and he then scribbled his address on a piece of paper and handed it to me, saying, 'Here is my address, so you can send me copies of your photos. Oh, and you can give me my tip now.'
'Yeah,' I thought, 'here's a tip. How about learning to say "please" instead of being a presumptive little bastard?' But I still handed him some cedis, and once he'd gone I unceremoniously dumped his address in the first bin I came to, which happened to be outside Fort Apollonia, Beyin's other tourist attraction.
According to the animated caretaker I tracked down, Fort Apollonia was built by the British in 1768, which makes it the most modern fort along the coast. In a bizarre turn of events the British gave it to the Dutch in 1820, but it wasn't long before the Dutch decided to leave West Africa; however the British were concerned that the Dutch would hand the fort to their allies, the Ashanti, instead of handing it back to the British, so during the British-Ashanti war the British bombarded it and took it back by force.
It's now home to a basic guesthouse, a couple of incredibly gloomy slave dungeons and the ubiquitous mouldy white walls that all Ghana's coastal forts seem to have. But it wasn't home to much else, so having exhausted Beyin's attractions, I sat down on the side of the road and waited for transport east to Axim.