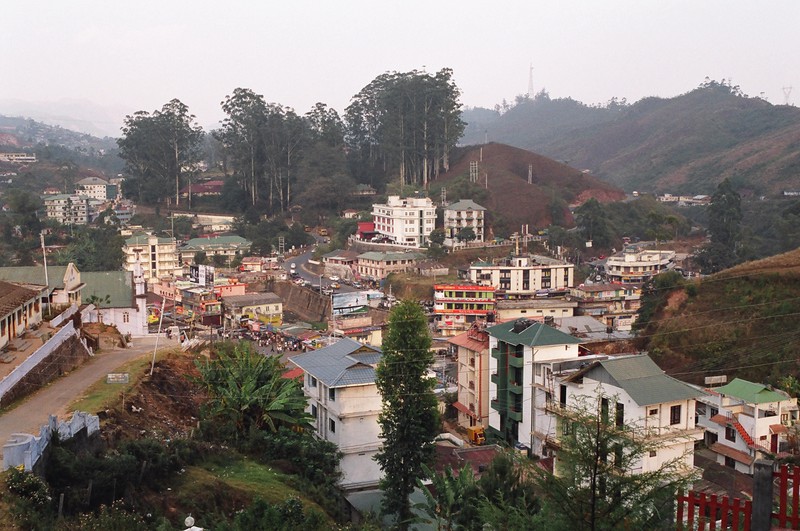 Ah, that's better. The oppression of India's mini-heatwave has been really grinding me down, and like the British before us, we've taken refuge in a hill station. Munnar, which the British Raj made their southern capital in summer, is 1500m above sea level, and like all India's hill stations, it lets you function. The novelty is palpable.
Munnar is clearly taking off as a tourist destination – both Indian and foreign – because the outskirts of town are under construction to a considerable degree. High-rise blocks are propped up by hundreds of straight pieces of scaffolding, while whole gangs of workmen drill, mix, bang and blast, slowly filling the concrete skeletons with red brick walls and grey concrete plaster. Unfortunately, we followed the advice in the Lonely Planet and started looking for a homestay to the south of the main town centre, only to end up in a hotel that was perfectly pleasant, but which turned out to be stuck in the middle of nowhere and a long walk from town. 'Never mind,' we thought, and fired up with the energy of those who have just escaped the heat of the plains, we strolled into town, ate in the bazaar, walked back to the hotel and decided we'd celebrate the ambient temperatures with a beer. And that's when things started to go a bit wrong.
When we tried to find the hotel bar, we discovered they didn't have one, and so we took the concierge's advice and hopped into an auto-rickshaw for the Hotel Isaac's Residency, home to the only bar in town. I'd forgotten how amazing the bars are in southern India; indeed, I'd forgotten just how frowned upon alcohol consumption is in general, and the bar at the Residency is a good example of why south Indian bars don't win any prizes for hospitality and ambience. Worst of all, I'd had the nerve to bring along a woman, and as we slunk into the dimly lit room and sat down, a palpable wave of bemusement ran through the all-male crowd.
Keralans go to bars to get drunk; they go there to consume a drug, and any pretensions to socialising over a beer after work would go straight out of the window, if the bars had any. I thought at first that the drinkers propping up the bar were diluting their large measures of whisky with a surprisingly large amount of water, but they were actually mixing it with a clear liquid that calls itself brandy, but is clearly a local interpretation of the genre that has nothing to do with its European origins. People were clearly getting drunk, and quickly, and in this atmosphere we tried to order a Kingfisher and a Kingfisher Strong from the waiter, so we could compare the two different varieties of India's premium lager.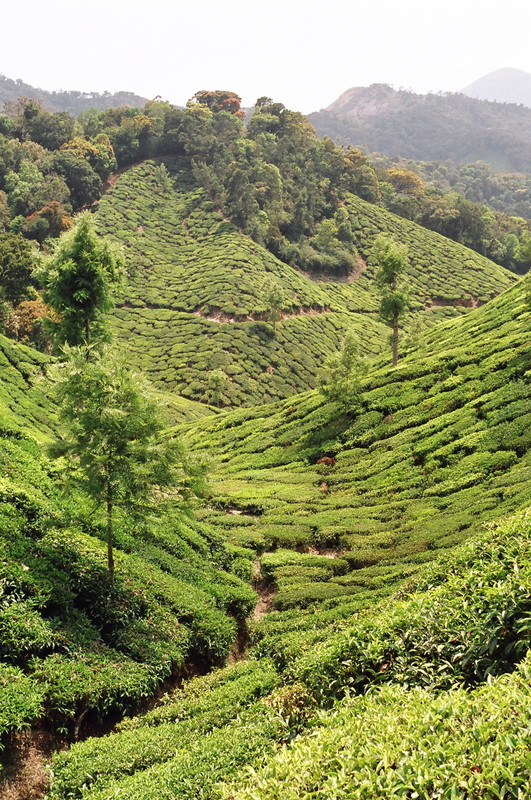 The waiter looked pretty confused, and he brought over the Kingfisher Strong first, and I tried it; it wasn't bad. Peta waited patiently for her beer, but it didn't materialise, while the frenetic buying at the bar – which reminded me of the London Stock Exchange on a busy day – continued on apace. Eventually we realised that he wasn't going to bring a beer, so I called him over and asked him for another Kingfisher, pointing to Peta. He looked horrified, but went to get the beer anyway, clearly unused to serving women in any shape or form.
The striking thing was just how naughty everyone looked. I say 'naughty' because that's exactly what it was; they were like schoolboys breaking the rules, hoping that nobody would see them. Huddles of conspirators hid in the dim light, while a handful of solitary drinkers downed glass after glass of whisky, slowly sinking into their chairs in defeat. One young man at the table opposite us tried to pull his collar up when an older man came in and stared at him in total disapproval; the young man eventually went over to the older man and tried to undo whatever offence he had caused by being there, but the man wasn't having any of it, and however much the boy nudged him as if to say it was all right, the old man kept a straight face, utterly offended.
Funnily enough, we didn't savour our beers. Instead we drank them down fairly sharply, and figured that this was probably why I hadn't drunk much beer on my last visit. Somehow, making alcohol a thing of shame makes it taste rather bitter. It's perhaps no wonder that the locals drink to get drunk, because goodness knows there's no other reason to go out for a beer here.
Around Munnar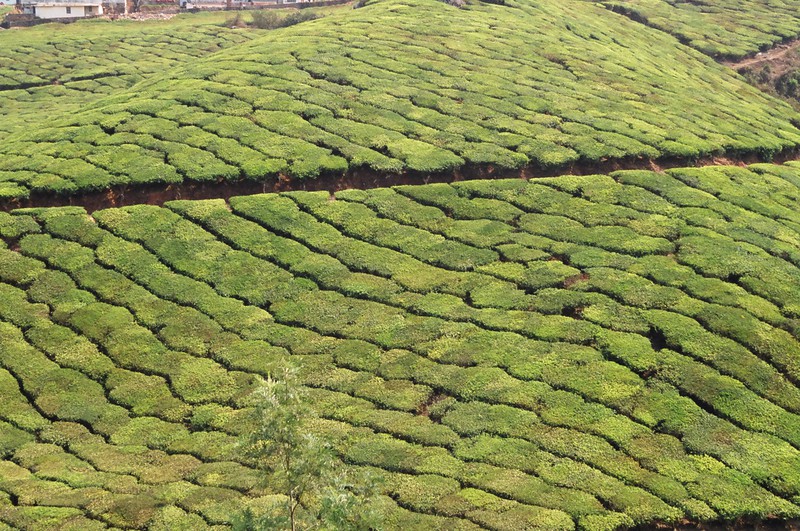 I forgot to mention that we hired a car and driver in Kochi to get us around for the next five days. After all, this is supposed to be a holiday, and spending hours and hours on bumpy Indian buses is a luxury only those with time on their hands can afford, so we've spent Rs6500 on a gleaming white Ambassador Classic, a very friendly driver called Sajeeve, and an itinerary from Kochi to Munnar, then on to Periyar and Kovalam. It's a great way to get around, even if it does reek slightly of decadence.
The best thing about having your own car is being able to decide exactly where you want to go, and when. On our only full day in Munnar, we decided to head over to Top Station, a point on the border between Tamil Nadu and Kerala that offers spectacular views over the Western Ghats, the mountains that separate Kerala from its western neighbour. This sounded exciting enough, but we hadn't realised that the journey there would be so beautiful.
The area round Munnar is absolutely stunning. This area is famous for having some of the highest altitude tea plantations in the world, and once you leave the overactive and slightly dingy town centre, the hills open up and the beauty of the High Ranges becomes apparent. And what a delight it is...
Most of the reason is tea. Tea was introduced to India from China in 1780, and large-scale planting had taken off by the mid-1830s, after the discovery of the Assam tea plant in 1823. Cultivation in central Travancore (as Munnar used to be known) started in 1875, and the High Ranges were cultivated in 1878, leading to the tea estates we see today. Because tea leaves are picked from the tops of tea bushes, the bushes quickly assume a squat stature and a flat top, giving the fields the appearance of a perfectly assembled jigsaw. Tea bushes are a beautifully deep green, and there are paths between the bushes where the tea pickers ply their trade, so it's as if the hills have turned into huge, complex tennis balls, albeit tennis balls smothered with meticulously manicured topiaries. Or, to cut the description to a minimum, the hills around Munnar are simply gorgeous.
The beauty is enhanced by a collection of reservoirs, which the road to Top Station winds past in an increasing state of disrepair. These reservoirs form part of a hydro-electric system that provides tourists the opportunity to take pedalos out onto the water, and afterwards to shout at the tops of their voices at a place called Echo Point, so called because – you guessed it – the reservoir shore echoes back whatever you care to yell at it. This being India, you don't have to try it out yourself, as there are plenty of noisy tourists about who can shout louder and longer than you'll ever manage. Yes, this is the land of the Indian tourist, and it's all the more fun because of it.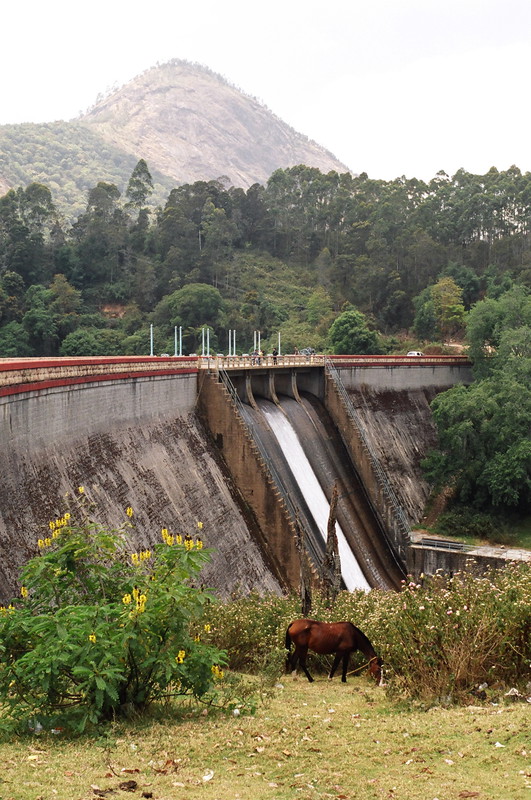 Indeed, the only problem with getting to Top Station is the road, which clearly gets a pounding in the monsoon. They're currently resurfacing parts of it, which means you get to drive right through the middle of the whole process, dodging workmen and veering round turning trucks. In the West we can only glance at roadworks from the other side of an invasion of orange cones, but in India you get to participate. At one point, a JCB digger politely stopped dropping rocks onto the road ahead of us, just in time to stop the stones bouncing off the bonnet; at a contra-flow, manned by men with red and green flags, buses and four-wheel-drives with attitude overtook us by driving on the part-surfaced road, only pulling in when faced with stationary road-laying equipment in their path; and all along the sides men and women toiled in the hot sun, smashing rocks with hammers, sending sharp shards into the side of the car and doubtless into their companion's shins. It's a hard life, out there on the highways of India.
But the effort is worth it, as Top Station does indeed provide wonderful views of the Western Ghats, even if they're a little hazy at this time of the year. And best of all, you get to repeat the journey on the way back; the tea plantations, reservoirs and roadworks are just as wonderful second time round.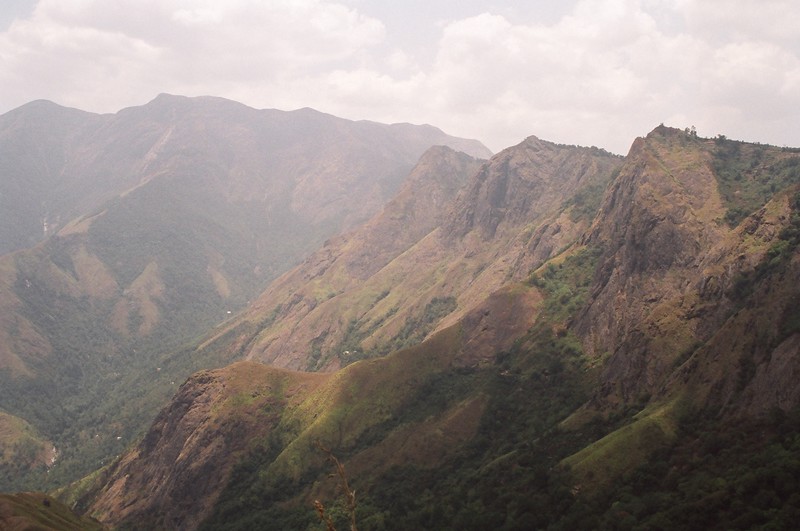 We ended our tour of Munnar with a visit to the Tata Tea Museum, a slightly uninspiring introduction to the tea-making process that takes you through the various stages in an accent so heavy that most of it gets lost in translation. Happily the process turns out to be the same in Munnar as it is in Darjeeling, with the raw tea leaves being dried by having air blown through them, before being rolled and chopped by what's called a CTC (Crushing, Tearing and Curling) machine. The goo is then oxidised – or fermented, to use a more common term – where the tea turns brown (green tea is not fermented, so it stays green). It then passes through a machine called a Ball Breaker, whose function I couldn't quite understand, and finally the tea is dried in a hot air stove before being sifted into a range of sizes, from powder to leafy (the powder making stronger tea than leafy tea). It takes 4kg of leaves to make 1kg of tea, and that, ladies and gentlemen, is that.
Hill Spices
We'd been so uninspired by the location of our first hotel, that we tracked down a second one for our second night. Perched on top of a hill next to the Mount Carmel Church, bang in the centre of town, the Kaippallil Homestay was much more our kind of thing. Our room had a balcony overlooking Munnar, the homestay served ice-cold beer with no guilt attached, and the rooms were cheaper – you can't say fairer than that.
It was also a very short walk from the homestay to the centre of town, which meant Peta could buy a large bag of he spices for which the area is famous. As she picked out bags of cardamon, vanilla, white and black pepper, mace, mustard seeds and cinnamon, the young man behind the counter looked up and his eyes widened.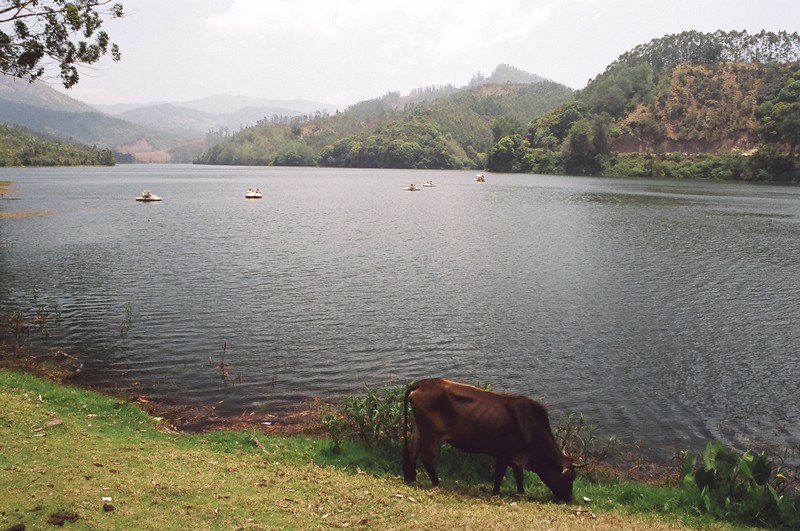 'Last night,' he said, pointing his thumb at his mouth, looking slightly guilty. 'Last night, you were in the bar.'
'That's right,' said Peta. It was the youngster who'd had the run in with the older man. 'I remember you.'
'Ah yes,' he said, 'I was getting in trouble.'
'Who was that man?' asked Peta. 'Was it your dad?'
'Father, no,' he said. 'Uncle. Not pleased to see me there.'
'Ha,' I said. 'But he was in there too, so he couldn't really have a go, could he?'
'I'm not supposed to,' said our young friend, grinning conspiratorially as he handed us our bag of spices. And with that, we headed off to the Rapsy Restaurant, which proudly proclaimed on the sign outside:
Customers from 43 countries... Amiably taken care... Moreover astoundingly pleased... Their ecstasy is... Just with quality, not with looks.
Luckily, Munnar excels on both quality and looks. What a delightful place to take a break from the Indian heat.