It wasn't tricky to get to Trichy, just time-consuming. Trichy, whose full name Tiruchirappalli is only ever used by those inside the bubble of railway bureaucracy, is an interesting and bustling town in the central south, and its sights are well worth the severe shuddering of the bus journey from Pondicherry.
Trichy's two main attractions are the Rock Fort Temple and the Sri Ranganathaswamy Temple. The first one is interesting because it's perched on top of a huge hill of smooth stone, dominating the town centre much more convincingly than the nearby Church of Mother Lourdes (which would otherwise be the centrepiece of the town); the second is famous for its huge gopurams (the pyramid-shaped towers that form the gates into Dravidian temples) and seven sets of concentric walls, all of which are open to non-Hindus except the very last.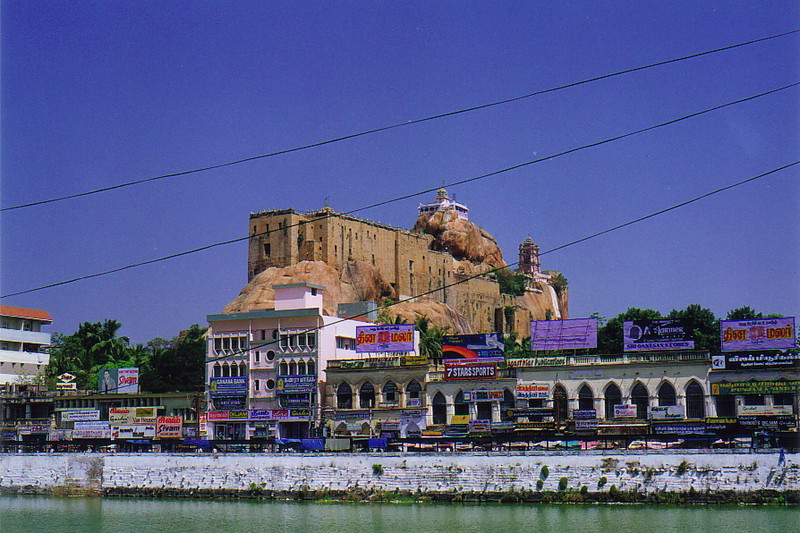 The Rock Fort Temple is fairly impressive, but after Golconda a rock fort has got to be pretty outstanding to merit more than a mention; the 437 numbered steps to the summit are more interesting for the groups of pilgrims and tired school children resting there than for anything else, but the view from the top is well worth the climb. Trichy lies all around with its slums and sanctuaries, its sewers and shouting salesmen, and in the distance the huge gopurams of Sri Ranganathaswamy soar above the palm trees. If it wasn't for the inanely invasive conversations of the stoned pilgrims hanging around the inner sanctum, it would be a glorious place in which to sit and contemplate, but in India you simply can't expect peace, so I just joined in and talked total rubbish back.
In fact, I've had to give up on so many promising conversations with stoned pilgrims that I have formulated a foolproof plan for dealing with these confused and confusing individuals. They say something to me and I fail to understand, so I smile and quote song lyrics back to them. They look slightly fazed, but undaunted try something else, and back flies another lyric. This can go on for quite some time, and eventually they decide you're worse off than them, and wander off. The best thing is that they always think you're being really sociable, and compared to the usual brush-off, I am, so as far as I'm concerned it's a win-win approach. We both certainly come out of it happier, anyway.
Sri Ranganathaswamy Temple
Sri Ranganathaswamy Temple is another place where peace is but a distant memory. With seven concentric walls, 21 gopurams and a total area of 2.5 square kilometres, the temple shocks with its scale alone, and the fact that the biggest gopuram on the outside wall is a monstrous 73m high makes it hard to miss, and worth not missing.
Walk through this gopuram and you'll discover a whole city crammed into the narrow streets. There are bazaars, houses, election rallies, beggars, cows, dust, sun, more gopurams, smartly dressed women, barber shops, dhoti-clad men, flies, rickshaws, loud music, buses, deafening speeches; everywhere there are people, people, people, all doing something, even if it's just sitting on the wall, watching the world going by and spitting out half-chewed pan.
We engaged the services of a temple guide, and it turned out to be well worth the money. With it being such a huge complex you can wander around for ages without really knowing what on earth is going on, and even with a guide it's far from clear exactly what everyone is doing with all that coconut-smashing and water-sprinkling, but at least we managed to glean some information. The complex is dedicated to Vishnu, so there are plenty of statues of deities like Rama, Krishna, Hanuman and other figures from the Ramayana, as well as characters from the legends of Vishnu's other avatars, and everywhere seems to have a little quirk built in.
For example, there's a niche in the wall halfway down the western side of the seventh temple, and if you shout your name there – or, more accurately, if the guide shouts an Inglish version of your name there – it echoes around the long corridor and is supposed to bring you good fortune. And there's a little stone slab inside the sixth wall with two footprints carved into it, and five little holes in front of them; if you can put your feet on the prints, stick the five fingers of your right hand into the holes, and lean over to your left until you can see the statue at the end of the corridor, then apparently you'll go to paradise. Having tried it, it's probably just a way of screening out those who are too stoned from reaching nirvana... and there are plenty of people wandering aimlessly around the temple who couldn't even manage the five-finger trick, let alone the leaning.
Take the resident fruitcake, who spotted us round the back of the sixth temple wall and decided we would be good fodder for a monologue. Staring through his one good eye, the other swirling in the murky milk of cataracts, he started an oration in Tamil that not only meant nothing to us, it meant nothing to our guide.
'Is he mad?' Howard asked our guide.
'No, his mind just changed,' the guide replied, shaking his head knowingly.
'Too many drugs?' I asked.
'There are many ways to change your mind,' replied our guide with a look in his eye that totally failed to clarify the issue.
Meanwhile the madman was warming to his theme, even as people gathered around us to laugh at his meanderings through the inner recesses of his confused mind. His monologue paused to invite discussion, so I broke in with a wave. 'Words are flowing off like endless rain into a paper cup,' I said in the same way I would have said, 'Let's do lunch next Thursday,' and for a split second he caught my eye and seemed to understand.
But the moment of clarity disappeared as quickly as it had arrived, and unfazed he continued to rant, looking me up and down while hopping from foot to foot. 'Never mind,' I said, 'a soap impression of his wife which he ate and donated to the National Trust.' For a moment Lennon's acid insights seemed to strike a chord and he looked slightly dazed1, but whatever he'd discovered clearly wasn't the answer, so he looked to the ceiling and launched an angry tirade against the roof stones, which obviously bothered him a lot. 'It's possible,' I replied, 'but I am the egg man, they are the egg men, I am the walrus, goo-goo-ba-joob,' and he snapped to a close, staring at me as if I'd just said something deeply profound. Which, of course, I had, so I wobbled my head as we left him holding up pieces of half-eaten coconut and shaking them menacingly at the sky.
The other sights of the temple are equally bemusing, from the intricately carved pillars with clever designs that look like both elephants and bulls depending on how you looked at them, to the handful of Kama Sutra carvings that have been thrown in for good measure. All around bodies are sprawled on the floor, though whether the inactivity is a result of mind-bending herbal remedies or a lack of effort, I couldn't tell. Whatever the reality, Sri Ranganathaswamy is a blast.
Drinking in Tamil Nadu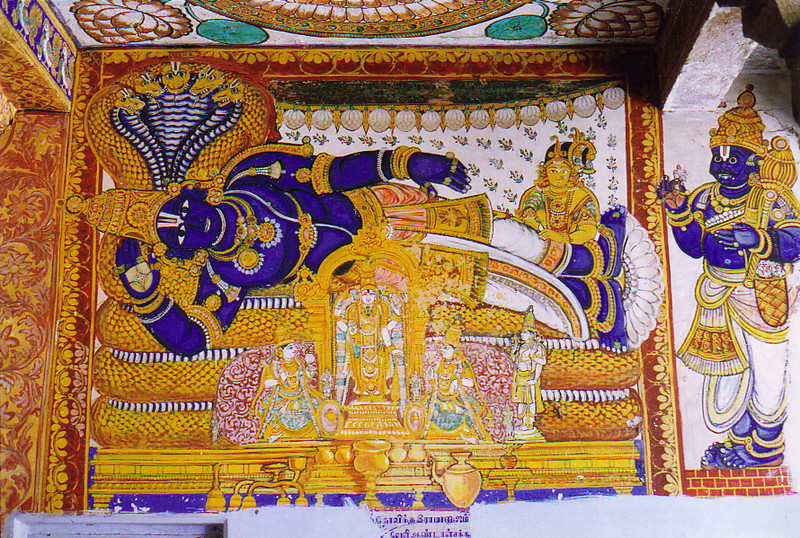 And so was Friday night. In time-honoured fashion we elected to pop out for a quick beer after our evening meal, and this time we ended up in the Bar Paradise, a downstairs cubby-hole that had practically no lighting and where the atmosphere reeked of schoolboy rule-breaking. As I've mentioned before, Tamil Nadu is fairly unimpressed with the concept of alcohol (as in most of India, marijuana and alcohol have the reverse roles that they do in Europe), so they make you drink it behind firmly shuttered windows and doors, preferably underground, and definitely not after 11pm.
The three bottles of Haywards 5000 we enjoyed went straight to my head, as I haven't been drinking regularly enough to build up any tolerance. The conversation migrated to include a local Indian called Rajiv, who proved to be an interesting and very well-spoken find. A law advocate, he was a Muslim who was in love with a Hindu girl, but the affair was proving to be almost impossible to maintain, as the scars of the 50 stitches dotted around Rajiv's body proved. We rode back to our hotel on the back of his gorgeous Enfield, played cards for an hour or so, and he went back to his life of law and lawlessness. That's one more intelligent and witty Indian whom religious segregation is systematically battering into the ground...
---
1 This is not just an Indian phenomenon. There are plenty of westerners wandering around the continent who have spent too long in an ashram (an ashram being a retreat set up by a guru), and some of these people, though by no means all, can be a real handful. Ashram casualties come in a number of flavours, but they have one binding characteristic: they make no sense whatsoever. Most of them seem to be stuck in the sixties or seventies; indeed, a western writer I met in Chennai said that when he first travelled in India back in the seventies, people never talked about beer, backpacks or beaches, because the only topics of conversation were which guru you were going to and which ashrams you'd visited. India in the seventies was evidently full of people who wanted to have their magic pie and eat it.