I'm a little loath to ascribe such importance to the language barrier when travelling, but it's amazing how much difference crossing the border from Senegal into the Gambia has made. The Gambia – one of the few countries whose official name starts with 'the' – is a long, thin and very small country that follows the bends of the River Gambia due east from the river's mouth on the Atlantic coast, and apart from this coastal region, the country is entirely surrounded by Senegal. From end to end the Gambia is about 300km long but it only averages 35km in width, but even more bizarre is the fact that they speak English here, as it used to be a British colony.
At the border the linguistic change is instant. In Senegal, English isn't a great deal of use, and without at least basic French, communication is tough. But as soon as you cross into the Gambia, English takes over with an almost imperceptible transition; signs are in English, the locals speak English, and for the English-speaking traveller it instantly feels less alien and more comfortable.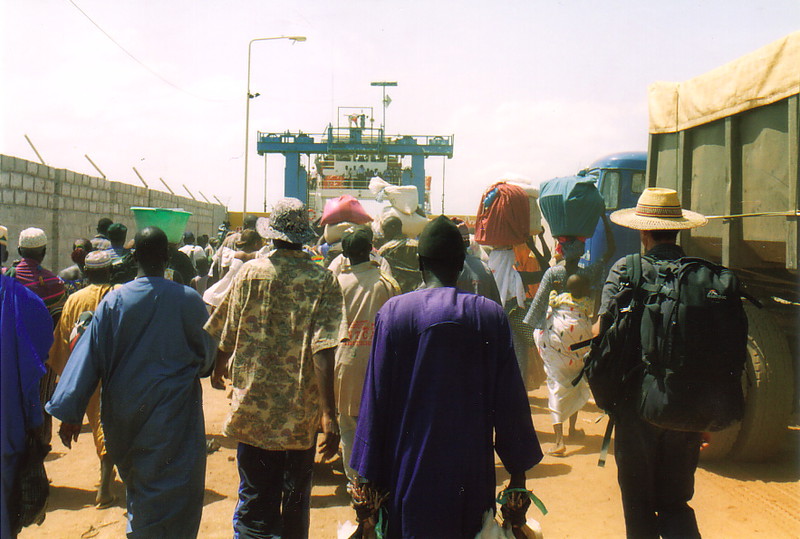 The difference it makes is amazing. Within a couple of minutes of entering the Gambia I felt completely at ease, and it wasn't long before I was joking with the Gambian touts as they tried to sell me dalasis, something I'd find hard to do in French (the dalasi is the local currency in Gambia; being an ex-British colony, it doesn't use the CFA). When you're speaking your native language it's so much easier to understand subtleties of communication, and for the first time in a fortnight I feel as if I can actually talk to people. Irritating salesmen stop being annoying and become targets for a bit of banter, and I immediately feel happier and more relaxed in the Gambia than I did at any time in Senegal. I'm looking forward to exploring the place.
Capital Village
Our first destination was Banjul, capital of the Gambia, though it's hard to believe that this compact town is actually a capital city. The Gambia is a small country but Banjul is tiny, especially by African standards, with only 50,000 inhabitants (the whole county is home to around 1.2 million people). The result is a pleasant, hassle-free city that's clean, friendly and quite unlike large cities like Dakar.
We stayed in Banjul for one night, eating well, drinking well and feeling pretty buoyant. I was in Senegal for just two-and-a-half weeks, but that was long enough for me to find Banjul almost nostalgic, especially when I discovered that they sell Guinness Foreign Export here, a pleasant version of the black stuff that makes a welcome change from the ubiquitous lagers of Francophone Africa. Indeed, adverts for Guinness are everywhere; evidently a clever advertising executive has persuaded the West Africans that not only is Guinness good for you, but it also improves your sex drive, resulting in such slogans as 'Guinness – The Power' and 'Guinness is Good for You'. Even Guinness TV adverts are an art form, based around a black James Bond figure called Michael Power, who ends up performing superhuman feats of daring and cunning while rescuing his beautiful girlfriend from the clutches of an evil gang... all while under the influence of Guinness, of course. It's hilariously unconvincing, and as a role model Michael Power owes more to western capitalism than African tribalism, but Guinness still sells by the bucketload, so they must be doing something right.
So Banjul feels nothing like the capital city of a West African country, and it's a huge relief. I'm not going to need my French dictionary for a while, and that feels damn good.