More often than not, recommendations from other travellers are like gold dust, and they completely transform your experience. Sometimes, however, they just don't work out, and in Monteverde, one of Costa Rica's main tourist attractions, things didn't quite go as planned.
It all sounded great on paper. Monteverde is home to Costa Rica's richest cloud forest – that's rainforest that lives in a semi-permanent cloud layer, formed by moisture-laden Pacific air being pushed up by the continental divide – and this humidity creates a unique forest environment that's teeming with wildlife. Back in Rio Dulce in Guatemala, we'd met an Australian couple who had raved about Monteverde and had recommended Selvatura Park as the best place to see the cloud forest, and we'd been looking forward to it ever since.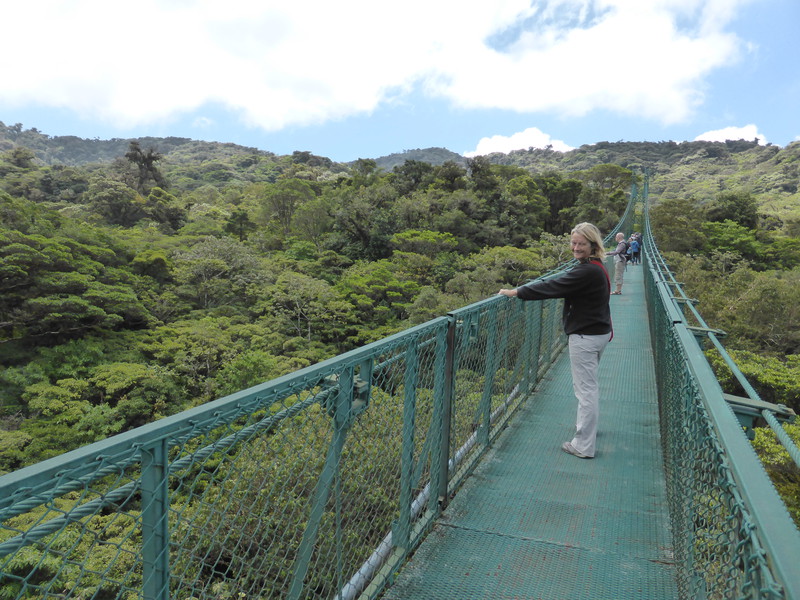 Paul and Jenn had decided to hire a car for their trip and they kindly offered us a lift to Monteverde and on to La Fortuna, and the drive up from Liberia was spectacular. Costa Rica has been called the Switzerland of Central America, and it's easy to see why; as you climb up from the hot plains of western Costa Rica and into the hills, it's easy to persuade yourself that you're in Europe, with all the pretty chalets and steep farmed slopes. The last hour to Monteverde is along a dirt road, which makes for a bumpy but atmospheric ride, and it wasn't long before we'd arrived in Santa Elena, the main settlement in Monteverde, and checked into the hotel that Paul had booked online from Liberia.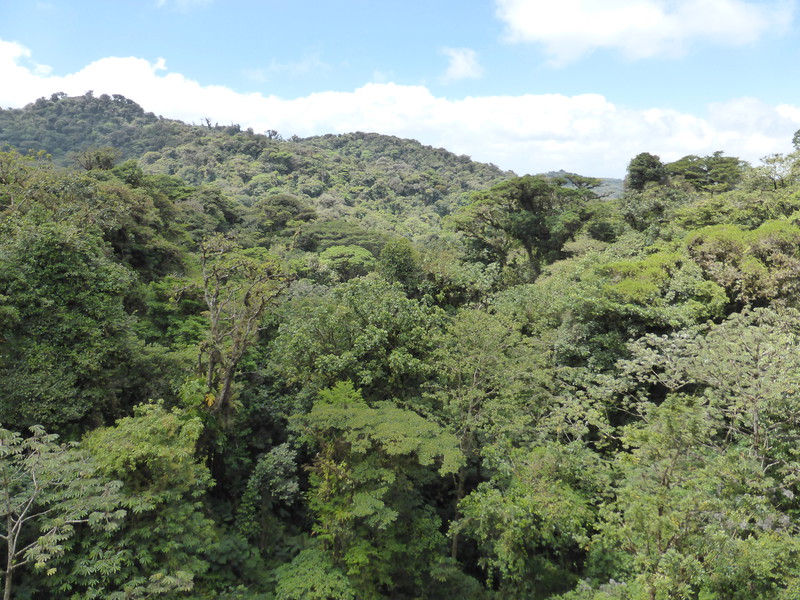 Except it turned out that the room we'd booked didn't actually exist; the hotel manager said that they were having a problem with one of their online agencies and this was the fourth time that week that they'd oversold rooms in the hotel, but he said he'd booked a couple of rooms for us in a nearby hotel. It all felt a little dodgy, to be honest, and none of us quite believed what he said, but we didn't have much choice and ended up moving to a rather dingy hotel off the main drag, with the promise of being moved back to our original hotel for our last night.
Into the Cloud Forest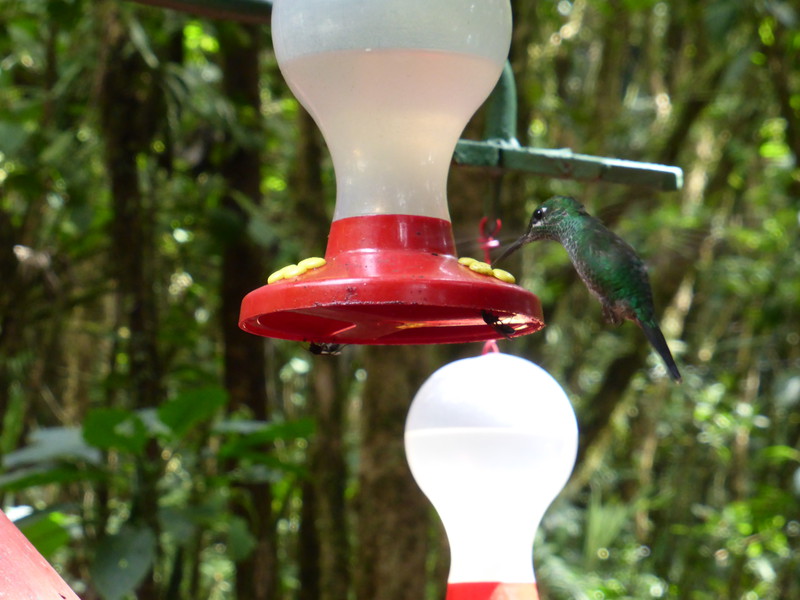 Undaunted, the following morning we all headed off to Selvatura Park to check out the cloud forest first-hand, and we were all in pretty high spirits as we hopped into the shuttle bus that picked us up from the hotel. The bus was full of elderly Americans on two-week holidays – who were sociable but completely out of sync with the kind of trip we've been on – so perhaps we should have spotted the warning signs from the start, because in the end Selvatura Park turned out to be a huge disappointment.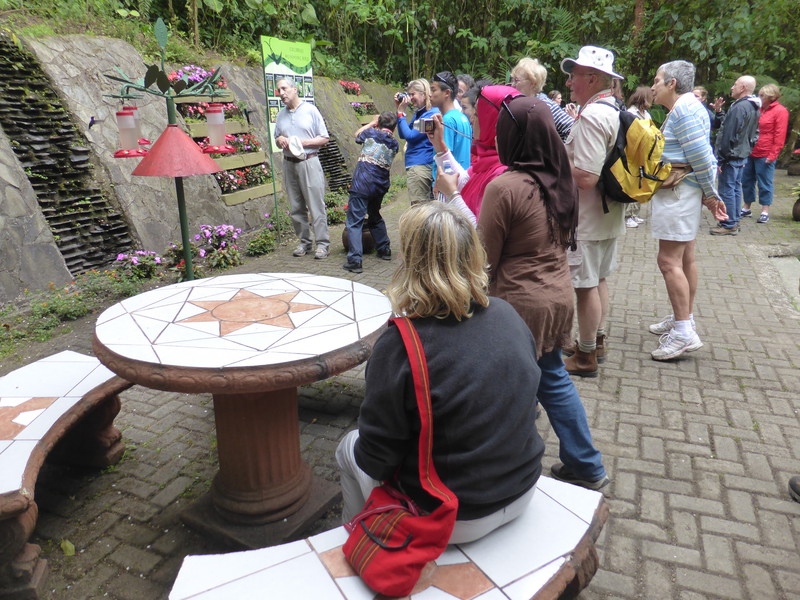 Now, if you've just hopped on a plane from a snowbound New York and spilled out into Selvatura Park, then it's going to blow your mind. There's a concrete forest walkway that meanders through the rainforest, crossing a number of high suspension bridges that take you high over the forest canopy, and after the shock of the American winter, it's bound to be a thrill simply to be in the tropics. And then there's a hummingbird garden where artificial flowers attract hummingbirds of all colours and sizes, where you can sit and simply watch these stunning creatures hovering, right in front of your face.
In hindsight, it's no wonder the Australians were so enthusiastic in their recommendation, because they started their Central American journey in Costa Rica, and this was one of the first things they saw. But if you've just spent four months travelling through Central America, or you've seen a lot of rainforests in other parts of the world, then the cloud forest in Selvatura is a pretty dull place. There's absolutely no wildlife to be seen, which is not surprising when you consider the hordes of noisy tourists who pile through the walkway every day, and the forest is just not that amazing. We all started off with high hopes, but towards the end of the walk we were more interested in our conversations than looking at the forest, which was a shame, especially as the walk cost US$30 per person. Even the hummingbird garden, which had an additional entrance fee of US$5, was slightly disappointing; the hummingbirds were pleasant, but it was hard to concentrate with all the groups of noisy Americans that burst their way into the concrete garden and stood there talking loudly about their hotel rooms and how excited they were about their itineraries.
Rather unimpressed by the cost and the overly touristy experience of Selvatura, we booked on a night walk at our hotel, and were taken on a three-and-a-half hour walk around the hotel grounds by an animated local called Sergio. Unfortunately this didn't help to lift our mood, as we saw very little wildlife, and the walk ended up dragging on and on into the night, way past the point where we were still interested. We did see a tarantula in its hole, which was great, and we saw the odd pair of reflecting animal eyes up in the canopy, but overall it was a bit disappointing after the reports we'd heard about Costa Rica being so full of life that it practically jumps out at you all the time. Perhaps it was a quiet night, but by the end of day one in Monteverde, we were all feeling a little cheated.
So the next day we went for something completely touristy in the shape of a SkyTrek zipline trip through the rainforest canopy (there a lots of zipline companies out there, but we chose SkyTrek as they seemed to have the highest lines and the safest equipment). This was more like it, though as Peta is scared of heights, she wasn't quite so keen, especially when we had to take a cable car up to the top of the continental divide before climbing a metal tower in buffeting winds and serious mists. She managed to hang on in quiet desperation before she was hooked onto the wire that shot her across a deep valley to the tower on the opposite side, and even though she had to endure a total of nine ziplines, with the highest 100m above the forest and the biggest a whopping 750m in length, she managed to get through to the end. I enjoyed it a bit more than she did, and while I'm not sure it's an experience either of us will rush to repeat, it was good to be trying something new.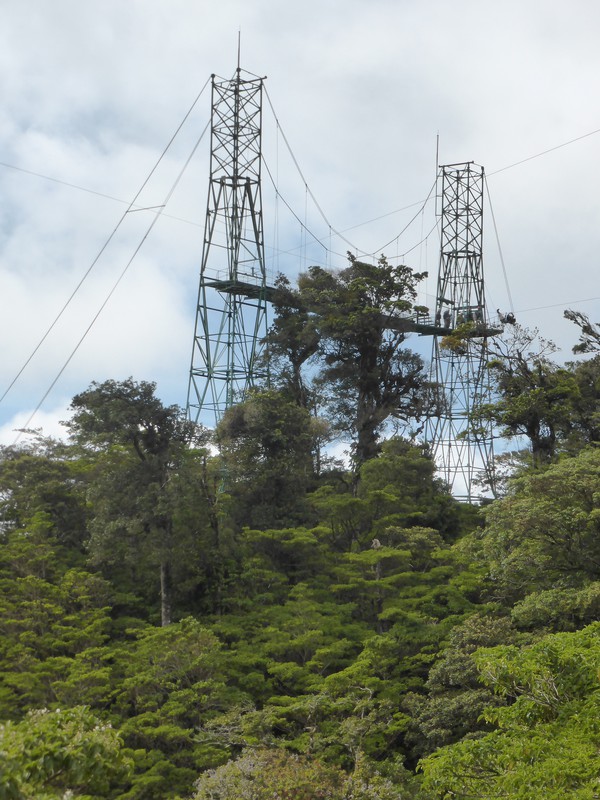 Meanwhile, Santa Elena was starting to wear us down. The biggest problem was the food; the restaurants are overpriced (prices are similar to London, one of the most expensive cities on the planet) and the food is pretty lame. We tried spending more and simply got poncier food that still wasn't terribly good, and we tried spending less and just didn't get anywhere. We felt a bit ripped off by our hotel, because when we moved into the rooms we'd originally booked online, they were so much better than the ones in the other hotel, which simply rubbed our noses in the fact that for two nights, we hadn't got what we'd originally booked. And everywhere the prices seem to creep up, whether it was the annoying tendency for restaurants to show prices that don't include tax or service charges, so it's hard to work out what the price will actually be; or the way the tourist attractions have tiered price lists, so although you get quoted a price for your visit, it turns out that it doesn't include everything shown in the glossy brochure, and you end up having to fork out more dollars to do the things that you assumed were included.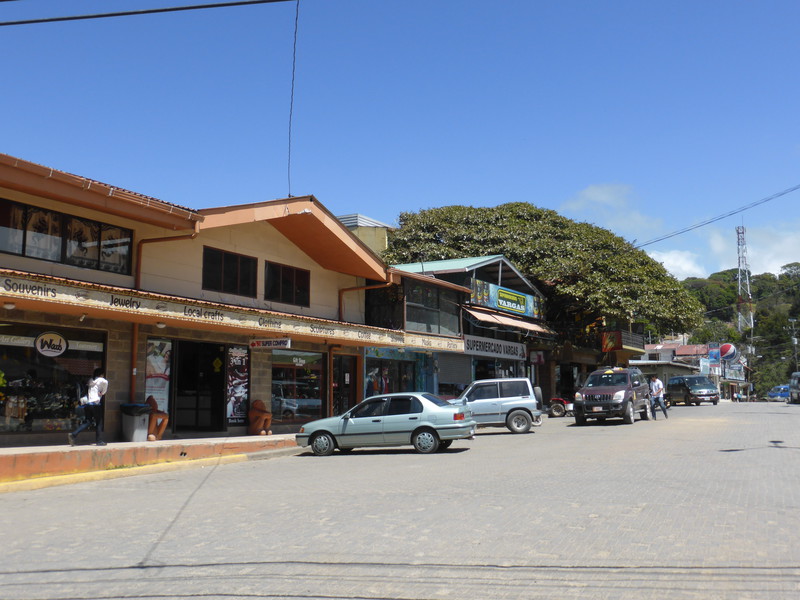 But if you're a tourist here on a short holiday, none of this is a problem, it's only a problem if you're used to travelling through countries that have similar attractions, but less of a tourist machine wrapped around them. Unfortunately, we've already seen a lot of what Monteverde has to offer in other countries on our trip, and then without a glut of American tourists clogging up the viewing platforms, so in the end it was hard not to feel a bit let down by Monteverde's rampant tourism and inflated prices.