Update Required

To play the media you will need to either update your browser to a recent version or update your

Flash plugin

.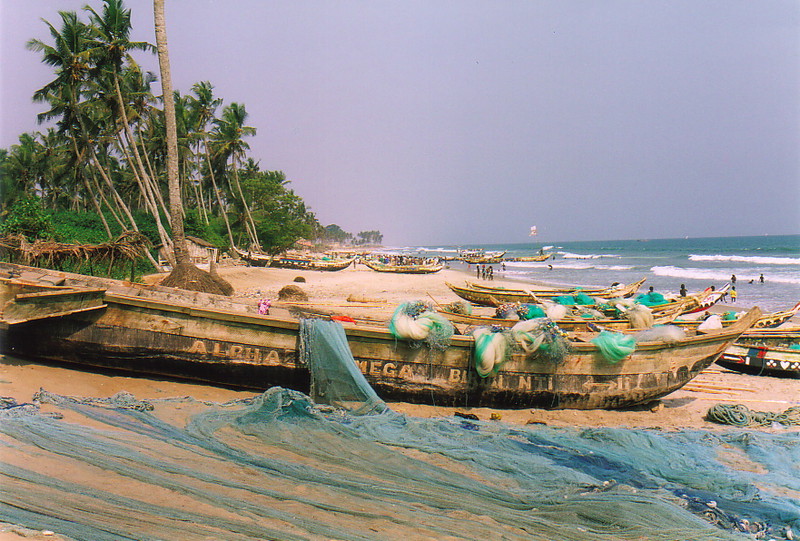 The person with whom I clicked over Christmas was Lukas, a Swiss guy whom I met in the bar at Big Milly's, and with whom I shared a passionate disappointment in Francophone West Africa. By the time I turned up at Kokrobite, Lukas had already been hanging around for a month, learning the drums in the nearby Academy of African Music and Arts; he was staying in the village with a friend, and he gave me a link, however tenuous, with the world outside the walls of Big Milly's. There's no doubt that a visit to Big Milly's is completely unrepresentative of Ghana as a whole (though it certainly accentuates the positives, such as the friendly people) but as I'd hardly left the compound since arriving, except to make phone calls and buy water, anything that helped me pretend that I was still actually travelling was a bonus.
So on Christmas Eve, as I was sitting on the beach with Lukas and the Rastafarian drummers who pound continually just outside Big Milly's, I was delighted to be invited to Christmas lunch at Lukas's friend's place.
'Mark will join us too,' said Lukas to his mate. 'Mark, I'd like you to meet my friend Holy – it's his place where I'm staying.'
'Hello Holy,' I said. 'Cool name.'
'It's short for Holy Positive,' said Holy.
'Holy Positive,' I said. 'Nice one. It'd be an honour to come to Christmas lunch with you.'
'Rastafari1,' said Holy, and took a big drag on his fat joint. 'We see you tomorrow, man.'
'You sure will,' I said, and so began my first Rastafarian Christmas.
Late Lunch
I met Lukas on the beach around midday on Christmas Day, and we sat round and soaked up some drumming while Christmas happened lazily around us. Beach Christmases are strange beasts; it never feels like Christmas when the sun is baking down and the sea is breaking on the sand, but it does feel like a particularly good excuse for a party, and people wandered the beach with piña coladas in hand, sporting Santa hats and sun tans and doing absolutely nothing wherever possible. As Christmas venues go, the beach is never going to be quite the same as home, but there's a lot to be said for waking up on Christmas Day and plunging into a warm Atlantic Ocean.
Around one o'clock we decided to wander over to Holy's place to see what the plan was. Remember that this is Rastafarian Africa, where plans take on a whole new meaning; planning in Africa is pretty damn difficult (some might say futile) but planning in Rastafarian Africa is a complete mystery, so we went via another friend's house, Kojo's place, to see if anyone else was there. Kojo's place is a kind of meeting place in the village, a tiny shop tucked behind the banana trees that's normally got something happening, and that's where we tracked down Kingdom, another Rasta who was going to Holy's for lunch.
'Hey Kingdom,' said Lukas.
'Rastafari,' said Kingdom, and we all shook hands in the funky Ghanaian manner; you shake hands normally, and as you pull your hands away, you take the other person's index finger between your index finger and thumb and click your fingers. They do this in Burkina Faso too, but you don't get it in the Sahel countries and it's not the sort of thing you'd use in high society in Accra; it suits the beach perfectly, though.
We sat around for a bit, watching progress on the building work that Kojo was having done in his back garden – and which was coming along nicely, even on Christmas Day – and after Kingdom had bought some herbs and spices for the Christmas lunch, we wandered over to Holy's place.
Things take their time in the land of the Rastas, and instead of the normal frenetic activity you associate with kitchens at Christmas, there was a lot of lounging around to do. The sun was high in the sky; what better excuse for some drumming, some relaxing reggae in the background, and some slow, Rastafarian conversation? Absolutely.
Rastas in Ghana speak in a wonderful patois, and their philosophy on life is truly something to behold. No doubt influenced by the copious amounts of marijuana they smoke – a Rasta breakfast consists of two mangoes and two joints, as all-night revellers on the beach discover if they're still conscious the next morning – the Rastas of Kokrobite are friendly, happy and utterly, utterly out there. Their philosophy is hard to pin down through the haze, but when Holy sat up on the beach one night and slapped away a mosquito, he summed up the Rasta's chilled out view on life perfectly.
'I don't understand mosquitoes,' he said, in as exasperated a voice as your average Rasta can muster (that's not very exasperated, but bear with me). 'They just don't want us to feel free.'
Rastafarian timekeeping is equally trippy, in that it doesn't seem to exist. The most popular phrase you'll hear round the beach is the Ghanaian staple 'I go and come', which means that the person is just off somewhere, and will return at some unspecified time in the future. In Kokrobite everyone is constantly going and coming, which could explain why nobody is in the right place at the right time; indeed, having a right place and a right time is a concept that's peculiar to the westerner, and it certainly doesn't appear to exist in the Rasta's hazy lifestyle. It affects everyone, not just the Rastas; when the drumming band failed to turn up to play on the evening of Boxing Day – their car broke down and they tried to fix it instead of taking a taxi to the venue – the guy behind the bar simply said with a shrug, 'The band is a bit delayed. They'll be coming tomorrow.'
So it was absolutely no surprise to see that lunch was going to take some time, and it seemed right; in a Rasta Christmas things take as long as they take, and that's the point. It's the complete opposite to Christmas back home, when the cooking is all meticulously planned to deliver a huge meal, bang on time; I think Holy lit a fire around three o'clock to boil the rice, but that was just a nod in the general direction of meal preparation. Indeed, this hint of activity seemed like the perfect excuse for a swim, so Lukas and I headed back to the beach with a 'We go and come', and ten minutes later we were back in the bar at Big Milly's, relaxing with a drink just to make sure things took their proper course.
Just then Kingdom wandered in, so while Lukas splashed around in the sea, I sat with Kingdom on the beach with the drummers, marvelling at how the Rastas could keep on smoking joint after joint and still remain compus mentis. Their stamina is truly born of excess; most of the obruni smokers roll joints from half tobacco and half grass, but not the Rastas, oh no. A pure grass joint is the only joint a Rasta knows, and they knock 'em out at a fierce rate; it's a wonder they manage to achieve anything, if indeed they do.
But we were going to achieve something, so around five o'clock we wandered back to Holy's, ready for some action. This consisted of sitting around in Holy's garden, watching the dogs playing with the chickens, and kicking back as the pots boiled on the kerosene stove. Holy and Kingdom proved to be truly lovely people, and the time flew by until lunch was ready at half-past-six, by which stage my appetite had grown, shrunk, and grown again. I was starving.
And what a feast it was. I never worked out the name for the dish we had – it was only referred to as 'something special' during the afternoon – but it was delicious. We had rice balls (sticky rice compacted into a tough ball which you scoop up with your fingers and dip into the sauce) with a thick spicy tomato soup containing fish and meat. It sounds simple, but the taste was absolutely heavenly and I scoffed down a whole bowl with appreciative grunts. The meal might have been over in ten minutes, a pittance compared to the average four-course Christmas lunch back home, but it was, as they say round here, sweet.
Back to the VSOs
Full up and rested, Lukas and I decided to head back to Big Milly's, where a reggae band was going to be playing; Holy and Kingdom said they'd wander down later – there's no rush, remember – but now we'd lined our stomachs we were up for some Christmas revelry. What I'd forgotten, though, was that I'd also booked dinner at Big Milly's, so five minutes after I walked through the gate, I was whisked off to my place at the table, ready for my second Christmas meal of the evening.
The second meal was a more traditional western affair, if you ignore the fact that we were eating by the light of kerosene lanterns under the palm trees. I amazed myself by continuing to eat handsomely, and ploughed through chicken, potatoes, vegetables and gravy like there was no tomorrow. I shared a table with the group of VSO volunteers who were all down from northern Ghana, and I think their utter enjoyment at eating food that wasn't rurally Ghanaian rubbed off on me; I didn't leave a thing on my plate, and when dessert came round (Christmas pudding and baked bananas in custard) I managed not only my plate, but my neighbour's too. Gluttony, I decided, was my Christmas creed, and I threw myself into the hedonism of the Kokrobite Christmas with glee.
I have no idea how long the reggae band played for; I have no idea how many Guinnesses I drank, but seeing as Guinness in Ghana is 7.5 per cent alcohol, it was probably far too many; I can't really remember what time I finally went to bed; but what I do remember is that I had a great time. The party went on pretty much all the way through to the end of Boxing Day, and ended up with a group of die-hards sitting in one of the towers overlooking the beach, drinking beer and singing songs along to an acoustic guitar that Ben, one of the VSOs, had brought along.
'I'd like to dedicate this song to Ghana,' said Ben, as we broke into another round of drinks. 'It sums it up rather well.' And with that he started playing 'Nothing Ever Happens' by Del Amitri:
And nothing ever happens
Nothing happens at all
The needle returns to the start of the song
And we all sing along like before
And we'll all be lonely tonight
And lonely tomorrow
So it seems that the life of a Rasta is pretty similar to the life of a VSO in the far north. Nothing ever happens... and, generally, it's a wholly positive thing.
---
1 Pronounced 'Rasta-far-eye', with the emphasis on the 'eye'.