Sunday saw us scrabbling to get to Ko Samui in time to find a room for Christmas. The journey was long and hot, but by early evening Charlie and I were ensconced in a beach bungalow on Samui's east coast, within earshot of the beach, and just a five-minute walk from the bustling tourist Mecca of Lamai. Ah, Christmas in paradise. Again.
Well, not quite. My previous two Christmases on the road were entirely different: the one in Australia was classic, with a family atmosphere, exquisite food and a hot climate, and the one in New Zealand was simply breathtaking, with the mountainous sunset and sunrise over the glacier, and the thrill of being miles from the nearest human beings. As a change, I thought that this Christmas I'd hit a real tourist area, if only to make sure that I wasn't going to be alone at the festive time of year. And besides, I figured it was about time I let my hair down and partied, after the budget-consciousness of the last few months.
I felt my brain start to go soggy around the edges after maybe three or four days. The routine: I'd get up around ten and saunter down to the hotel restaurant for a breakfast of scrambled eggs on toast, served by the surly and downright grumpy old granny who ran the place. Cheered up immensely from my morning mood by seeing someone even crabbier than myself, I'd get my beach gear together and wander down to the sand, a 30-second journey from our bungalow.
Sunbathing has never really appealed to me, but for some unknown reason I became totally engrossed by this mind-numbingly insipid pastime. Perhaps it was the fact that, sitting up from my solar slumber, I would fall in love at least five times a minute as the most amazingly beautiful girls wandered up and down the waterfront (inevitably with boyfriends in tow, but hey, you just don't look at the boyfriend). Perhaps it was the addiction of a number of excellent books, from Vikram Seth's A Suitable Boy, through Alexandre Dumas' classic The Three Musketeers, and on to Umberto Eco's The Island of the Day Before... not to mention my new purchase, a guidebook for India, a tome that makes me want to hop west more and more with each turning page.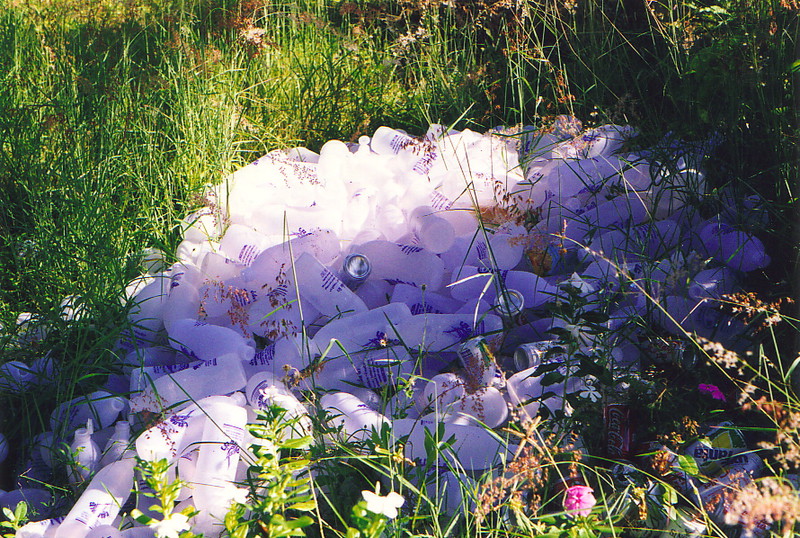 Perhaps it was the simplicity of life after such a psychological struggle through Indonesia, Singapore and Malaysia; when your day consists of wake, eat, beach, eat, beach, eat, movie, drink and sleep, the stress level is fairly low. Perhaps it was the fact that, after sporting a tramper's tan for so long – brown forearms, legs and neck, white shoulders, torso and feet, making you look like you're wearing white underwear when you're actually naked – I was beginning to go brown all over, and having shaved off my on-the-road beard, I felt as young as ever. Or perhaps it was the endless fascination of the other people on the island. Most likely it was a combination of all these reasons.
Meanwhile, Ko Samui managed to excel in lots of other areas, with great food – pad thai, khao pat, red and green curries, tom yam, stir fries, great seafood, copious cold Cokes, hot chillies on the side and even baguettes – and good music (which made me quite homesick, but in the nicest possible way), lots of astoundingly cheap alcohol, loads of people out for a good time, dance clubs with no entry charge, plenty of books to read, and heaps of leisure time in which to read them. And on top of all this there was the festive season...
Christmas in the Sun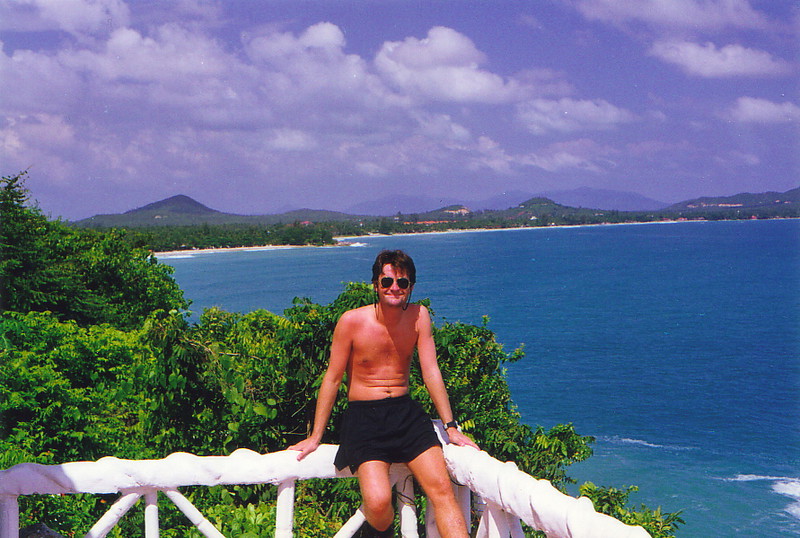 Christmas itself went with a bang. Abandoning myself to the vices early on Christmas Eve, I managed to get startlingly drunk as the evening progressed, dancing my legs down to the knees at the main nightclub while drinking 60 baht (80p) piña coladas. I eventually staggered home at 4.30am while the party continued on without me.
Christmas Day itself was a feast of Thai food and more Thai beer – this time to the performance of live rock bands, not dance DJs – and the wee hours snuck up once again before I finally wilted. Charlie, in his supporting role as a relatively sober observer, kept me company in fine feckle, especially as I must have been talking complete bollocks by midnight.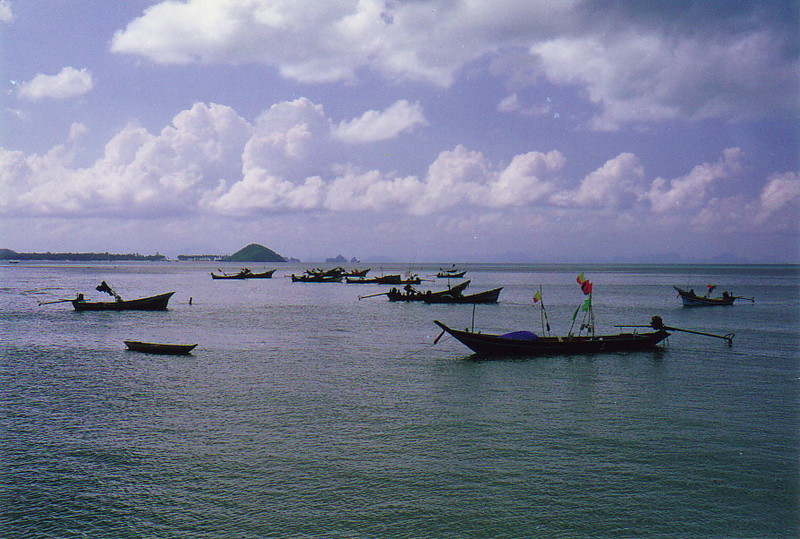 Events conspired to make our stay a longer one. After the Christmas parties had evaporated (but not the general party atmosphere), we checked out the buses to Bangkok; the first seats we could get were on 5th January. Although we could have simply taken the ferry back to the mainland and made our own way by public transport, we simply couldn't be bothered; infused by holiday slackness, we took the easy option and decided to stay for the New Year celebrations, after booking two tickets for the 5th. Besides, I'd already decided that Thailand was going to be a fairly low-key event for me, as the Indian subcontinent is beckoning ever louder, and I'm not sure I can resist any more.
It wasn't all sleeping and drinking, though. One day we wandered to the neighbouring beach of Chaweng, a more popular but not particularly wonderful resort area, where the rubbish piles up, the bodies are laid out on the beach like pork chops under the grill, and the night clubs are more numerous, bigger and less intimate than the ones in Lamai. I'm glad we ended up where we were.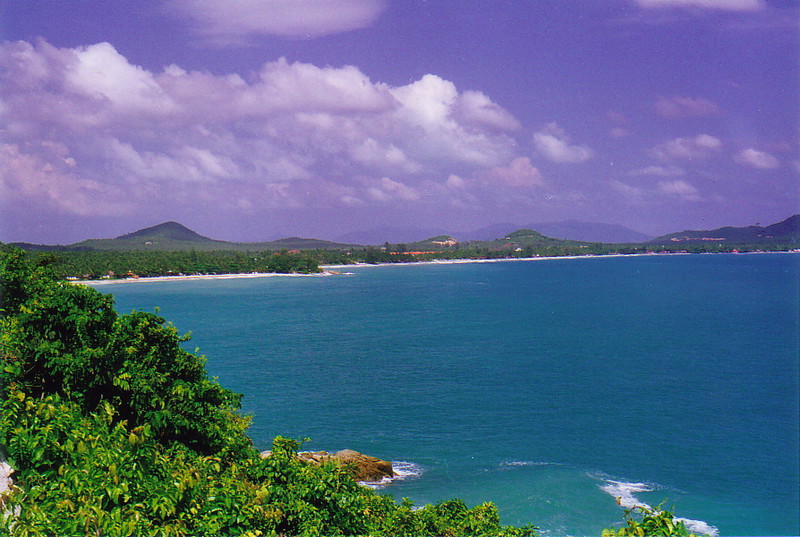 New Year went crazy, much like Christmas, and I celebrated the coming of the year 2541 in style1. It was a long night involving Charlie retiring to bed soon after the New Year arrived, and me wandering around on my own, drunk as a skunk, making friends with people like Fred from Germany who kept buying me bottles of Beck's, and the sausage vendors who cured my midnight munchies and provided me with a major chilli kick at four in the morning2. Stumbling in at six, you could say it was a superb celebration, though New Year's Day wasn't such a hoot.
But finally, we managed to break free of the addictive and hedonistic sloth of Ko Samui by jumping on the overnight Bangkok bus, which was due in the capital the next morning.
---
1 The Thai calendar is based on Buddha, not Christ, so they're 543 years ahead of the West. Presumably they won't be celebrating the end of the millennium in 2543...
2 Chillies get me incredibly high. I am not alone in this, as people get addicted to curries for this very reason, but give me a few dangerously hot chillies, and I'll float off to the sky for a couple of minutes. So Thailand, with its pot of serious chillies on every restaurant table, was considerably entertaining at meal times. At least, I think it was...