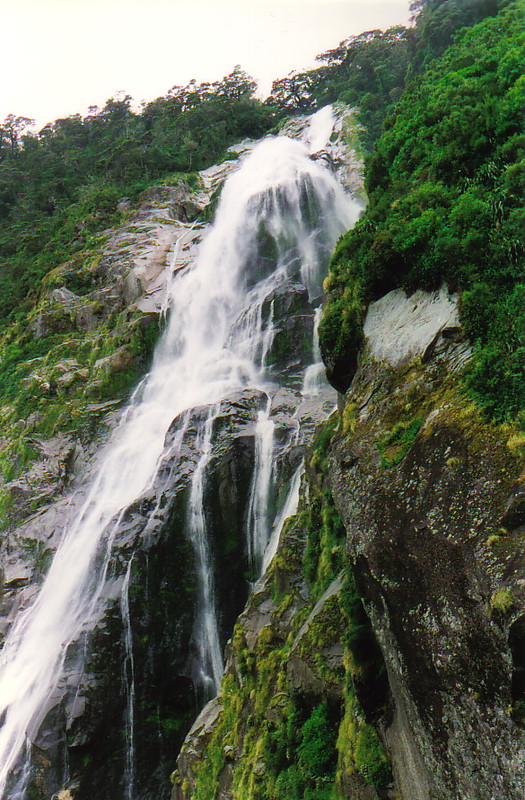 The next day, stiff and stretching, I struck camp, hopped into Zed and headed off to Milford Sound. Milford is the main tourist attraction in Fiordland, with its stunning fiord and huge cliffs rising almost vertically out of the water, up to heights of nearly 1700m: it's quite a sight. The drive to Milford is spectacular enough, with a dangerously winding road that's home to millions of breakneck tour coaches; the Homer Tunnel, which blasts its way through the mountains to get to the sea, is probably the scariest tunnel I've ever driven through. Barely wide enough to accommodate two cars side by side, it's pitch black, leaks frightening amounts of water, and the road surface is dodgy to say the least. Add the slope of the tunnel – sloping down towards the Milford end at quite a rate – and it's enough to give anyone the heebie-jeebies, especially when you meet four oncoming tour buses in a row, as I did on my return. It's incredible that it isn't permanently blocked by accidents...
The sight when you finally come out of the Homer Tunnel has to be seen to be believed. Sheer walls shoot up into the clouds on either side of you, with waterfalls cascading down all over the place, and tucked right down at the end of this huge glacial valley is Milford Sound, a beautiful body of water with huge peaks and rugged wilderness that seems to defy gravity. Unfortunately all this is too much of a lure for the tourists, and Milford township consists of very little except the usual tourist traps – hotels, restaurants, lots of parking space and very little else – and I hadn't seen so many tour buses lined up since Uluru. Add in the noisy and smoky ferries that cart crowds of sightseers up and down the sound and you end up with something that isn't exactly serene. That said, the short walk to Bowen Falls, a spectacular waterfall down the slopes, soon takes you away from the bustle of the car parks, and the magnificence of Mitre Peak, the 1695m mountain that rises right out of the sea in front of you, is well worth braving the madding crowd for.
Then there's the wildlife, which is mostly underwater. It's pretty unique because Milford's huge annual rainfall – between 7m and 9m a year – creates a 3-4m layer of fresh water that floats on top of the sound (as fresh water is lighter than salt water), and the peaty stain of the fresh water makes the top 40m of the fiord much darker than normal. This means that some very strange animals and plants live in Milford Sound, some that otherwise wouldn't live that near the surface, and despite the busy tourism and the 'been there, taken the photo' attitude of most visitors, Milford deserves its place in the guidebooks. Just don't expect to be alone.