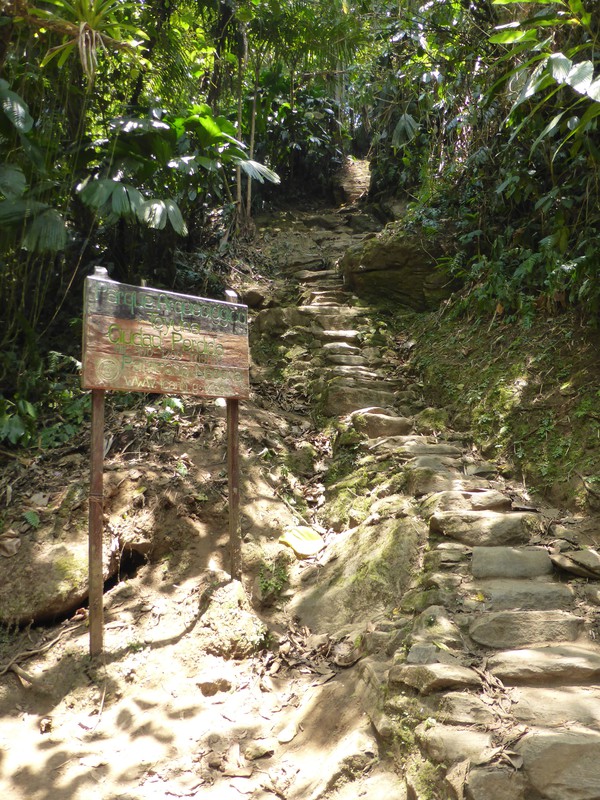 If you're thinking of doing the trek to Ciudad Perdida, the Lost City, there are lots of things you can do to make it an enjoyable experience, rather than a nightmare. We saw people break down in tears because they'd underestimated the challenge, and we saw three injured people being carried out of the jungle on mules. You can avoid this happening to you by doing some research, and by being realistic; if you bite off more than you can chew, the jungle will break you, but if you pitch it right, you'll love it.
Choose the Right Number of Days
Not everyone understands how challenging it is to walk through the searing humidity of the tropical rainforest, so the trek to Ciudad Perdida has gained a fearsome reputation among travellers. You have to book the walk through one of five companies in the area – we went through Expotur – and when you book, they offer you three options: a four-day hike, a five-day hike, or a six-day hike.
Most people go for four days, but most people shouldn't, because the four-day option involves some very long hiking days indeed. We saw people on the four-day walk crying from exhaustion, and stories flew down the trail of grown men breaking down after hours on the trail, the tropical heat and difficult terrain breaking down even the hardiest of egos. Yes, some people have the mental and physical strength to enjoy four days of trekking – if you're an experienced trekker, you'll know your limits – but we saw people on the four-day option for whom this was their first multiple-day trek, and their eyes said it all.
We chose the five-day option, and it was just right for us, though the last day was possibly a bit too long, so I'd definitely consider the six-day option. Given that all the options are the same price – indeed, the longer options are effectively cheaper, as you get more meals and more nights in the jungle for the same money – it's easy to recommend the longer treks over the four-day dash. The walk is exactly the same for everyone, but if you take longer, you give yourself time to enjoy yourself more.
Choose the Right Time of Year
We'd heard stories of ravenous mosquitoes, endless mud and dangerous river crossings, but none of these turned out to be true for our walk. This is because it was dry when we did the walk, and had been for some time, so it's important to pick the right time of year for your walk.
If you want an insanely difficult walk with rough river crossings, muddy paths and clouds of mosquitoes, then go in the rainy season, which starts around April/May and goes through to November, with the heaviest rains in October. If you want to enjoy yourself, then the driest time is from mid-December to early April.
Take As Little As Possible
You have to carry everything yourself, and you really don't want to make the mistake of taking too much. This is what I took, and it felt it was about right, even though I didn't use a lot of it (you only need muscle sprain cream if you sprain a muscle, for example, but if you do it's a life saver).
Hiking clothes (long swimming shorts, T-shirt, knee supports, hiking socks, walking boots, sandals): Because it was so dry, I only needed one pair of hiking socks in the end, though I did take spares; in the wet season, you'll really appreciate a dry pair of socks every day. The sandals are for river crossings and for wearing in camp.
Camp clothes (long trousers, long-sleeved top, dry socks, underwear): I also slept in these in the hammock on day one, as it got surprisingly cold in the wee hours, though I didn't need to do this in the beds.
Silk sleeping bag liner: The beds and blankets are reasonably clean, but they are a bit musty, so a sleeping bag liner is a good option.
Buff head scarf: This was lighter than a hat, but a hat would do; you don't need it in the rainforest, but you'll need head cover for the first day and a half, as the sun is brutal.
Handkerchief: I sweated ilke a trooper, and having a handkerchief on hand to wipe my face was a real lifesaver. I highly recommend it.
Insect repellant: You want to pack at least one bottle; you might not get clouds of insects (we were lucky and hardly saw any), but you might, and a decent repellant will keep you sane.
Bite cream, antihistamine tablets: Even without clouds of mosquitoes, there are still some kicking around, and there are also plenty of ticks, so bite cream or antihistamine tablets are a good idea.
Antiseptic cream, plasters (Band Aids): In case you get blisters or cut yourself.
Antifungal cream: It's hot and humid out there and you're sharing showers, so Athlete's Foot is a real threat. You can buy a combined antiseptic and antifungal cream in Colombia – indeed, it's hard to buy them separately – so this might be the way to go.
Painkillers, ibuprofen gel: I have a dodgy back, so ibuprofen gel is useful, though even for fit walkers, having some anti-inflammatories is a good idea in case you injure yourself.
Toilet paper: Some camps have toilet paper but some don't, and although your guide will probably be able to fish some out, it's a good idea to pack your own.
Diarrhoea drugs: If you have to walk but you've got the runs, then you'll be damn glad you packed these.
Sunscreen: The first day and a half can be brutally sunny, so you'll want sunscreen, but don't take too much as you don't need it in the rainforest.
Toothbrush, toothpaste: Assuming you have standards, that is.
Soap: For showering. You don't need to bother with shampoo, unless you're really vain; trust me, everyone is going to look pretty dodgy after days on the trail, and soap works on hair too.
Tweezers: Handy if you get a splinter, sit on a thorn bush or need to pull out ticks.
Ear plugs: Essential for blocking out the noise of snorers and other groups getting up at the crack of dawn when you don't have to.
Eye shades: You're sleeping outside, so if you want a lie-in, eye shades are useful. Also good for blocking out the glare of other people's head torches in the middle of the night.
Inflatable pillow: You will need a pillow of some kind, even if it's a bundle of clothes; the final camp had no pillows at all, and a pillow makes a big difference when sleeping in a hammock.
Comb: Because you're worth it.
Small towel: This will never dry properly, so make sure it's small, but it's useful for towelling off after swimming, and in particular for drying your feet; damp feet blister more easily. Travel towels are an option here.
Penknife: I didn't need this, but I can never seem to go trekking without one.
Sewing kit: Just in case anything rips.
Head torch: There's no electricity after the first camp, so a torch of some kind is essential. Don't forget to check that the batteries are strong.
Camera: Make sure it's fully charged and has lots of space for pictures; you won't be able to charge it on the walk, though you may get lucky on the first night, as our camp did have electricity. Best not to rely on it, though.
Money: Beer and soft drinks are available at all the evening stops and sometimes during the day; drinks were COP4000 at the first camp and COP5000 after that, and they were pure luxury. You won't need money for anything else.
1.5-litre water bottle: You might be able to get away with a one-litre bottle per person, but I always like to walk with plenty of water; our walking companions ran out of water a couple of times, and that's not a good idea in this heat.
A couple of plastic bags: I kept my dry clothes in one bag and my toiletries in the other, and just shoved any wet things straight into the pack, so they would have a better chance of drying off.
Walking poles: If you have walking poles, definitely bring them, otherwise you can pick up sticks as you walk. They grow on trees, after all.
Drink Lots of Water
Seriously, drink as much as you can. I poured water down my throat and it simply flowed straight out me. You know when Jerry slams Tom in the iron maiden, and he gets out, drinks and leaks like a sieve? That was me. If you get dehydrated, you will suffer, and there is so much free drinking water available along the trek that you don't need to worry, you just need a good-sized water bottle. Look for the blue barrels with agua potable on them and get stuck in; this is boiled and cooled water, so it's perfectly safe to drink and tastes good.
It's also a good idea to go swimming whenever there is an opportunity. The swimming holes are delightful all the way along the route, and cooling off in the river will fire you up for the next bout of walking, while reducing the smell. You'll see what I mean when you do the walk; this is not a trek for the hygienically fussy.
Walk Slowly
Some people like to walk fast – I do, sometimes – but there is so much to see on this walk that rushing is not only going to tire you out, it's practically a crime. Most people seem to agree that while the Lost City is interesting, it's actually the trek that they enjoy the most, so you should take the time to look around you when you're walking. It's not a race.
Personally, I fell head-over-heels for the Lost City and I loved the trek just as much, so it was a win-win situation, but we took our time while walking, so perhaps it's not surprising that the whole thing was enjoyable. Whichever part you end up liking the most, I can't recommend it enough.