As I hooked up my computer to the public phone just off Bangkok's Khao San Road, I noticed that everything had stopped. Despite it being 8.30am and the height of Bangkok's morning rush hour1, everyone on the street had suddenly stopped moving, the horns had stopped blaring, and even the most manic drivers had stopped trying to fit ten cars into the space of one. And then I realised that the national anthem was being played, and in this country where the King is revered almost to the point of deification, everyone stops and stands to attention when his signature tune is played. It's just one amazing thing among many in this crazy city.
I first saw Bangkok some 26-and-a-half months ago – in transit on the way to Sydney – and I couldn't believe that one day I might travel there. Looking at the flooded streets from my window seat and seeing the sprawl of Asian town planning from a safe distance above, the thought of actually being down there scared the hell out of me. Add to the mixture the somewhat scary reputation that Bangkok has in the West – drugs being planted in your baggage, sleazy sex bars2, AIDS epidemics, economic crises and the like – and it wasn't really surprising that I, a novice traveller, was worried. But now I've actually turned up in Bangkok, I've travelled long enough to know there's absolutely nothing to worry about.
The Khao San Road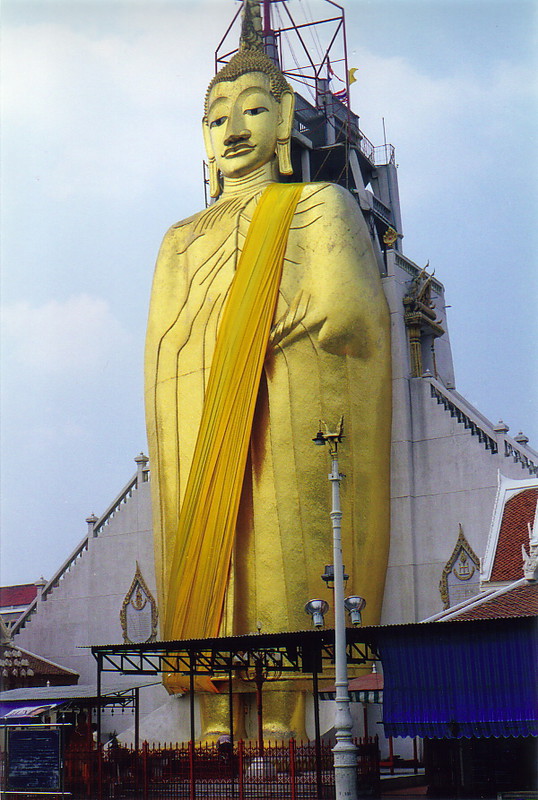 The Khao San Road is Bangkok's backpacker centre, and everything the traveller needs is there, from cheap accommodation to travel agents to bars. It wasn't long before my passport was at the Indian embassy, being processed for a six-month visa, and I was the proud owner of a ticket from Bangkok to Calcutta, for the incredibly low cost of 3400 baht, or about £40, a symptom of the crashing Thai economy. Flushed with bureaucratic success, I decided to let my hair down.
On the bus from Ko Samui I'd met an Irishman called Gary, and after a long day sorting out tickets and visas, we decided to go for a beer. Now, as every self-respecting drinker knows, 'a beer' isn't the singular of 'beer', it's the plural, and as one bottle led to another we settled into the bliss of Bangkok. Somehow we managed to recruit another liver-pickler, a lively Scottish lass called Mo, and together we moved on to the Thailand equivalent of the Oblivion Pill: Sang Thip whisky. In my long years of research I haven't found a spirit that manages to destroy sensibility quite as comprehensively as Sang Thip, and by 10pm we were in another world. It's a hazy memory, but I recall taking a ride in a tuk-tuk3 to a nightclub, where we were almost the only punters, and rather quickly taking a taxi back to bed.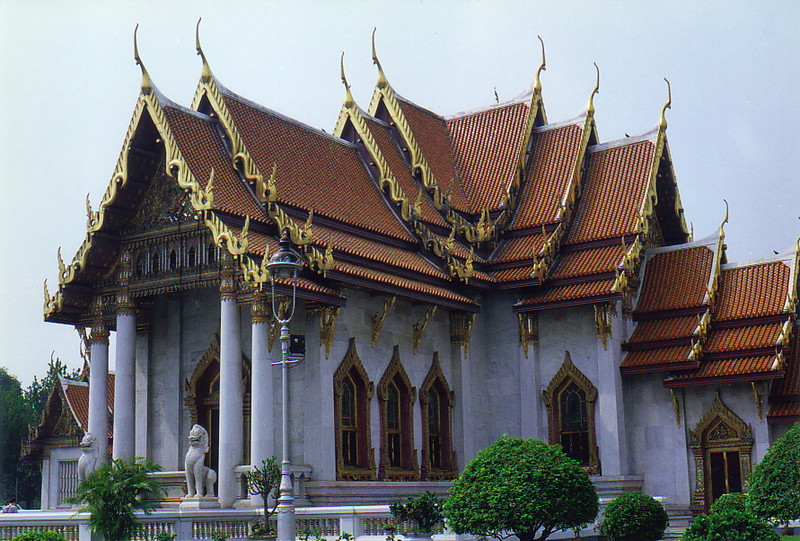 The next day was a repeat performance, but without Gary this time, as he'd flown back home. Mo and I managed another bottle of Sang Thip, and ended up spending the next day recuperating, before she struck north. I'd managed to spend three days in Bangkok, and the whole thing was a debauched daze. Not surprisingly, I felt pretty rough afterwards, and that's when the flu virus that had been incubating inside me for five days broke. God, I felt miserable, and in my incapacitated state, I calculated that since I landed in Indonesia, I have been ill on average every 14 days (and by 'ill' I mean diarrhoea, temperature, vomiting, flu symptoms, or a combination). This could help to explain the emotional roller-coaster ride I've had over the previous four months, but I wasn't going to let it stop me checking out the more cultural side of Thailand's capital city.
Exploring Bangkok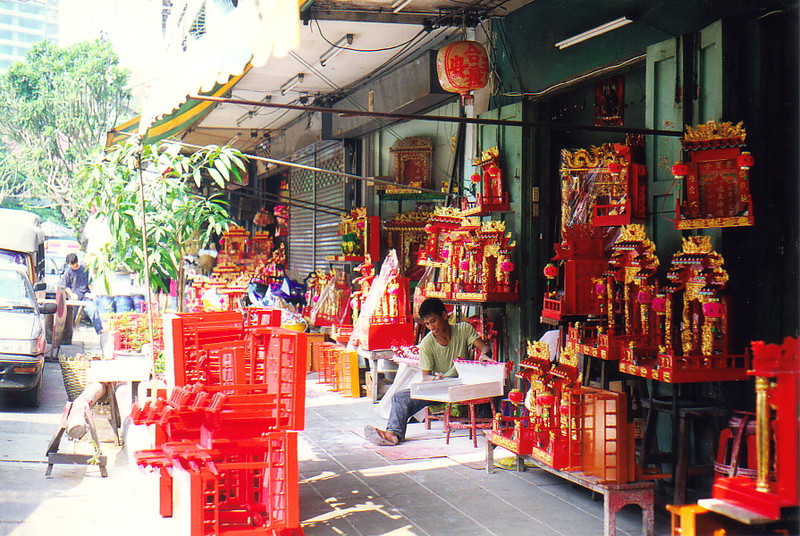 Bangkok is a fascinating place. The images of Thailand's capital are all accurate; it's heavily polluted, incredibly crowded, very noisy, amazingly sleazy and endlessly interesting. It didn't freak me out as much as I'd thought it would, though; it is, after all, just another Asian city, and although it's a particularly bustling version, it's conceptually no different from Kuala Lumpur, Singapore and so on. It's just crazier.
Against popular perception, Bangkok is a pretty clean place, at least as far as visible pollution is concerned. There's precious little rubbish on the street, and indeed there's a strict penalty system for dropping litter. Combine this with the Chinese obsession for sweeping outside shop fronts and watering down the pavement to keep the dust down, and the place is relatively rubbish-free; sure, there are plenty of overflowing bins around with their distinctive rotting vegetable smell, but the rubbish isn't at floor level. It's at nose level.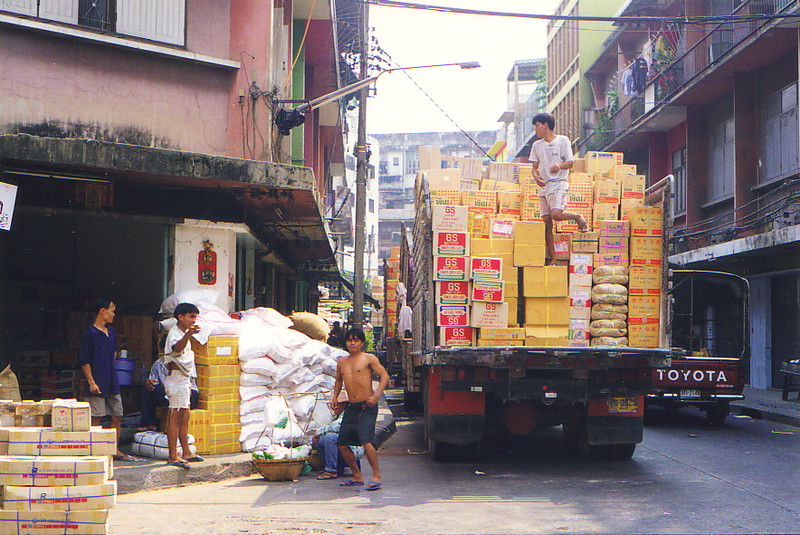 The air pollution in Bangkok has to be breathed to be believed. Every city has air pollution, thanks to the internal combustion engine, but Bangkok has turned particles-per-cubic-metre into a tangible concept. Policemen, tuk-tuk drivers and even street stall owners wear face masks as a matter of course; the Indonesian forest-fire haze didn't reach as far north as Bangkok, but that's because it didn't have to – Bangkok already has a resident haze. If you're feeling beyond help in Bangkok, don't go to the trouble of buying a garage, a car and a hose pipe; all you need to do is sit on a sidewalk and breathe deeply, and if the fumes don't get you, you could always try crossing the road...
In typical Asian style, Bangkok is home to millions and millions of shops. Finding what you want is another matter altogether, but walking down the streets is a lesson in pack-'em-high that the western world doesn't even come close to. There are shops dedicated to selling metal strips, shops that sell compressors, shops that sell bulk incense, shops that sell bottled oxygen, all bang in the middle of town, tucked between the noodle restaurants and the banks. Bangkok is one big department store with millions of different departments and no air conditioning. It's a buzz.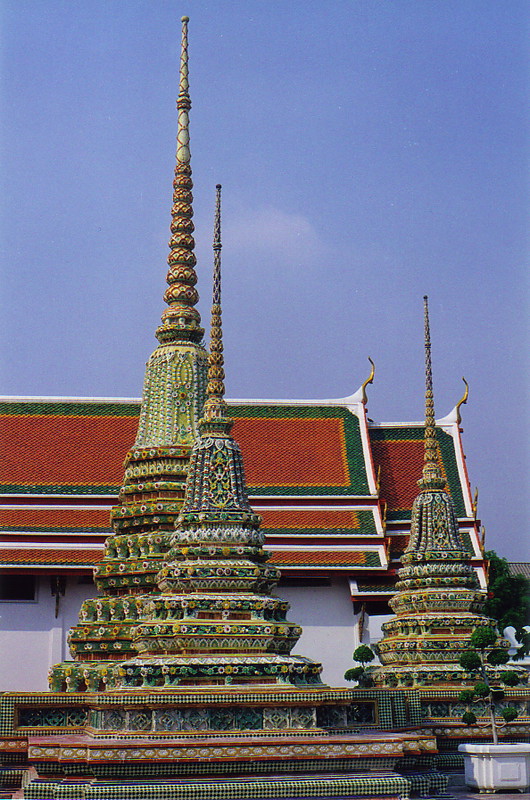 And dotted around the city are hundreds of wats. Wat is Thai for temple, and as far as Buddhism goes, Bangkok is a major centre for wats. Among the hundreds of wats are Wat Intharawihan with its huge golden statue of a standing Buddha; Wat Benchamabopit, a marble complex with canals, bridges and a beautiful interior; Wat Traimit, with its pure gold statue of Buddha; and the most amazing of all, Wat Pho, with its colossal statue of a reclining Buddha, where the feet are as wide as a man is high. I spent a whole day sweating round the streets of Bangkok, and although inhaling all the exhaust fumes did wonders for my sore throat, it was well worth the effort.
That night Charlie and I decided to buy tickets to Chiang Mai for the morning – after all, I had a week to kill until my flight, and the excitement of drinking in the Khao San Road was wearing thin. As if to rub in the Bangkok vibe, I received an email telling me that one of the people I'd met in Melbourne and had gone pig hunting with had died just before New Year from a heroin overdose. To say I was shocked was an understatement, and I thought Chiang Mai would be a pleasant place to get away from the bad news.
---
1 Where, of course, the traffic doesn't rush, it sits. Perhaps a better phrase for Bangkok would be 'crush hour', judging by the number of dents and near misses I witnessed from my phone booth cocoon.
2 Check out this article, which I spotted in the Indian paper The Asian Age, dated . It's illuminating.
Thailand's politicians can't fathom the furore over the sex scandal surrounding US President Bill Clinton, with one suggesting Mr Clinton move to the Southeast Asian kingdom should he be impeached. 'Great leaders are always very good at sex, like Cleopatra, Genghis Khan, Napoleon, Mao Zedong. Mr Clinton is also a capable leader so it is normal for him to be very good at sex,' Mr Pan Phuengsujarit, a former government spokesman, was quoted as saying in Thursday's The Nation newspaper. 'We know this kind of thing is normal among Thai politicians,' he added.

Not all Thai women are as accepting of their husband's infidelities. Last year one housewife made headlines when, after discovering her mate had a minor wife [a second wife, not strictly legal, but socially accepted], she sliced off his penis with a kitchen knife, tied it to some balloons and watched it float away. Such acts of revenge are so common that one Bangkok hospital has a special unit devoted solely to reattaching male sexual organs.
3 A tuk-tuk is a three-wheeled taxi that's open to the elements, and therefore provides a much more thrilling ride than a conventional taxi. Tuk-tuks are named after the noise they make with their hopelessly out-of-tune moped engines, and the pollution they churn out is simply amazing. They're everywhere, they're driven by shameless touts, and they're a great way to get around the city. The fact that tuk-tuks look like golf buggies and are about as fashionable doesn't stop the Thais fixing garish stickers and garlands to them... and why should it? It's no worse than go-faster stripes...