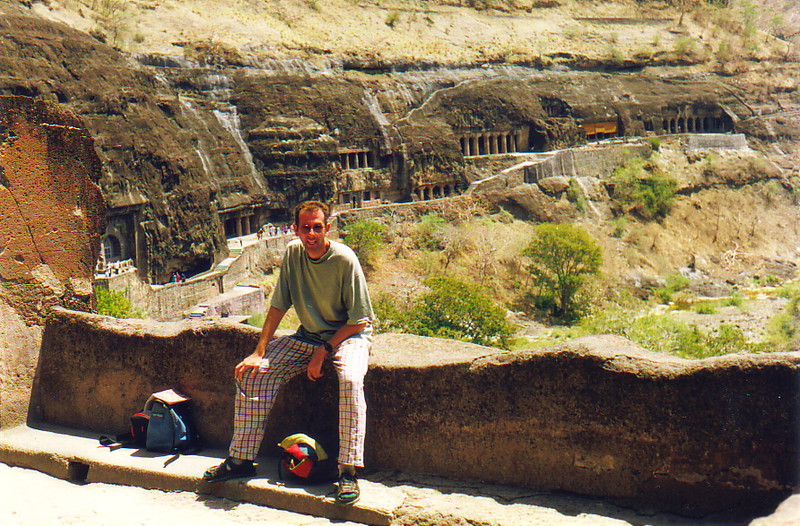 It was a long transit day on the bus north from Bijapur to Aurangabad, where I'd originally planned to stay for three nights. I thoroughly enjoyed exploring the sights around the city – such as the wonderful caves at Ellora and Ajanta, and the atmospheric fort at Daultabad – but in the end I was happy to move on after just two nights.
This early departure was entirely down to the place in which I stayed, rather than Aurangabad itself. Aurangabad is home to a genuine Youth Hostel, and with its fairly convenient location and extremely cheap prices (Rs20 per night, or about 30p) I went for it. I think it's fair to say that I'll only stay in another Youth Hostel when I have no choice; they all have the same slightly unnerving atmosphere, and although it's hard to put my finger on the exact reason for this odd vibe, it's been present in every one I've stayed in, from Australia to India.
Perhaps it was the institutional feel of the whole set-up that set my teeth on edge: lights out was at 10pm, the manager was not a 'manager' but a 'warden', there were plenty of sickly sweet Christian messages posted on the walls, and the buildings looked like something out of a 1950s hospital. But I think the real reason for my failure to enjoy Aurangabad Youth Hostel was the type of person it attracts. Calling them 'strange' would be a kindness.
To be fair, my experience of Youth Hostels hasn't exactly been good anywhere. My one memory of the hostel in Perth was of one particularly depressed traveller spending a Saturday night lying in a pool of delirium having taken an overdose of Prozac; the paramedics were most courteous as they carted him off, gibbering quietly to himself.
But all Youth Hostels are home to one particular type of weirdo: the hostel networker. He or she is normally (but not always) young, is pretty shy, has travelled extensively but never outside the international network of hostels, and tends to have some kind of oddity about them, whether it's a habit of staring blankly ahead, a mild case of obsessive-compulsive disorder, or just a lack of social normality. It's hard to imagine them having anything in their future apart from a future career teaching Physics for the Open University.
There will also be a smattering of Japanese, a few serious Germans, a couple of headcases with tattoos and strangely cropped facial hair, and at least one resident weirdo who has been there longer than anyone can remember and who still doesn't quite fit in.
I booked in for three nights but could only handle two. It felt like leaving school at the end of term when I finally lugged my pack out of the door and hailed a rickshaw; I even felt like playing conkers with the driver, but either he didn't know how to play or he misunderstood me. Instead he just covered his groin with his hands, smiled nervously and shuffled me into his cab.
I couldn't get in quick enough...