After a journey from Fatehpur Sikri that is best forgotten, I arrived in Jaipur. Like other cities in this part of India, Jaipur has a bad reputation for its rickshaw mafia, who will refuse to take you anywhere unless there's a commission involved, but I managed to avoid this by getting dropped off at the main post office, ignoring the driver's hotel recommendations and finding my own place.
I spent the rest of the day relaxing in the grounds of my hotel, the Evergreen, and trying to recover from yet another bout of bad guts. Overwhelmingly western in its clientele, the Evergreen seems to be a collecting point for all the weirdoes and freaks of the Rajasthan trail: dirty dreadlocks mingle with tattoos on bodies covered only by flimsy sarongs; ears display more rings than Saturn; and the talk round the breakfast table is of last night's acid binge and how fucked up everyone was before they went to bed (and this below the sign declaring that drugs are not tolerated). I didn't find it threatening, but it was a bit of a surprise to see such a large collection of alternative lifestylers in one place; it felt a little like Glastonbury, but without the dogs on string.
Having evacuated my unwell intestines as far as possible, I decided to tackle Jaipur. Fully aware that it is unfair to criticise a city when you're feeling under the weather (which was itself a major concern, the heat wave continuing unabated) I went in with an open mind, and I didn't find it as bad as I'd imagined it might be after the stresses of Agra and Fatehpur Sikri. But then again I hardly left myself open for the average con man; I think I'm developing a pretty thick skin.
The Sights of Jaipur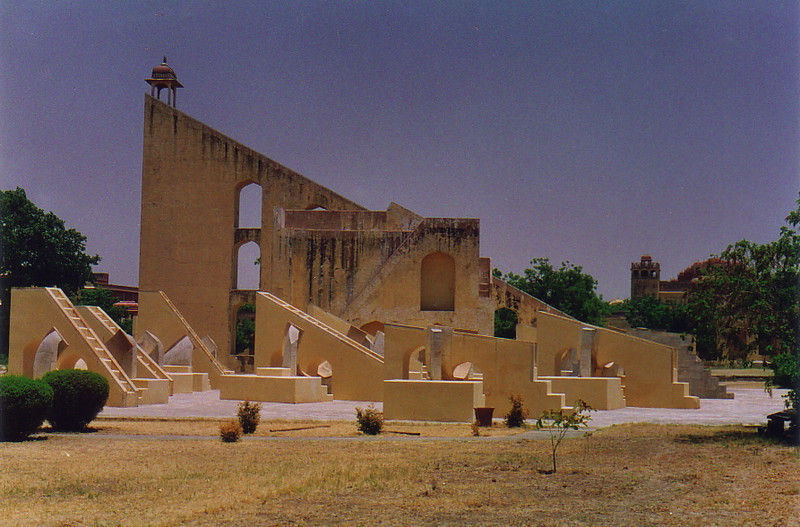 Jaipur is a shopper's paradise, which rules me out; given the choice between shopping for souvenirs and watching paint dry, I'd go for the paint because it's less tiring. But that's where Jaipur's main tout scene hangs out, enticing tourists into carpet emporiums, jewellery shops and clothes stalls, and I simply clammed up whenever anybody mentioned buying anything. I also avoided the rickshaws and walked everywhere, mainly for the practical reason that a jittery ride in a three-wheel nightmare would have stirred up a tender colon that didn't need any more excitement, so I found Jaipur fairly pleasant as far as the legendary touts went.
It still isn't the most wonderful place I've been, but the sights are worth stopping off for, seeing as Jaipur is en route south; I wouldn't go out of my way for them, though. Top of the heap is the Jantar Mantar, an odd collection of huge astronomical instruments built in stone by the founder of Jaipur, Maharaja Swai Jai Singh, from 1728 onwards. It's reminiscent of those wonderful paintings of the masters of early astronomy, with their huge sundials and large azimuth-measuring machines, and even in the intense heat it conjures up plenty of night-sky images. Without some kind of guide it appears as some sort of huge children's playground – there's a 90 ft sundial dominating the proceedings that looks for all the world like a giant slide – so I bought a book from a local drinks stand and set off to explore.
The book proved interesting in its own right; the standard of its grammar and spelling was nothing short of appalling, and served to confuse the hell out of me despite my fairly sound grounding in basic astrophysics. The preface read as follows (with all spellings faithfully reproduced):
From long gack there is no book which can help to the tourists to understand Astronomical Instruments there self, by help of this book. One can see and understand every thing (all the instruments).
Intrigued, I read on, trying to understand the basic definitions given in the text, such as:
Equinox: The bigger circle of the ecliptic interects the bigger circle of the celestial equartor.
I was learning new and strange terms by the dozen: 'heavely bodies' rotated round the 'glob', and one instrument was useful 'to find out the aware of the fact that, the Jaipur time is observed solar system'. I thoroughly enjoyed trying to piece together any sense from Ashok Choudhary's epic guidebook ('He knows English French & German languages', according to the preface) and I hope I can pick up some of his other tomes; I idly wondered whether he'd had anything to do with the crazy commentary in the planetarium in Hyderabad...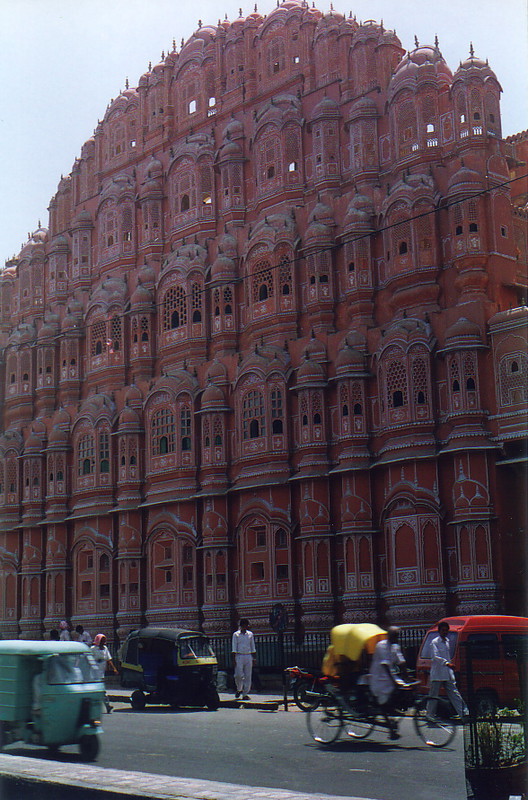 Next to the Jantar Mantar is the City Palace and Museum, with an entry charge of Rs70 plus Rs50 for a camera, but despite this extortion it's nothing on George's collection in Gwalior. Palace guards witter on about irrelevancies and demand baksheesh, underemployed boutique owners try to sell you carpets and trinkets, and the only display which caught my eye was a collection of ancient astronomical books written in the scratchy Arabic script associated with Islam; but it's not a bad place to visit, and like every other Indian museum I have ever visited, it at least provides a place for the staff to sleep. In the corner was a man snoring gently into his cupped elbow; in yet another room a man in white kurta pyjamas nodded off on his plastic chair; even those who were animated enough to punch my ticket looked like they were fighting a losing battle with drooping eyelids. The entry fee doesn't seem to sting so much when you consider that you're providing a useful social service for tired museum attendants.
I rounded off my wanderings with a visit to the Hawa Mahal, the Palace of the Winds, which is a classic piece of flamboyant Rajasthani architecture that looks over the main street of the old city. This garishly pink five-storey façade, from where ladies of the court used to watch the world go by, is typical of Jaipur; the old city is known as the Pink City because most of the buildings are painted pink, an unusual choice of decor and one that I found particularly intriguing. The guidebooks rave about how beautifully the pink catches the sunset, but I wasn't that convinced – I thought it looked a little tacky, to be honest, but it's different, and in India, that's quite an achievement.
Street Encounter
While wandering back through the pink streets, I stopped to watch a demonstration by the Bank Workers' Union, whose members obviously put far more effort into their rallies than they ever do behind the counter, and that's when I fell into conversation with a local student... or that's what he told me he was. His second question after he'd ascertained my citizenship status was more of an indication of the state of play in Jaipur than anything I'd yet encountered. It was verging on the paranoid.
'Tell me,' he said. 'Why is it that most tourists I see here don't want to talk to Indians?'
'Ah!' I thought, 'so the tourists are biting back, are they?' I decided to be candid.
'Because most of the people your average tourist meets here are liars, commission merchants or simply after your money,' I said. 'And a lot of them pretend to be students,' I added, purposely goading him to see what the response would be. His brow darkened.
'So you lump me together with those people, do you?' he said. 'I am a student; how else would I be able to speak English?'
'Are you telling me that only students can speak English here?' I said. 'What about all those bloody rickshaw drivers who take you off into the middle of nowhere only to dump you at a shop that's miles from your destination? That's the first thing a lot of tourists get to see in Jaipur, and it makes them trust nobody.'
'The rickshaw drivers are uneducated,' he said. 'They get one tourist who gives them US$100 for a ride, and they realise it's good money to keep doing it. But why does that mean you don't trust me?'
'Why should I?' I said. 'If I come across five people who try to rip me off, of course I'm going to be cagey about the sixth. What can you expect? A small minority are ruining the whole tourist thing for the lot of you.'
'But why should tourists be rude? We are not all alike.'
'Listen, I can go to almost any city in India and meet wonderful people who are genuine. Why should I bother to open myself to the touts in Jaipur? I'm not short of friendly Indians to talk to, you know. The country's full of them, but Agra, Fatehpur Sikri, Jaipur... you can keep it.'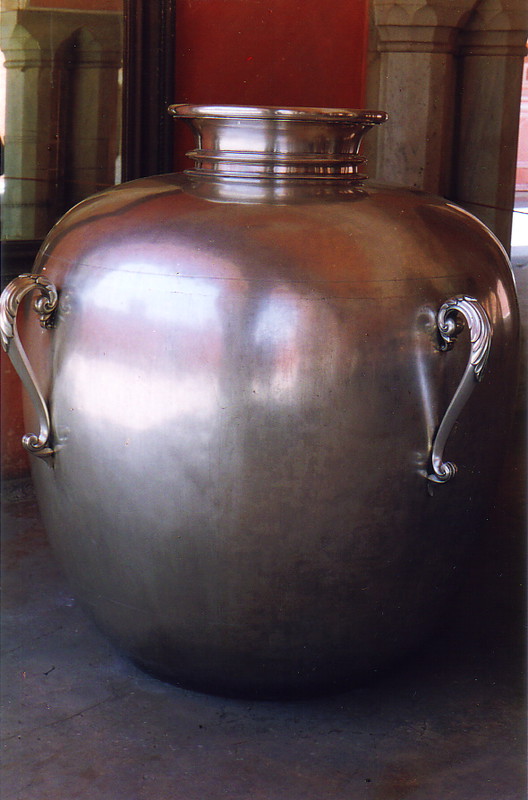 'But you still don't believe me. I have no shop; I work in the telephone booth here, I see many tourists, but they don't trust me.'
'Well, blame it on your city. It's not my fault. And I thought you said you were a student, not a telephone booth operator...'
And off he stomped, looking pretty annoyed. He had been getting quite worked up, as if he was blaming me for the tourist attitude here, but what could I say? Jaipur deserves its fate, if you ask me; maybe the legitimate operators will do something about it, but I doubt it. Like the man said, tourists who give US$100 for a rickshaw ride really screw it up for everyone, locals and tourists alike.
The weirdness continued as I returned to the Evergreen. Poked under my door was a photocopied leaflet proclaiming that the world was being prevented from entering the New Age of Human Harmony by the Dark Forces who were installing mind control devices throughout the world in the form of televisions, microwaves, computers and newspapers. For some reason this piece of well-articulated rubbish fitted in with Jaipur's atmosphere of paranoia; I was paranoid of every movement in my belly, the people of the city were paranoid about the tourist attitude, and the tourists were paranoid of the Dark Forces.
I decided to leave as soon as I could. The feeling was getting infectious...
The Heat Wave
At this point it's worth talking a bit more about the heat wave. Unseasonable and unwelcome, it has already claimed 136 lives, 86 of them in Rajasthan. The highest temperature recorded in the country so far has been 49.5°C, Delhi recently had its hottest May day on record, and when I passed through Bharatpur on the way from Fatehpur Sikri to Jaipur, the mercury was hovering around 49°C (120°F).
According to the paper (which also carried news of India's first ever sex-change operation and a severe shortage of beer in Delhi) it isn't just the northwest suffering; Orissa1 is sweltering in temperatures of 48°C, and Chennai is up to 43°C, some seven degrees above normal. Coupled with the humidity down south, it must be unbearable; at least Rajasthan's heat is dry.
Is it any wonder people are going off their rockers? It sounds like the Dark Forces and their microwave brain scanners are starting to win...
It was enough to make me hit the trail for Pushkar, despite the state of my intestines.
---
1 I was to read a week later of 400 heat-related deaths in Orissa alone, 100 of those in one day.