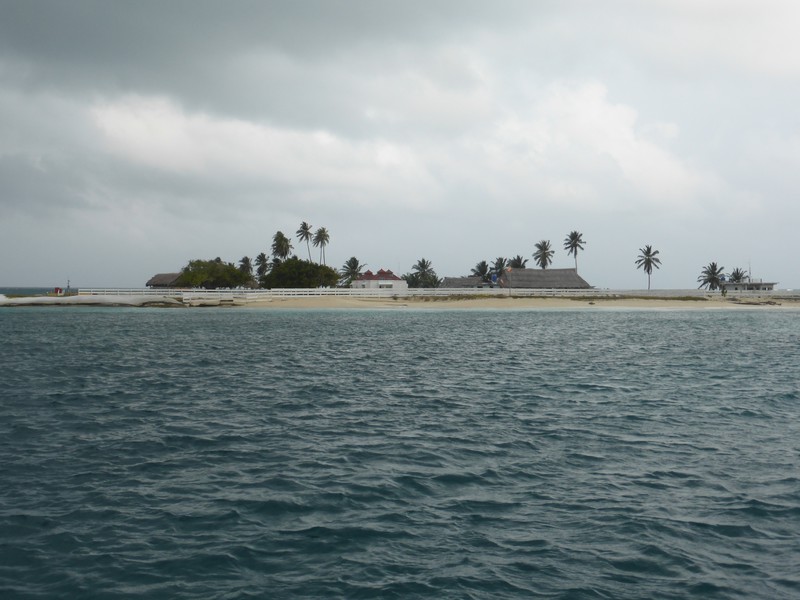 After we'd booked our passage and paid a deposit, we didn't hear anything further until a week before the departure date, when the Norwegian captain of The Black Dragonfly, Jan Kåre Stenberg, got in touch to confirm the final details. We were to meet at the westernmost pier in Portobelo at 10am on 18 March, and he listed the items we should bring, specifically highlighting the need for seasickness pills. My stomach lurched at the thought; all of a sudden the trip was real, and not just a date sometime in the future. I replied to the captain to say we were looking forward to the trip, and we set out into the depths of Panama City to buy the best seasickness pills that money could buy.
If you search the web, it says that the best seasickness pills contain Hyocine, while the next best pills are antihistamines, so we asked the pharmacist if he had any Hyocine, specifically to treat seasickness. 'Yes,' he said, 'this is Hyocine,' so we paid up the US$25 fee and went back to the hotel room to search the web for further details on what we'd just bought (which you must always do when buying medicine in the developing world – you never know quite what they're going to sell you). It turned out that he had indeed sold us Hyocine, but unfortunately it was a slightly different Hyocine compound to the one that's used to treat seasickness; we needed Hyocine Hydrobromide, but instead we'd been sold Hyocine Butylbromide, which would have been perfect if we'd needed to quell cramps brought on by irritable bowel syndrome, but which was totally useless for motion sickness.
Back out on in the city streets, the next four pharmacists said they didn't have Hyocine, but they did stock Gravol, an antihistamine that I'd used on the ferry from Granada to Isla Ometepe; it had worked, but it had make me pretty drowsy as a side effect. Still, after exhausting all the options in the neighbourhood, we figured Gravol was better than nothing, so we bought a box of one hundred for US$18, ticked it off the list and went back to enjoying the luxury of Panama's capital.
Another Day in Port
So the morning of 18 March saw us stomping down to the westernmost pier in Portobelo, pills in hand, and as prepared as we were ever going to be for a sailing trip against the wind and against my better judgement. We met four others waiting at the pier for the same boat, and after saying hello and finding out that they were all German-speaking Swiss – not a bad choice for sailing companions, because if there's one thing you want on board an ocean-going yacht, it's people who aren't going to start a war – we all stood to attention as a small dinghy powered across the harbour with a blond-haired man at the engine.
'Hello, I'm Captain Jan,' he said as he climbed onto the pier. 'Are you here for The Black Dragonfly?'
'Yes,' we all chimed.
'Perfect,' he said. 'But I'm afraid I must tell you there's a slight change of plan, for which I am sorry. Our windlass has broken so we won't be leaving until four o'clock this afternoon, which I know is disappointing, but instead of sailing to Isla Grande today and anchoring there, we're going to sail overnight straight to the San Blas, so you'll actually get more time in the San Blas. I hope this is OK, and I'm sorry for the change of plan, but we have rigged up a manual system, and it just means we need to leave a little later than planned.'
And I thought, 'OK, calm down, we're not leaving until later, which sucks because you're all fired up for a day of sailing, but listen to this man. He sounds like a captain. He's obviously in charge of his yacht, you can tell from the way he's talking. OK, so his windlass is broken, but that's only the motor that pulls up the anchor, it's not an important part of the actual sailing. Listen to him now, he's going on about how comfort and safety are his top priorities: that's a good sign. Besides, remember when our windlass broke in Amanu and we had to haul the anchor up by hand for the rest of the trip? It happens, it's yachting, and it's OK; he sounds like he knows what he's doing, and he's being honest with us about what's going on. This isn't a backpacker boat captain, he's a proper sailor, and he's doing the right thing. This is a good sign...'
So although we had to spend an extra day kicking around in Portobelo, it turned out to be a blessing in disguise, because when we finally boarded The Black Dragonfly that afternoon and started settling into life on board, I felt good about it. I knew that this type of yacht was one of the best possible vessels for preventing seasickness; the captain was clearly putting safety ahead of schedules; there were just six passengers in total; and when we were introduced to Holly, the other crew member, it turned out that not only was she a smiling and very friendly Bostonian with lots of experience of working culinary magic in the cramped environment of a ship's galley, but she was also a fully qualified captain in her own right. And to top it all off, they put the two of us in the aft cabin, right at the back of the boat, which is the most stable part of any yacht, and the best cabin for preventing seasickness, as the back of a yacht doesn't bounce half as much as the bow, where the other two cabins were.
'This might turn out to be an enjoyable experience yet,' I thought as we settled in to meet our travelling companions for the San Blas.
Getting to Know the Crew
On a yacht, you get to know people pretty fast; there's nowhere to hide, particularly when all the passengers are up on deck and finding their sea legs. This was particularly true on The Black Dragonfly as we sailed out of Portobelo, bound for the San Blas archipelago.
We'd started to get to know each other when we'd taken the dinghy over to the yacht that morning. Even though our departure was delayed, we'd taken the dinghy over to the yacht in the morning and stowed our gear, and we'd all ended up chatting around the ship's table in the sumptuous teak cabin below deck.
Our captain, Jan, was a real find. His love of sailing was palpable; he'd sailed The Black Dragonfly over from his home country of Norway, where he'd bought her, and he'd got to know her inside out by sailing her across the North Sea, through a nasty storm in the English Channel, and across the Atlantic. As he said, more than once, 'I know my boat,' and that's exactly what I wanted to hear. He'd been sailing since he was a boy, and with two Atlantic crossings under his belt, two yachts in Cartagena, somewhere between 15 and 20 successful Panama-Colombia crossings, a Yachtmaster Ocean qualification, and goodness-only-knows how many thousands of nautical miles of sailing experience, he made me feel totally at ease, and I was incredibly grateful for that.
Second-in-command but completely in charge of life below deck, Holly was not only our cook, but as a qualified captain in her own right, she'd be sharing the sailing with Jan. With six years' experience working on superyachts – yachts that are bigger than 79ft and often much bigger, which effectively means millionaire owners and very high standards – she'd met Jan while they were both on the Yachtmaster course, and not only had they fallen for each other and become an item, she'd also realised that there was more to life than working on expensive yachts, so they'd decided to combine work and pleasure by running The Black Dragonfly charters as a team. It turned out that his was their first official trip working together (though Jan's been doing the trip with other crew members for a few years now), and after a trial run through the San Blas with Jan's family, they were really keen to make sure that everything went smoothly (broken windlass notwithstanding).
Making up the rest of the passenger list were the four German-speaking Swiss that we'd met on the pier. All of them in their twenties: Marco and Stephan had been travelling together through Central America for some time, while Reto and Cordelia had arrived in Panama City just a week before, at the start of an open-ended trip around the world. None of them had done any sailing before, and they didn't quite know what to expect, so I just kept quiet. I figured they'd find out soon enough.
Into the Ocean
After the introductions, we settled down on deck to eat our first meal on board. When the advert had said that the food was gourmet, they weren't wrong; I've cooked in a galley and I know how difficult it is, but that first meal of chicken with onion and mushroom sauce, salad with balsamic dressing and perfectly cooked rice, was delicious.
As we savoured Holly's cooking and the sun slowly set at the mouth of Portobelo harbour, Jan talked about the plans for the trip and the safety aspects of the journey; stay behind the wheel when in the open ocean, wear life jackets at night if you go on deck, only smoke at the back of the boat so you're downwind from everyone else, that sort of thing. And I grilled him about the stability of the boat, as that was preying on my mind.
'Oh, she's stable,' he said. 'She's 25 tons in all, and she's got a nine-ton keel underneath, so it isn't possible to turn her over – if she leans over too far, the keel just pulls her back. She's a very safe boat, made from fibreglass this thick,' he continued, pulling his thumb and first finger wide apart. 'Back when she was built in the eighties they didn't know how strong fibreglass was, so they made it extra think to be sure. There's no way the hull can be breached.'
Once the meal was over, we were introduced to Jan's manual override system for the broken windlass, and I finally understood the reason for the change of schedule. 'I was this close to cancelling the whole trip when the windlass broke,' he said, 'but I managed to rig up this system, and it works. It's more effort than using a windlass, so we've decided not to sail to Isla Grande, which was to be our first stop, as it has a deep anchorage. Instead we'll sail straight for the San Blas overnight, and drop anchor in El Porvenir, which isn't too deep, and clear immigration there; I tried to clear you through immigration here this morning, but apparently the man is "out on an emergency", which probably means it was someone's birthday party last night. Anyway, does anyone fancy helping me with the anchor, so we can get underway?'
Three pairs of twenty-something Swiss hands shot up – the boys, naturally – and they set to work with Jan's quick fix. It was beautiful in its simplicity, and worked a treat. Holly stood on the bow, and started by attaching a rope with a carabina to the anchor chain. Jan and the boys wrapped this rope round a winch in the cockpit and pulled it, bringing a length of the anchor chain up on deck. When the rope ran out, Holly attached a hook on a short, fixed rope to the anchor chain at the bow, then Jan loosened the winch rope so the bow hook took the strain, and he passed the carabina up to the bow so the whole process could start again.
It worked like a charm, and would continue to do so throughout the trip. I took Holly's place for the next attempt, and by the end of the San Blas, the whole process worked like clockwork. 'It's a lot faster than the windlass,' Jan declared, and the windlass issue was solved and the crew bonded, all in one fell swoop. That's clever captaincy for you...
Shaky Start
That night we sailed the first leg from Portobelo to the island of El Porvenir, which is the capital of San Blas and home to the immigration post where we had our passports stamped and officially left Panama. The weather was being kind and the swell was only about 1 or 2m, so the short overnight passage of about 50 nautical miles was relatively comfortable, at least as far as ocean swells go. This was helped in no small way by the captain's constant fine-tuning of the sails; every now and then, Jan would grab the winch handle and trim the sails, changing the angle of tack in ways that were unfathomable to us landlubbers, but we could certainly feel the benefit as things suddenly got a lot more comfortable. He did this throughout the night as we headed northeast from Portobelo and into the Carribean Sea, before turning east to go round the Panamanian mainland so we could drop down into the Gulf of San Blas, and most of the journey was overnight, with Jan and Holly taking it in turns to sail. I was worried that this – our first proper bit of ocean sailing – would set off my seasickness, but I'd been taking the tablets for at least a day before we hit the sea, and although I felt a bit uneasy, I felt OK. I was pretty stunned, particularly as the boat was leaning pretty heavily to starboard to catch the northerly breeze.
The others on board weren't quite as comfortable – though they probably felt a bit better once they'd been sick, if my experience is anything to go by – and they elected to spend the night on deck, rather than go below, where the constant movement and the serious tilt are a major trigger for seasickness. Marco summed it up pretty well when he said he was feeling absolutely fine until he went downstairs to fetch his fleece and visit the head (the ship's toilet), and that's when it all turned; he suddenly started feeling ill and from that point on, the journey was pretty hard work. He hadn't taken any pills – contrary to the explicit advice of the captain – and just assumed that he'd be fine, but that isn't how sailing works; instead, he spent the whole night either on deck or snatching snippets of sleep on the sofa just below deck. Reto and Cordelia were similarly affected and looked pale and unhappy, and out of the passengers, only Stephan and Peta seemed totally unconcerned by the boat's movement.
I was worried about going below deck, but in the end it was fine. As we yawned our way towards our cabin, I simply got down into our cosy double bed as quickly as I could, and lay down, trying not to think about things too much. After a short burst of feeling a bit weird, Peta just got on with it and soon discovered that she's completely fine on board a sailing yacht, and before long we'd fallen asleep, lulled by the gentle rolling of the boat in the ocean waves, and suddenly it was morning, and we were anchored just off El Porvenir, with the first passage under our belts.
'Ugh, that was a rough passage,' said Cordelia as we blinked our way into the morning light above deck.
'Blimey, that wasn't rough, love,' I thought, though I kept it to myself. Perhaps, after all my paranoia, I wasn't going to be the one suffering on this voyage; I'd been mentally preparing for a nightmare of hard tacking and severe ocean swells, but I thought it all looked rather pleasant out there as we tucked into breakfast and listened to Jan telling us about the plan for the day. Our mission: to sail to the Cayos Holandeses, the northernmost point of the San Blas archipelago, where paradise would really start.